We're excited to announce that we're giving the Trustpilot Business application a fresh, new look. In the next few weeks, you'll see a complete restructuring of the navigation.
We've redesigned the app to create an experience that helps you focus your time on the tasks that matter most. It's the same Trustpilot... just easier to use.
What's new?
To streamline the navigation, we've organized Trustpilot Business into four simple, task-oriented categories.
Reviews – Now it's even easier to find all of your service, product, and local reviews, giving you more time to read what your customers have to say and to reply to them.
Get reviews – Invite your past and present customers to review your business.
Showcase – The place to go to find TrustBoxes, marketing assets, and everything you need to share your reviews on social media.
Analytics – Track your reviews to gain insight into how you can increase customer satisfaction and improve your service.
The Settings page
The new Settings page puts all the things you need to manage your Trustpilot Business account in one, central location.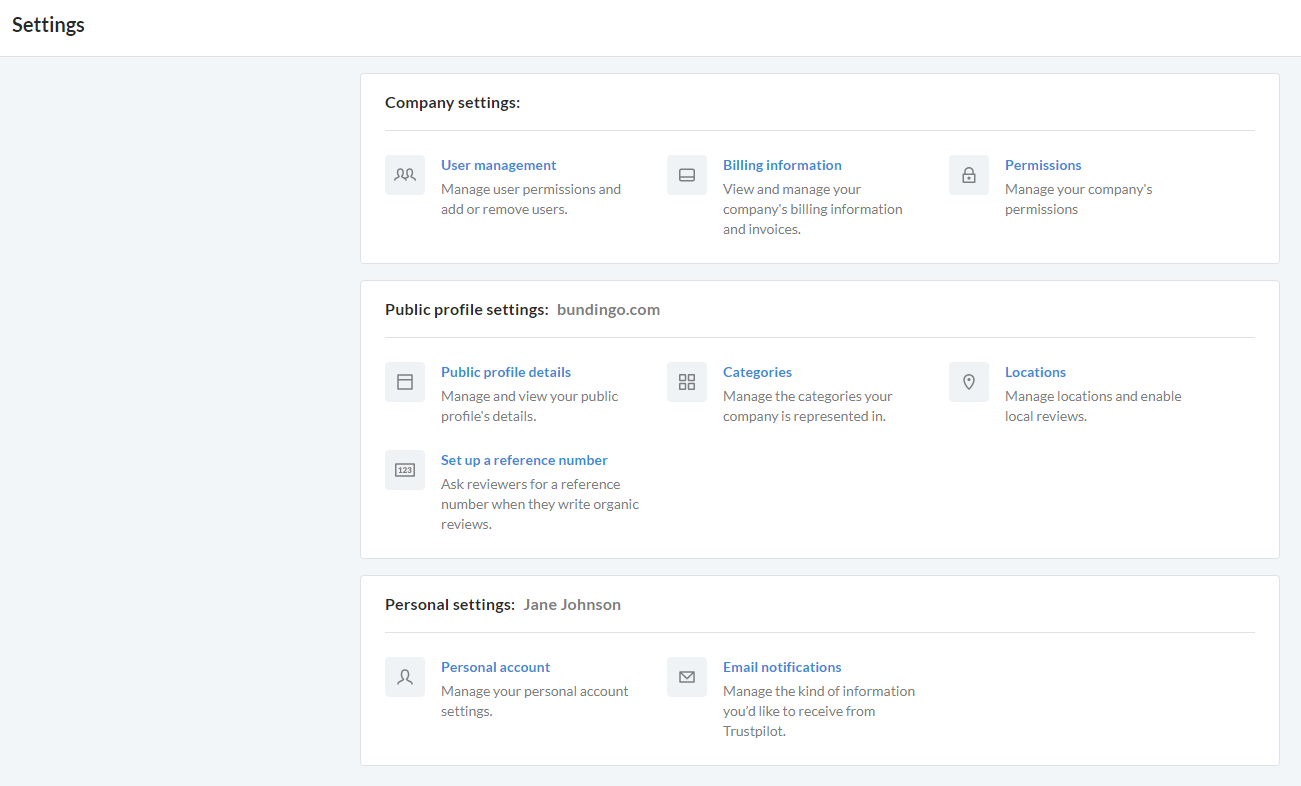 Company settings
Enable permissions on your Trustpilot Business account.
Maintain users and user permissions.
Public profile settings
Customize your public profile's details.
Manage the categories your company is represented in.
Enable and manage your local reviews.
Ask reviewers for a reference number when they write organic reviews.
Personal settings
Manage your personal settings and email notifications
Contact Trustpilot
If you've got a question, it's easier than ever to find an answer.
Click on the ? icon to contact Trustpilot Support and, if relevant, get contact information for your Customer Success Manager. You'll also get links to our Support Center and video guides.
Note: Don't worry if you've bookmarked specific pages in Trustpilot Business – your bookmarks should still work.
We want to hear from you!
Have any questions or comments? Send them our way! Please send us feedback so we can continue to improve your user experience. Let's upgrade the world!