In early September 2019, Trustpilot will be rolling out improvements to our star rating and TrustScore across all our products. These exciting changes will give both consumers and businesses a more detailed understanding of how companies are performing.
You can already go to Trustpilot Business now to see what your star rating and TrustScore will look like after this change. If you're planning a marketing campaign or you require extra time to update your API integration, you're welcome to request early access to the updated marketing assets and API integrations.
This article will walk you through:
An overview of the planned improvements.
How the new rating system will work.
What you'll need to update yourself and what we'll update for you.
Overview of the planned improvements

Introducing half-stars to show a more nuanced star rating
Half-stars are an industry standard, so updating our star rating will make it easier for businesses and consumers to understand how a company is rated. Half-stars also provide a more nuanced, accurate representation of a company's rating, and help them see their progress faster.
Updating the TrustScore to 5 points to better correlate with the star rating
Our star rating is displayed as a number of stars between 1 and 5, but our TrustScore has always been displayed as a number between 0 and 10.
Updating our TrustScore to also be calculated and displayed as a number between 1 and 5 will make it easier for companies and consumers alike to understand how a TrustScore relates to the star rating.
How the new rating system will work
We're calculating your TrustScore using the same standard mathematical rounding rules as before, but we'll now be using a scale from 1-5 instead of the old 0-10.
Using standard mathematical rounding rules, your star rating will be rounded up or down to a half or full star, depending on the calculation of your TrustScore.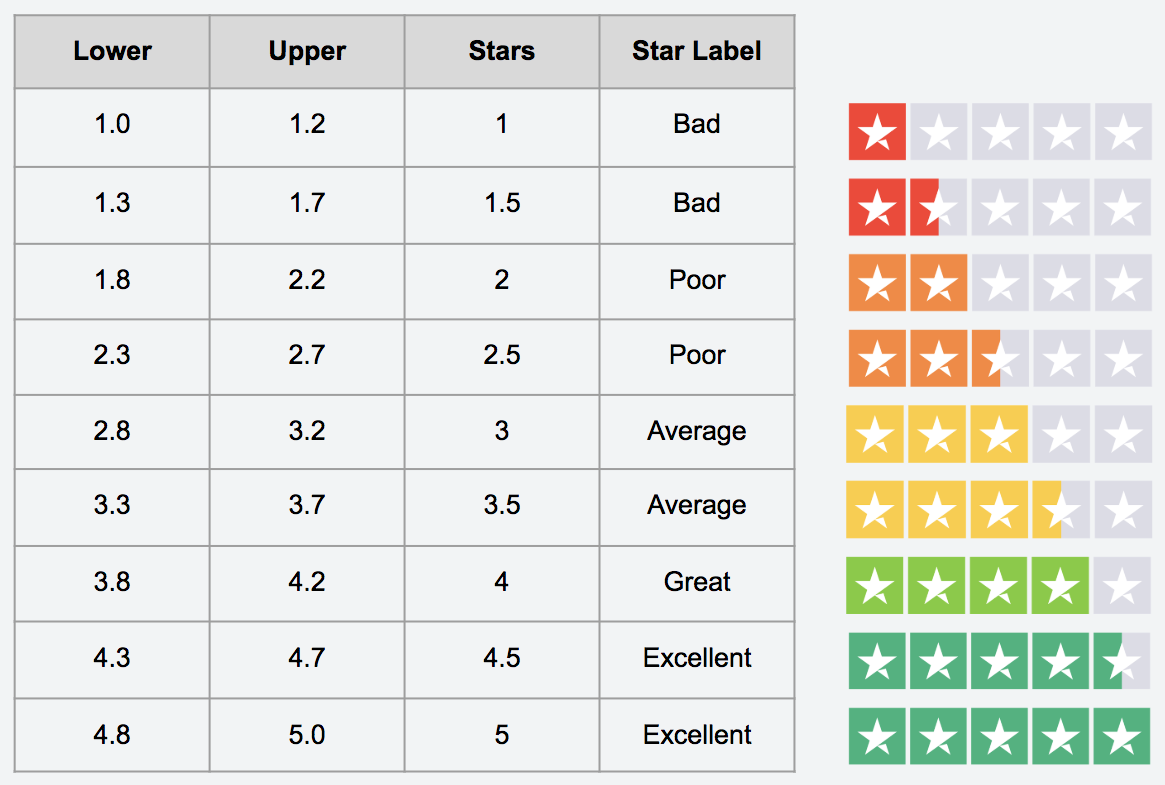 As before, the three main aspects that go into calculating a company's TrustScore are:
Timespan. The most recent review counts and weighs the most. For example, a review received 6 months ago has half the weight of a review received today.
Frequency. Companies need to continuously collect reviews in order to maintain their overall score. For example, a company received twenty 5-star reviews two years ago with a TrustScore of 4.5. If they receive one 1-star review today, their TrustScore would drop to 3.4.
Average. We use Bayesian average to ensure that a company with few reviews starts off with a more balanced average TrustScore. For example, if a company receives one 1-star review, its TrustScore would be 3.2.
Updates Trustpilot will make for you
We'll automatically make the following updates for you in the beginning of September 2019:
Your Trustpilot company profile page and business app will automatically switch to the new rating system.
TrustBox widgets on your website or in your email marketing will automatically switch to use the new rating system.
All social sharing features will switch to the new rating system: the Image Generator, the one-click share, Facebook page tab, and the Hootsuite app.
Updates you'll need to make yourself
From September, you'll have to update the following manually:
Any of your marketing assets (ads, print, TV, etc. ) that use your TrustScore, star rating or star label. Updated brand assets will be available at the end of August, but you can request early access.
Any of your API integrations or custom widgets that use your TrustScore, star rating or star label. We'll provide instructions at the end of August, but you can request early access.
Note: We recommend updating your integrations and/or marketing assets right away, and no later than December 31, 2019.
Please contact your Customer Success Manager or our Support Team if you have any additional questions about these improvements.