Most of our emails contain a link that you can click to unsubscribe from our emails. But there are some messages you need to receive in order to write reviews on Trustpilot.
We only want to send you emails that you want to receive, so we've included an Unsubscribe link in most of our emails. There are, however, some emails that we must be able to send you. These include, for example, emails about forgotten passwords or account information messages.
What kinds of emails can I unsubscribe from?
You'll find an Unsubscribe link in emails about:
Your reviews
Inspiration
Tips about businesses and products
Information about Trustpilot
New features on Trustpilot
Which messages don't have an unsubscribe link?
Some emails don't contain an Unsubscribe link. They're typically account or service-related messages that we need to make sure you receive.
You can't unsubscribe from emails about your login details, for example, because if you ever forget your password and need to reset it, we need to be able to send you a message so we can help you.
We also don't include an Unsubscribe link in emails when you sign up to Trustpilot or write a review for the first time. Your first email from us contains login details and important information about how you can set up your account.
If you don't want to receive any account or service-related emails at all, you can delete your profile and your reviews to make sure you don't receive any further emails from Trustpilot.
What happens when I click unsubscribe?
If you're in the US, clicking the Unsubscribe link shows you a list of the emails you can unsubscribe from. You can choose the types of messages that you don't want to receive by clearing the relevant boxes.
If you're in Europe or any country other than the US, clicking the Unsubscribe link automatically unsubscribes you from all communications that aren't service-related.
When unsubscribing, you have two options. You can either unsubscribe from future review invitations from a specific company, or from any company on Trustpilot.
Will unsubscribing from emails stop me from receiving review invitations?
Companies can still send you review invitations even when you've unsubscribed from Trustpilot emails, because it's the company that initiates these messages and not Trustpilot. Review invitations should contain their own Unsubscribe links. If you unsubscribe using this type of link, you will no longer receive invitations to leave reviews on Trustpilot from any company who uses our automated services.
Oops! I didn't mean to unsubscribe.
Accidents happen. If you've clicked the Unsubscribe link by mistake and want to opt back in immediately, click the Resubscribe button in the confirmation message that you received.

You can also resubscribe directly from your Trustpilot account.
Log in and select My Settings.
In the Email settings section, under Contribution, select Companies on Trustpilot can invite me to write reviews.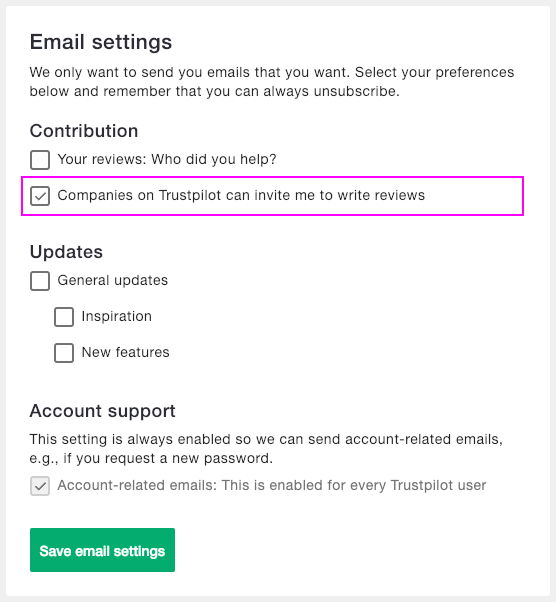 3. Select the Save email settings button.
Now you're finished, and you can receive invitations from businesses again.