Want a quick and easy way to add TrustBoxes to your website? Our Magento extension doesn't require technical skills, and implementation doesn't take long.
This article walks you through the process of adding a TrustBox directly through Trustpilot's Magento extension. If you don't have our Magento extension installed yet, make sure to do that first.
Add a TrustBox through Magento
Log in to your web store's Magento Admin. If you are using Magento 1.x, click on System > Configuration, and if you're using Magento 2.x, click on Stores > Configuration. Then change your current configuration scope to Website, and scroll down to find the Trustpilot extension in the menu on the left side. Click on the TrustBox tab.
You'll be presented with a set of controls to configure the TrustBox's appearance and position.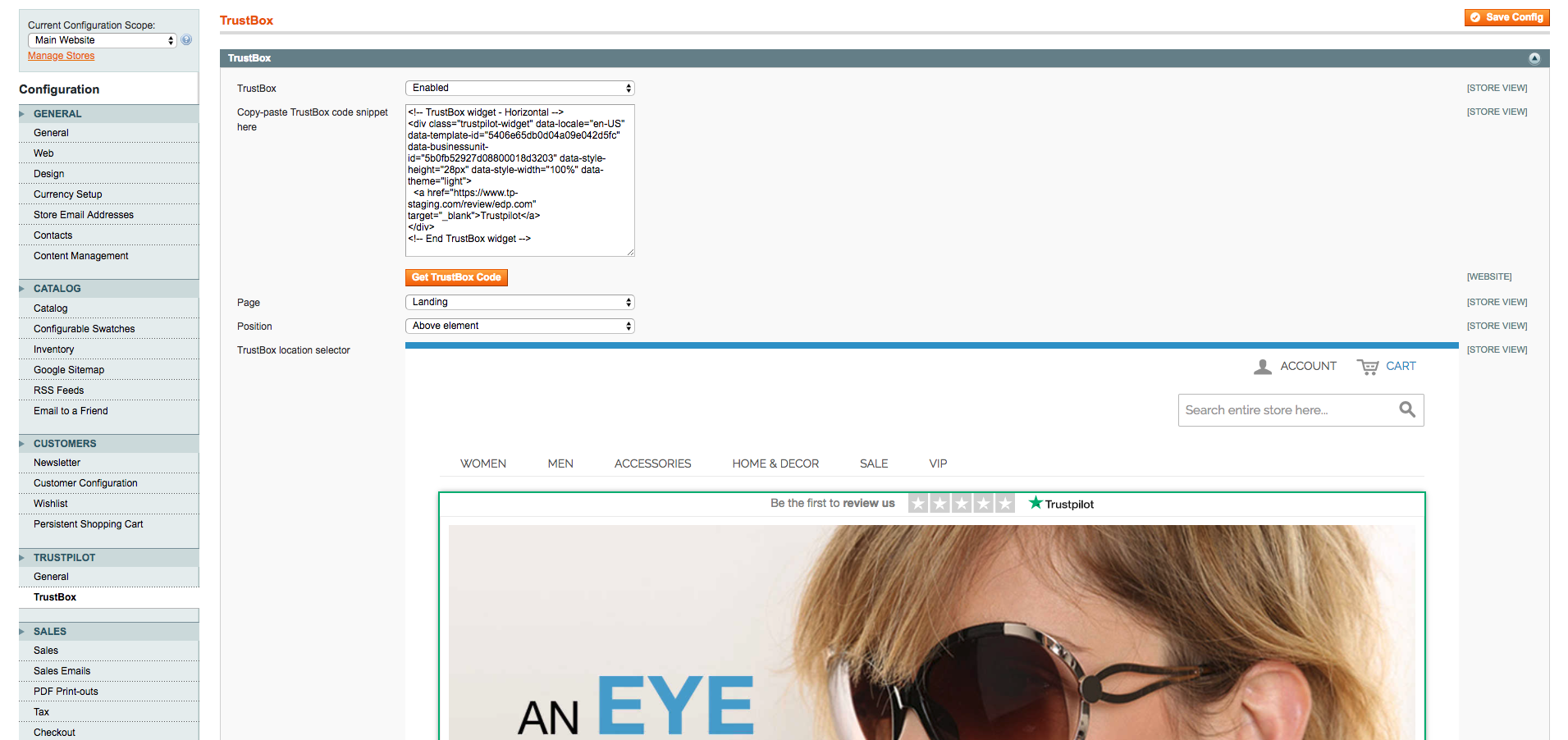 Enable/Disable - TrustBoxes are disabled by default. To display the TrustBox on your website, set it to Enabled.
Copy-paste TrustBox code snippet here - Click on Get TrustBox Code to go to Trustpilot Business. Then go to Integrations > TrustBox Library, and select the TrustBox you'd like to display on your website. Click on Get code, copy the HTML, and go back to Magento Admin. Paste the HTML in the empty field.
Page - On what page would you like to place your TrustBox? Choose between Landing, Category, or Product.
Position - Where on the page would you like to place your TrustBox? Choose between above or below the web element you selected.
TrustBox location selector - Now adjust the placement of the widget.
When you are satisfied with your TrustBox setup, click Save Config. That's it! Visit your website's storefront to see the newly added TrustBox.