We prioritize protecting people's personal data, and we're updating our processes and policies to meet the EU's sweeping new data privacy rules (the GDPR).
Data privacy is important to us
At Trustpilot, we work hard to keep everyone's data safe. We want our customers and everyone in our review community to be able to benefit from using our services, confident in the knowledge that we're serious about protecting people's personal information.
In line with that, we also strive to be as transparent as possible about the processes we have in place to store, process and protect personal data.
What's Trustpilot doing to prepare for the GDPR?
Our commitment to data security and privacy means that we've been preparing for the introduction of a new EU law on data protection that comes into effect on 25 May 2018.
The General Data Protection Regulation (GDPR) is being billed as the most comprehensive data privacy law yet, and it requires businesses across the EU and globally to review and rethink how they handle and protect personal data.
For Trustpilot as a review platform, data plays a central role in our business. Naturally, inviting people to write reviews and share their experiences involves the exchange of information. So, in order to make sure we're ready for the new rules, we've been focusing on putting new processes in place and updating our information about how we process data (see below).
For companies working with Trustpilot reviews
If you're a business who works with reviews, you're welcome to download our white paper on Trustpilot and the GDPR (see below - scroll down to Attachments). This paper provides an overview of some of the most important issues to consider in making sure you also meet the GDPR's requirements.
You can also view Trustpilot's GDPR-compliant Data Processing Agreement (DPA) that regulates how we process data on behalf of companies, and ensures we do it in a compliant way. This is available on our website, together with an overview of the data sub-processors we use.
For reviewers and consumers
The GDPR extends the rights of individuals and gives them a higher level of control concerning their personal data.
To find out how we ensure the security of data for people who use our platform, see our privacy policy here.
On an ongoing basis, we'll be updating information about how Trustpilot works with reviewer and consumer privacy here in our online Support Center and also on our Trust site.
Questions about data privacy?
Pursuant to the GDPR, Trustpilot is appointing a Data Protection Officer.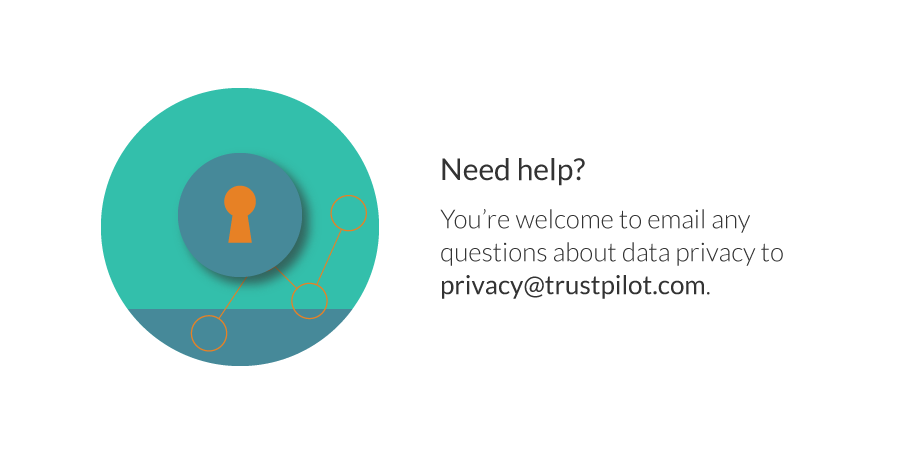 Both businesses and consumers with questions on data security and protection are welcome to get in touch with Trustpilot's Privacy Team and Data Protection Officer by emailing us at privacy@trustpilot.com.