If you write a review on Trustpilot, it could be displayed in a number of different places. This article will explain where those places are, and how to see your review.
On the company's Trustpilot profile
The profile of the company you are writing about is obviously the main location for your review, and in many cases, that will be the only place where it is publicly displayed.
Other, more recent reviews will appear above your review and push it further down the page over time, depending on the volume of reviews received by that particular company. It may therefore become more difficult to find your review on the page where you wrote it, as time passes.
Where else might your review be displayed?
Your reviews help other reviewers and users to make better purchasing decisions, and to decide whether or not to trust a business before buying from them. Many reviews will only ever be published on the company profile for which they were originally written, however there are some instances in which a review may appear in other places, too. These are:
1. Under your My reviews tab
Every reviewer has a personal profile on Trustpilot, and every review you've ever written is collected together under the My reviews section of your profile. You can find this by clicking your profile icon, at the top right of the screen on any Trustpilot page, and selecting My reviews from the drop-down list.
If you want to find a review you've written, this is the quickest and easiest way to do so. You can also edit, update and delete your reviews here, as well as leave multiple reviews for subsequent buying or service experiences.
2. Under your friends' My reviews tabs
If you have connected your Trustpilot account to your Facebook account, your reviews may also appear under your friends' My reviews tabs, as well as their reviews appearing under yours.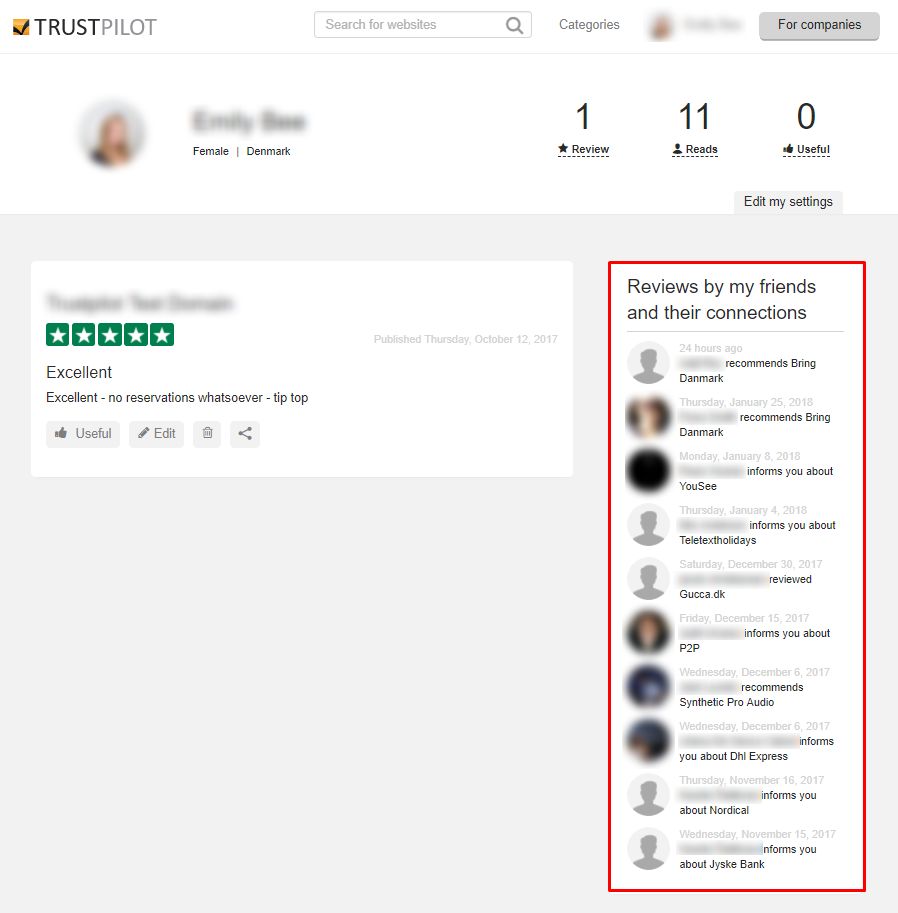 If you'd like to change this, you can do so by editing your social settings.
3. On the Facebook page of the reviewed business
If the business you review has the Trustpilot plugin enabled for their Facebook page, reviews may also be displayed there, under a separate tab labeled Trustpilot Reviews.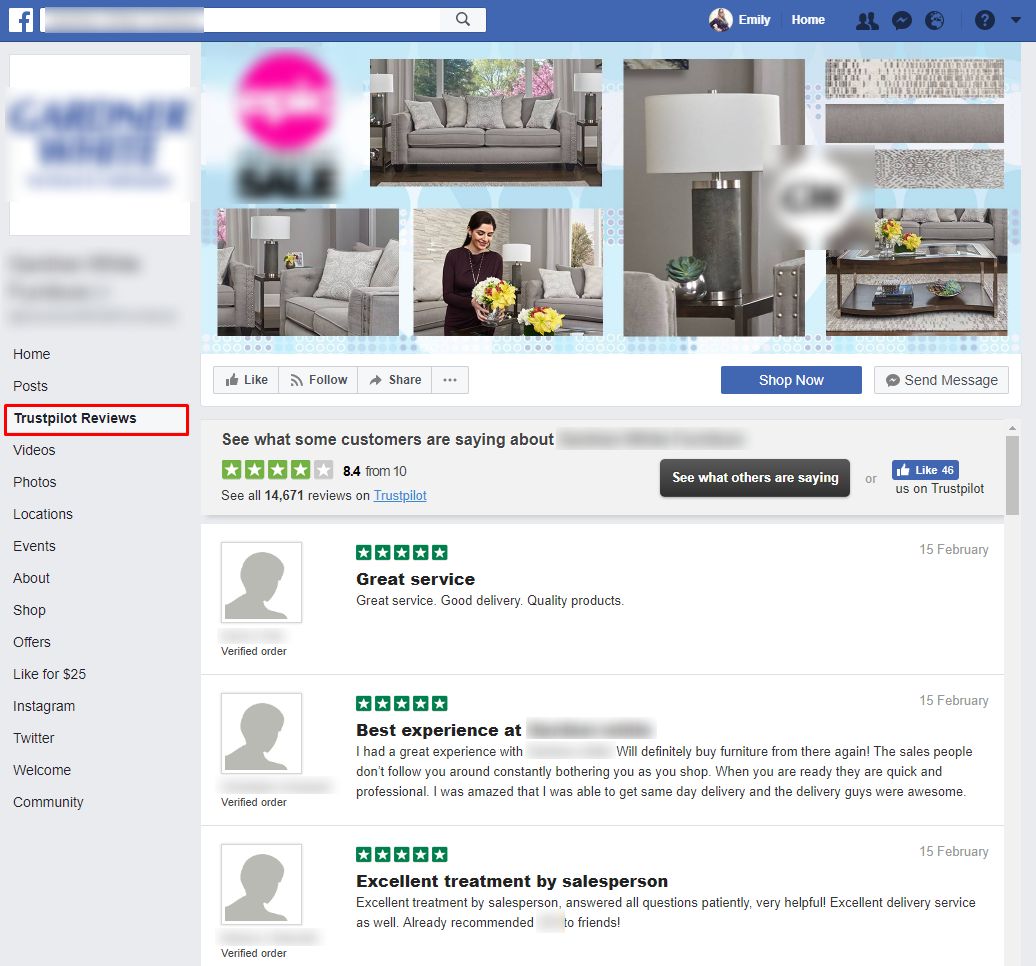 As with their main profile page on Trustpilot, older reviews are pushed down by more recent reviews, so if yours is displayed, it will probably become less prominent as time passes.
4. If the business decides to feature your review
Trustpilot has a feature for business users called Image generator, which allows businesses to select a quote from a review, choose an image to use as a backdrop, and share it on their social media accounts and websites.
This allows businesses to share their great customer service reviews with more potential customers in a visually engaging way.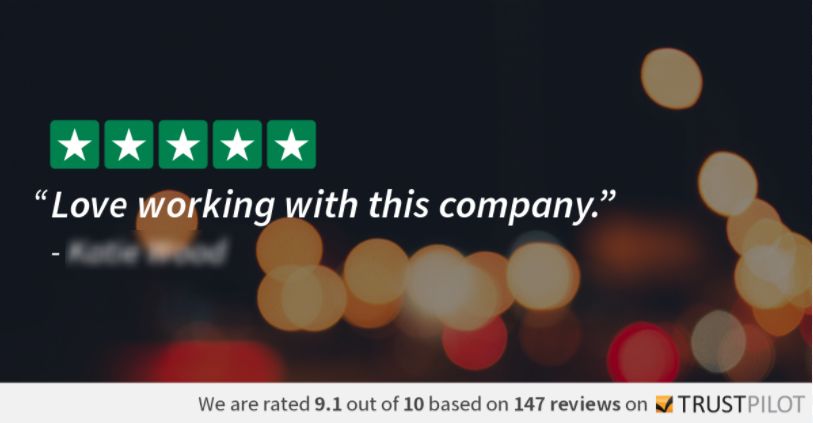 5. On Google Seller Ratings
Because Trustpilot is a Google partner, reviews you write on the Trustpilot site can be factored into Google Seller Ratings. This means Google may select your review to display, when showing reviews for a company.
6. On the business' own website
Trustpilot has several options available for companies wishing to display their Trustpilot reviews on their own websites, including various plug-ins and widgets.
This information is pulled from the Trustpilot site, and is updated regularly, so older reviews are less likely to feature.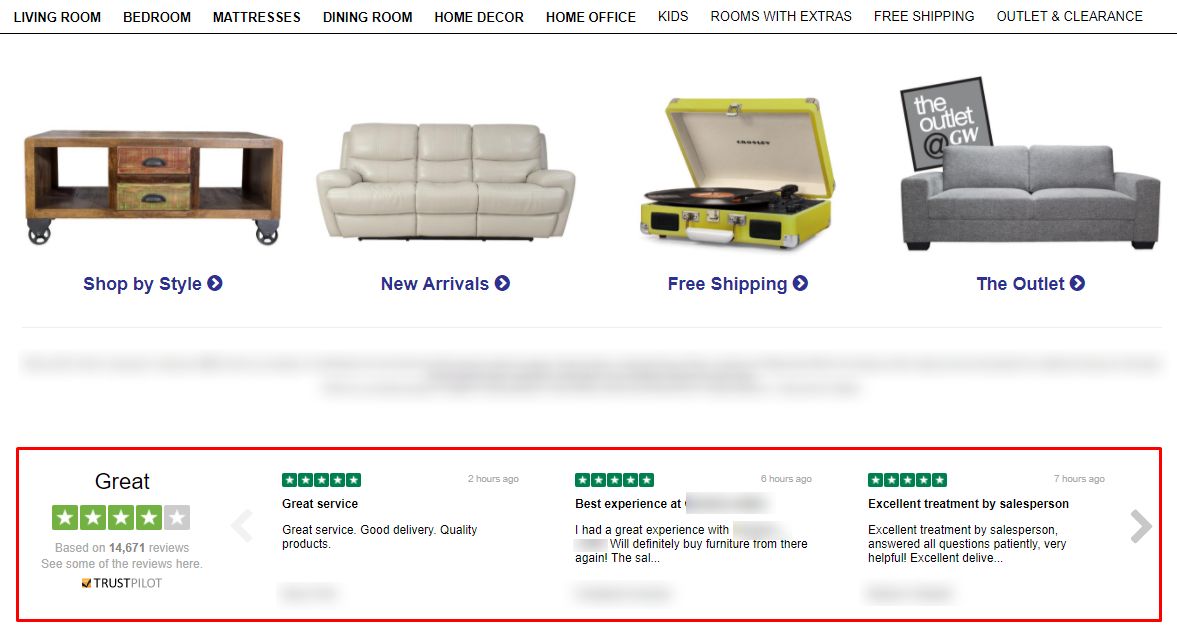 7. On the Trustpilot Homepage
Trustpilot features some of the latest reviews of different companies on its homepage, and these change quickly as new reviews are posted.
However, whilst it 's worth bearing this in mind when writing a review, we receive hundreds of thousands of new reviews every day. The likelihood of your review finding its way onto our homepage is very low, and if it does appear, it's probably for a very short time only!