Put a face to your name. Upload a profile picture to identify yourself and show other reviewers that you're an actual person who's had genuine service experiences.
Express yourself. If you've signed up by email, Trustpilot displays a gray silhouette as your profile picture by default. Change the profile picture to show the world that you're a real, live person, whose opinions they should listen to when gathering information about companies.
Change your profile picture
On the Trustpilot homepage, point to your name in the upper right-hand corner of the screen. Select My settings from the drop-down menu.
In the Personal Settings card, select the Upload your profile picture button.
In the dialog, select a file to upload then select the Open button.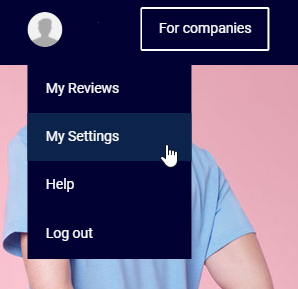 Select the Remove my picture for now button to remove your profile picture.
Note: After you upload your picture, it may take up to 20 minutes for it to appear on Trustpilot.
What can I use as my picture?
Your profile picture can be as colorful and creative as you are. But here are some tips to consider when you choose a picture:
Your picture should have a minimum height and width of 73px. You can use .jpeg, .png, .gif, .bmp, and .tiff files.
Make sure that you have the right to use the picture. Yes, Iron Man is cool. But unless you're Tony Stark and it's your picture, you can't use a photo of Iron Man.
Don't use corporate logos or advertisements.
Avoid images that contain anything offensive. No hate speech or symbols. No profanity. No nudity. Keep it clean, please.
If you're in doubt, read our Guidelines for Reviewers to make sure that your photo is allowed.
Do I need a profile picture?
Not at all. If you'd prefer not to display a profile picture, you don't need to upload one. Instead, we'll keep displaying the gray silhouette placeholder.