​Your Trustpilot invoice explained
This article explains each element of a Trustpilot invoice, which can be issued in several different languages, according to your account preferences.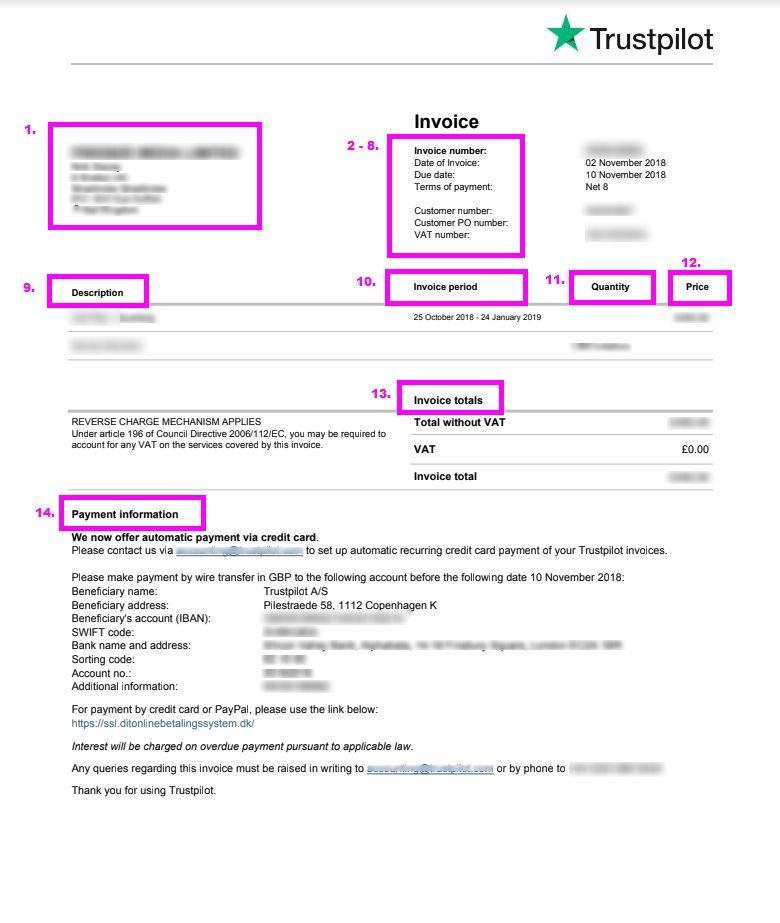 1. Company name and address
Your company's name and address according to the details you provided when you set up your account.
2. Invoice number
The unique reference number given to each invoice we send. This lets us identify it in our system.
3. Date of invoice
The date the invoice was created.
4. Due date
The date that the invoice must be paid to avoid late fees.
5. Terms of payment
The length of time that the invoice must be paid according to the terms in your contract.
6. Customer number
The unique reference number that identifies your company.
7. Customer PO number
The unique reference number, or purchase order (PO) number, that you provided to us. Not all companies provide us with PO numbers, so this field may be blank.
8. VAT number
Your company's registered VAT number if you are based in an EU country.
Note: If you are based in an EU country and do not have a valid VAT number, you will be charged 25% VAT. This only applies to companies who receive invoices from Trustpilot A/S.
9. Description
A brief description of the product or services you currently pay for with Trustpilot. Each item appears on a separate line.
10. Invoice period
The length of time that this invoice covers.
11. Quantity
The quantity of each item that is included in the invoice amount. In this example, the price includes 3,000 service review invitations per month.
12. Price
The price of each item on the list, including any multiples.
13. Invoice totals
The total invoice amount. This is broken down into:
The Total without VAT
The total amount of VAT
The Invoice total, which includes both amounts
14. Payment information
Information on how you can make a payment. This includes how to set up regular automated payments, and bank details for payment by wire transfer. You can also find out who to contact with questions about your invoice and for information on overdue payment fees.