The TrustBox Optimizer is a conversion optimization tool that is built into all TrustBoxes. Use it to track and improve the way TrustBoxes impact your on-site conversion rate.
We apply the principles of A/B split testing to compare the performance of two or more TrustBox variations on your website. Based on the data collected, we recommend the best TrustBox setup or placement and help optimize your website's conversion rate.
If you are currently running a test, check out this article on Understanding your Conversion Optimization Test results. Learn more about conversions in the TrustBox Optimizer FAQ.
You can perform two types of tests. Both can be set up by following Step 1:
1. Test with and without a TrustBox
Test how your website performs with Trustpilot reviews. By default, your visitors are divided so an equal percentage of them will see only one of the TrustBox variations (or no TrustBox) on your website. This test will help you understand where reviews have the most impact on your website. It also creates an initial benchmark so you can continue optimizing how you use your customer reviews. You can even compare no TrustBox against two TrustBox variations. See details below.
2. Test different TrustBoxes and placements
Test how 2 different TrustBox variations perform and which one has the highest impact on conversion. We only show one variation at a time to half of your visitors (50/50 split).
Optimizing the Optimizer
The TrustBox Optimizer is designed for you to run multiple tests. If you're not satisfied with the results from the first test - or even if you get amazing results - don't stop there! Running more tests will help you learn and refine how to use TrustBoxes. It will also help you impact your conversion rate positively.
How to start your first Conversion Optimization Test
To set up a Conversion Optimization Test, go to the TrustBox Library in Trustpilot Business and click on Optimize your TrustBox. This takes you to the test setup flow, where you can configure the test and grab the code.

Step 1: Select the TrustBoxes you want to test
Select the TrustBox(es) you want to include in your test. You can choose Variation without TrustBox and compare this against 1 or 2 TrustBoxes, or you can choose 2 TrustBox variations to compare against each other in a split test.

To test with and without a TrustBox – select Don't show TrustBox and up to 2 TrustBoxes.
To test different TrustBoxes or placements – select up to 2 TrustBoxes.

Configure your chosen TrustBox and click Select for test.
When you've selected the variations you want to test, the Continue button will be activated. Click Continue to go to the next step.
Step 2: Configure your test settings
On the Optimization Test settings page, you can see the visibility of each of your variations. You can decide what percentage of your total visitors are going to see each variation. We recommend you keep the default settings. This will give the fastest results and make comparing them easier.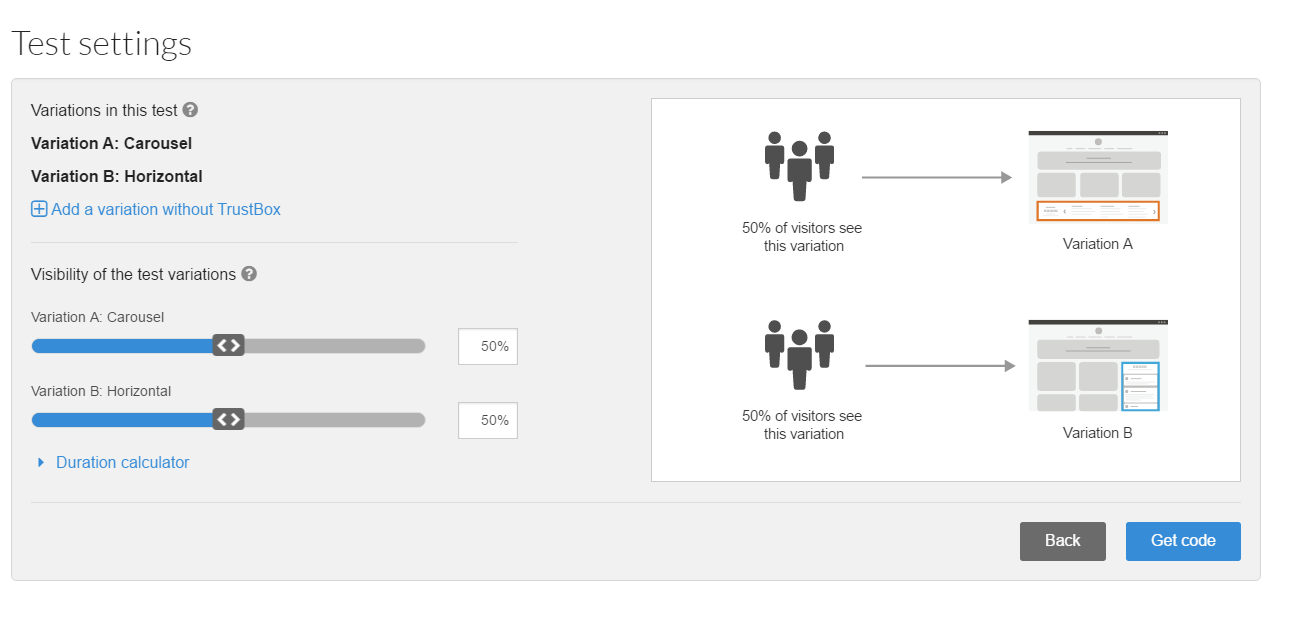 Note: You may add a third variation without a TrustBox by clicking on + Add a variation without TrustBox.
Use the duration calculator to estimate how long the test should run for statistically significant results. The calculations are based on general data from your website. Since the calculated duration is an estimate, there is no guarantee of accuracy. The test may take more or less time, and it may or may not achieve statistically significant results. The maximum time a Conversion Optimization Test can run is 12 weeks. If your estimate goes beyond this period, either change the page you are testing the TrustBoxes on, or increase the conversion rate lift you want to detect.

Click on Get Code to proceed to the next step. Now you'll see the code snippets you'll need to implement on your website.
Alternatively, you can click on Email this code to send the code to yourself or your developer. You'll get a shareable link containing all the necessary instructions and code snippets to get the test running. (Before leaving the page, remember to click Save and continue.)
Step 3: Implement the code on your website
Implement the TrustBox code snippets on your website, as well as the conversion tracking code. Then position the TrustBoxes where you want them on your site. Your visitors will see only one variation at a time, based on your test settings.
Note: A "conversion" is when a website visitor completes a desired goal, e.g., a purchase, downloading a product, etc.. Pick the conversion point that is most relevant for your business, and where you expect that your TrustBox will influence one of your main business metrics.
Important: If this is not your first test with the TrustBox Optimizer, make sure you remove the code from your previous test before implementing the new code.

Copy-paste the script snippet code inside the <head></head> section of your website's HTML.
Copy-paste the code snippets of the TrustBoxes you want to test inside the <body></body> section of the website code where you want the TrustBoxes to appear.
Copy-paste the conversion tracking script code inside your website at the point of conversion, e.g., newsletter subscription, confirmation of purchase, etc.. If you want to see the impact on revenue as well, make sure you populate the additional fields between the square brackets with the order details (recommended).
These are examples of three optional variables you can send with your conversion tracking:
| | | | |
| --- | --- | --- | --- |
| Variable | Description | Data type | Example |
| ORDER_TOTAL | Total order amount | Number | 20129.95 |
| CURRENCY | The order's currency | String | DKK |
| BASKET_SIZE | Number of items in the basket | Number | 3 |
Note: If you are using Google Tag Manager you can simply copy and paste the code into it.
For more information about how to add TrustBox(es) on different eCommerce systems, you can check our related support articles.
Click Save and continue to complete the setup.
Note: If you do not click the Save and continue button, your changes will be lost and your settings will revert back to whatever they were before you started the process.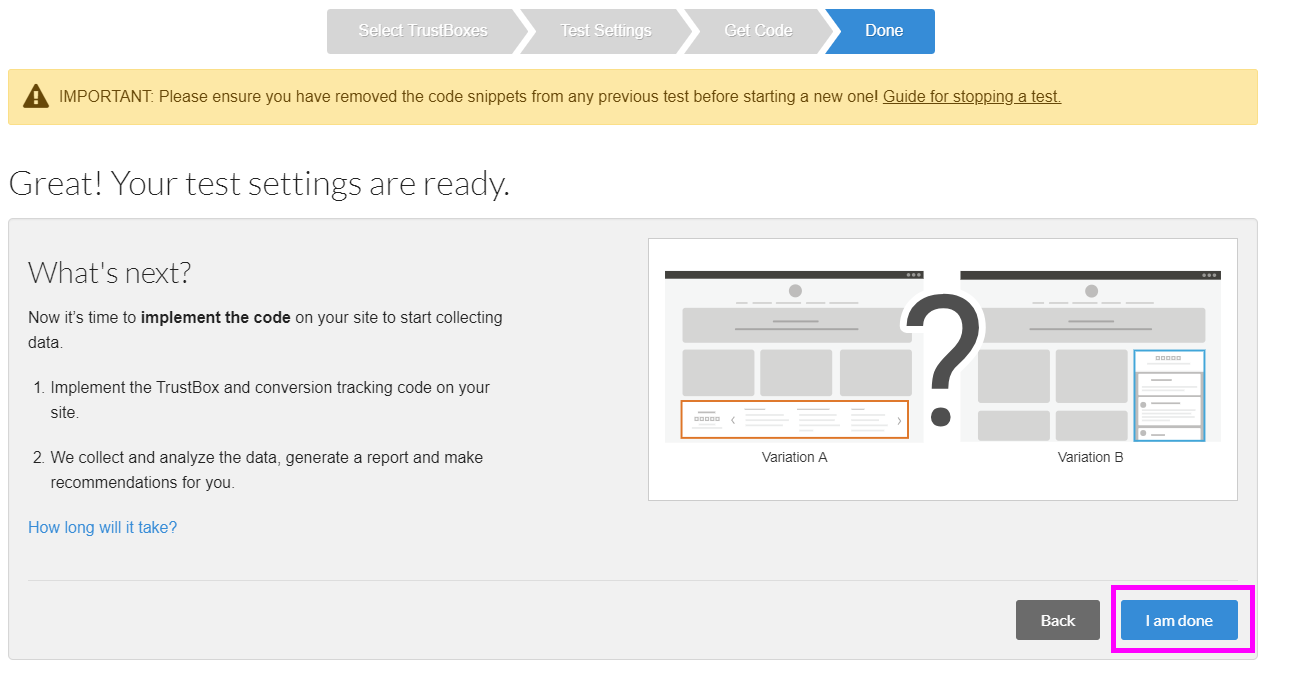 Step 4: Monitor your test results
After you implement the TrustBox and the conversion tracking script on your website, we combine the impression and conversion events to analyze how the different variations impact your conversion rate and revenue.
You can monitor your test results, find your report, and your test settings under Integrations > TrustBox Library > TrustBox Optimizer.
Under the Summary tab, there's an overview of your test results. The test status at the top of the page will display the current status of your Conversion Optimization Test. You will also see a brief overview of the total visitors, conversions, and variations in this test.

Under the Detailed report tab, you will see in-depth information on the current Conversion Optimization Test. When the tool has collected enough data, it will display recommendations for your next steps based on the results.
Under the Test settings tab, you'll be able to adjust your current test settings.
Note: If you want to make any changes to the settings of a test you're running, you'll have to restart the test with the same variations. Tests that have been running for less than 7 days will be deleted, any other tests will be saved in Test history.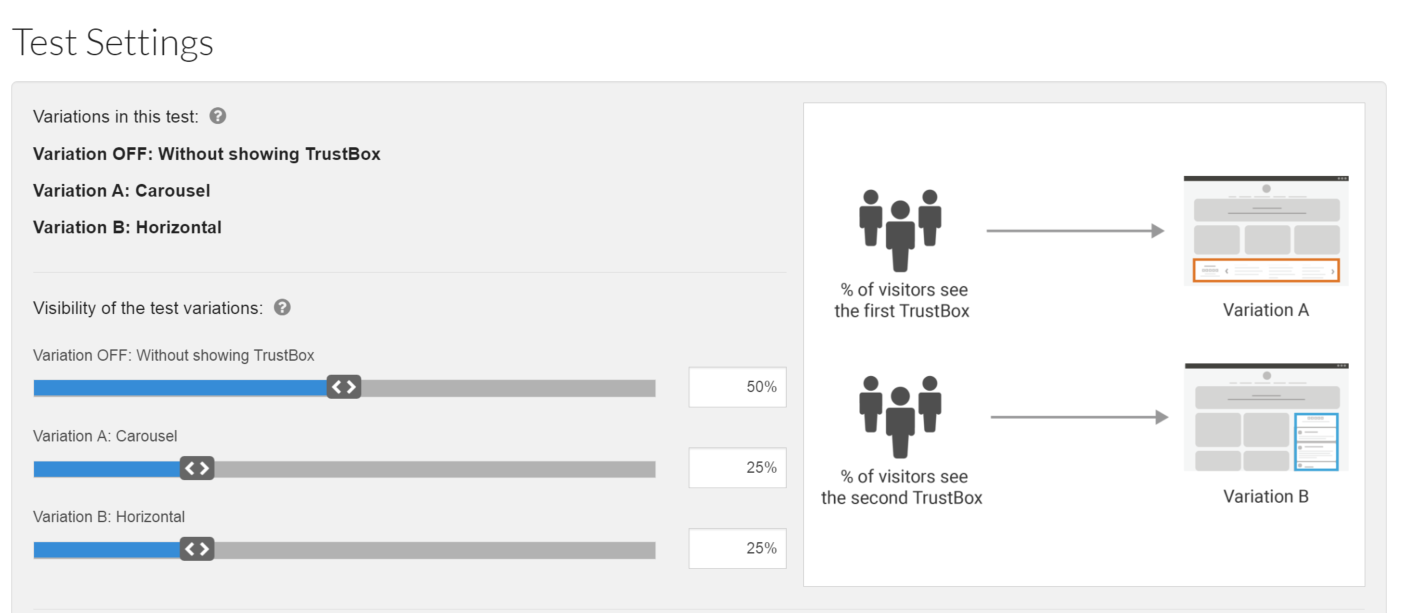 How to stop a test
Tip: Scroll down to read about starting a new test.
Step 1: Quick stop a Conversion Optimization Test
Go to the Test settings tab and set the visibility of the variation you'd like to keep at 100%. This will hide the rest of the variations from your visitors. Then follow the instructions in Step 2.
Step 2: Completely stop a Conversion Optimization Test
You can end a test by removing the Conversion Optimization Test code you have implemented on your website:
If you want to keep a variation that has a TrustBox, remove the data-group attribute from the div code.
If you want to completely remove the TrustBoxes, remove all code from <head></head> and <body></body> sections.
Unless you are planning any additional tests, remove the conversion tracking code too.
How to start a new test
Start a new Conversion Optimization Test by completely removing the code from your previous tests, so your data report is accurate.
Step 1: Completely stop previous Conversion Optimization Tests
If you want to keep a variation that has a TrustBox, remove the data-group attribute from the TrustBox code.
If you don't want to keep any of the previous variations, remove the entire TrustBox code from the <body></body>.
Step 2: Start the new test
Repeat the steps from How to Start Your First Conversion Optimization Test.