This guide will help you maximize the value you get from using Trustpilot's Product Reviews TrustBoxes.
Our TrustBoxes make it easy to earn rich snippet stars in organic search results. This guide will focus on what you need to do and prioritize to get rich snippets in Google organic search (SERP).
Showcasing product reviews on your site is a great way to constantly keep your product pages "fresh" with unique content and drive more organic traffic to them.
There are two steps you should complete in order to get started with Rich Snippets in Google search.
You need to install the TrustBox on your product page(s) and verify that it is implemented correctly.
You should prompt Google to crawl your product page(s) to ensure that they index the new Structured Data markup and review content.
Additionally, it's important to always remember that Google favors fast-loading websites and simple site architecture.
Click here if you want to know more about how to install a TrustBox.
Note: Rich Snippets are entirely at the discretion of Google. Even when you have satisfied all of their guidelines, it is still down to Google whether they display Rich Snippets in SERPs.
Step 1: Verify You Have Implemented Your TrustBox Correctly
Start by verifying the SEO TrustBox is visible to all users
To increase your chances of achieving Rich Snippets, your Product Reviews SEO TrustBox should be immediately visible to website users as soon as they land on your product page(s) without having to scroll. Reviews should not be hidden behind tabs or expand-all links because Google is likely to ignore this content.
While hiding your Product Reviews SEO TrustBox behind a tab sometimes can be tempting for design reasons, Google discourages this practice as it leads to a poor user experience. Furthermore, this technique has been abused by SEO spammers in the past, so avoid hiding Product Reviews behind tabs or expand-all links.
Next, manually check the SEO TrustBox has been implemented and the schema.org markup is loaded
You need to ensure that your site loads the correct data into the Schema markup. Product SKU and product title are required fields. Here's how to verify the correct data is loaded:
In the browser, go to your product page:
Right-click on the TrustBox; click Inspect Element and double-check the data-sku and data-name fields
Scroll to the head of the page and find the json-ld (or search for aggregrateRating)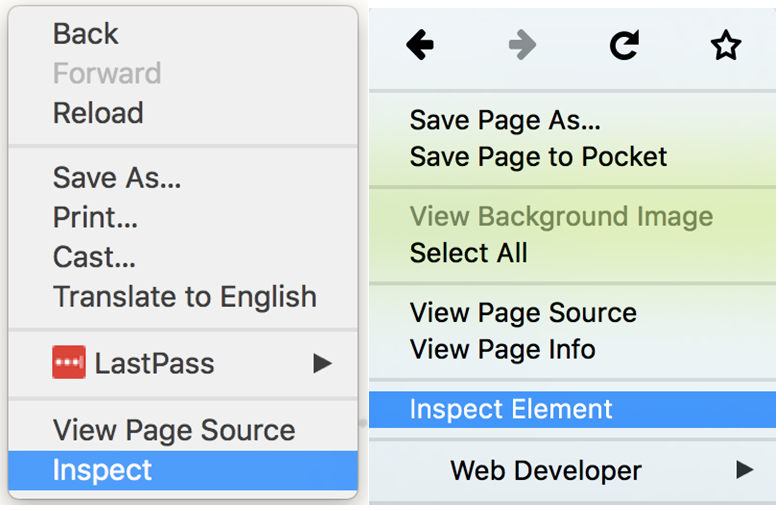 You should see something like this:

Verify the fields name and sku are correct.
Finally, validate the SEO TrustBox for Product Reviews Schema.org markup is correct
Copy the URL of your product page with the SEO TrustBox to Google's Structured Data Testing Tool.
You will be shown a test screen similar to the screenshot below. If the Structured Data Testing Tool doesn't detect the Schema markup, please read If the Structured Data Tool doesn't show any Schema markup below, and return to this section once your code is detected.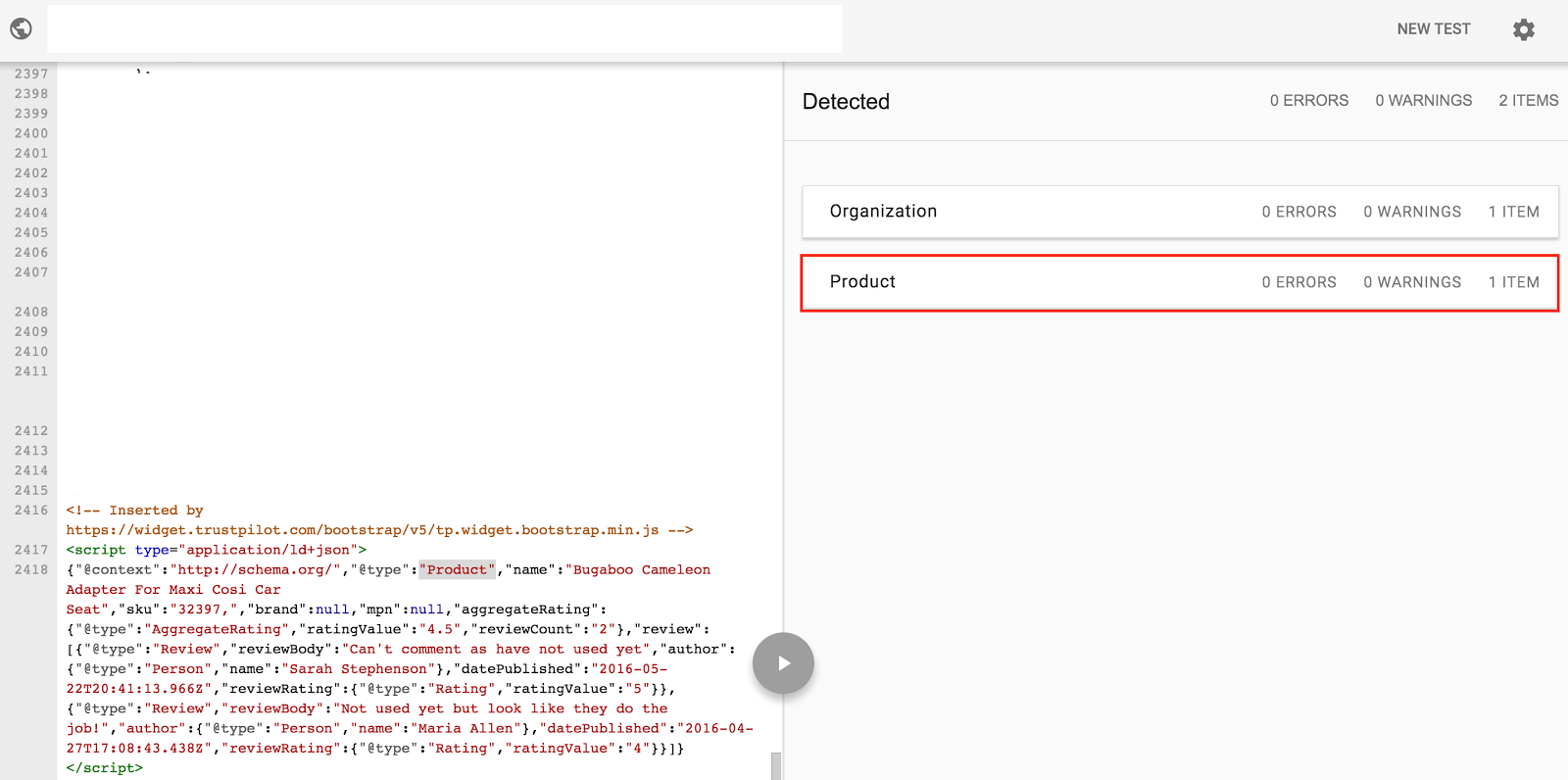 On the right-hand side of the test screen, you will see a box marked Product. Ensure there are 0 Errors detected.
Click on Product. The box should open and reveal the data that Google is able to read from the markup as shown below: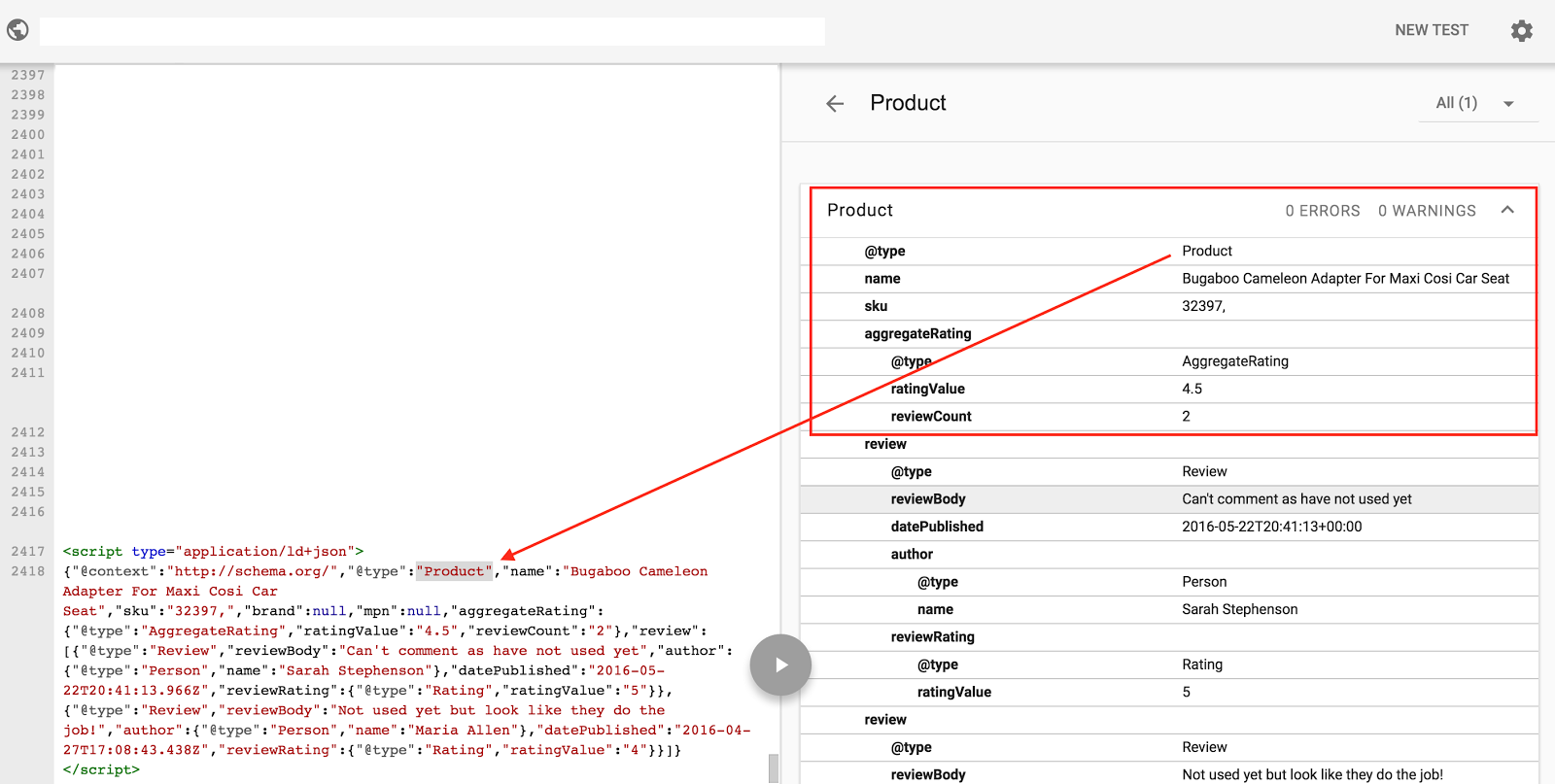 When clicking on the data in the right-hand pane, the relevant HTML markup in the left-hand pane will be highlighted. Check that every field is in order, i.e. AggregateRating, number of reviews etc.
If the Structured Data Tool doesn't show any Schema markup
If the Schema markup isn't showing, it's possible that you may have slow-loading product pages. Slow-loading pages prevent the Structured Data Tool from reading the Schema markup. Slow-loading web pages can negatively affect you in a multitude of ways.
Read the section The load speed of your product pages is too slow below to better understand potential consequences of slow-loading websites and product pages, and learn how you can fix this problem.
Step 2: Prompt the Googlebot to Crawl and Index Your Product Pages
At this point, the SEO TrustBox for product reviews is correctly implemented and the TrustBox is showcasing fresh review content created by your customers. Now it's time to tell Google to crawl your product pages.
To ensure Google has indexed your review content, you should prompt Google to crawl your product page(s) once they have been reviewed. If you sell thousands of products on your site, we recommend you start by prompting Google to crawl your most popular products first. Once your reviews have been indexed, Rich Snippets should begin to appear in Google search results shortly thereafter.
To prompt Google to index your product pages, do the following:
Log in to your Google Search Console and select your website.
In the Inspect any URL in your site's name field, enter the URL of the page that contains the TrustBox.
Once the URL data has been retrieved, click on Request Indexing.

If you get a message that says "URL is not on Google", try pushing the Test Live URL button to find out why Google cannot crawl your page.

Repeat this process for all the URLs that contain the same TrustBox. Once Google has indexed your pages, your rich snippets should begin to appear in Google Search.
Please note: If your site is of low authority, i.e., one that Google doesn't crawl very often, and if you don't prompt Google to fetch your new content, it can take more than three months before Google crawls your product pages.
Additional Ways to Help Google Index Your Product Pages
Create an XML sitemap to help the Googlebot index your product pages
Normally eCommerce sites have complex site structures and navigation, meaning product pages are often buried deep down within the site hierarchy. Google can find it difficult to navigate through these sites and crawl all product pages.
An XML Sitemap containing URLs to your product pages can help Google find all the products on your site.
Tip: If you sort products in your XML sitemap by latest reviews first, Google should see the product pages with the latest reviews first when they crawl the sitemap.
Link to recently reviewed products to help the Googlebot crawl your product pages
In terms of SEO, the homepage of any website is seen as the most important. For this reason, Google typically crawls the homepage more often than any other page on your site.
To give your product pages a boost in SEO, we recommend linking to your product pages from the homepage.
The diagram below shows how an eCommerce site is typically set up.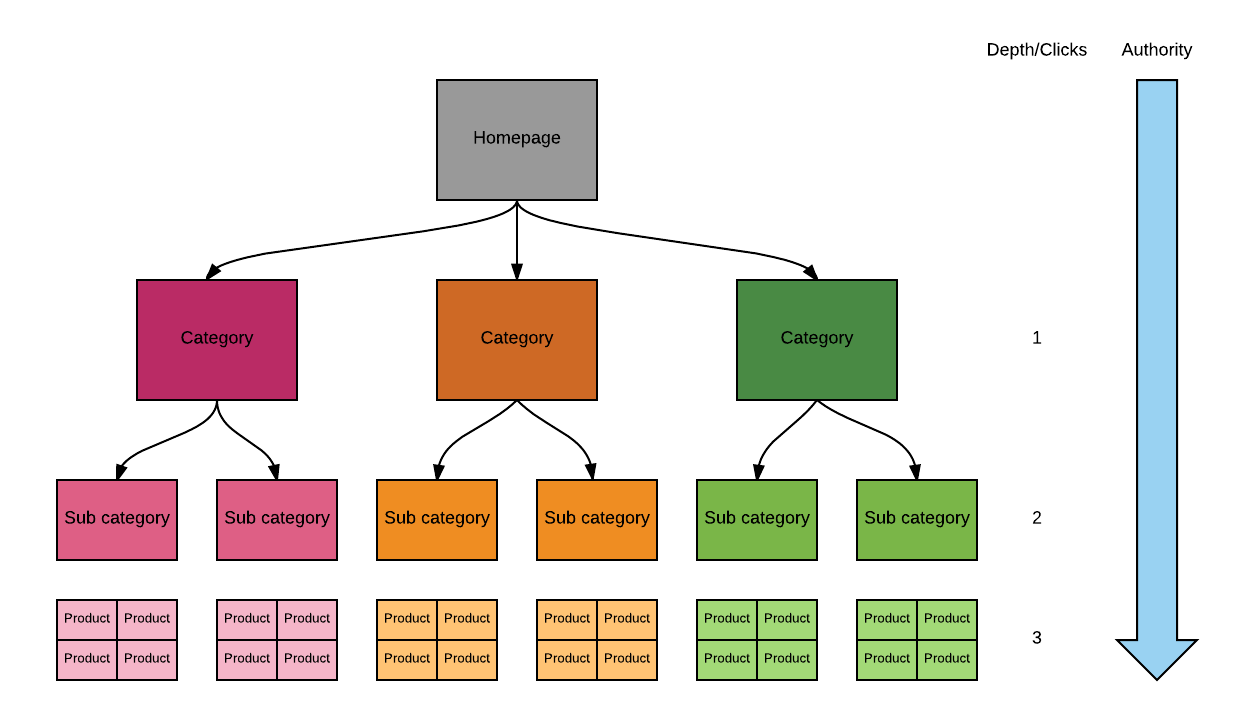 You can see that product pages are approximately 4 levels deep. Taking into consideration that many eCommerce sites consist of hundreds or even thousands of products, the Googlebot has to crawl a lot of pages.
To help Google crawl your site, you can use the following technique: create a module on your homepage where users and Google can see your five/ten most recently reviewed products, and have this module updating dynamically as new reviews are published. The next time Google crawls the homepage, they will see the links to the most recently reviewed products. This is a more direct way to your product pages compared to navigating the journey from a homepage, to a category page, to a sub-category page, and then finally to a product page. See screenshot below.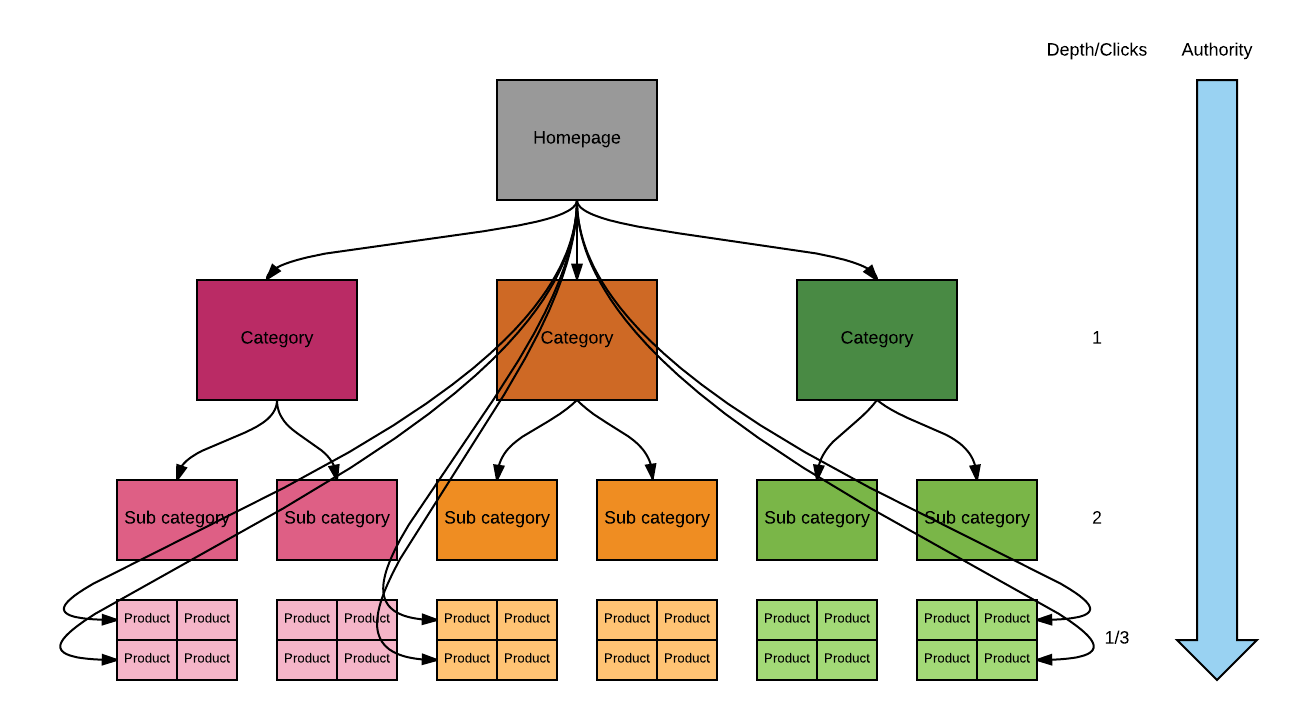 You can also implement such a module on your category pages and limit reviews shown to individual categories.
Share product reviews on your social media channels
When customers leave product reviews on your product pages, why not shout about it in your social channels?
Social signals also play a part in SEO. By sharing your product reviews, you help the Googlebot see your reviews which further helps with visibility for your product pages.

Reasons Why You May Not Be Seeing Rich Snippets for Your Products on Google Search
Google has the authority to disable Rich Snippets
"[Google] performs algorithmic and manual quality checks to ensure that structured data meets relevancy standards. In cases where [Google] sees structured data that does not comply with these standards, [Google] reserves the right to disable Rich Snippets for a site in order to maintain a high-quality search experience for our users."(Google)
The load speed of your product pages is too slow
There are many reasons why you should work to optimize the load speed of your product pages and your website in general. Here are a few main reasons:
Page load times matter in SEO, from both a usability and conversion perspective.
40% of people abandon a site that takes longer than 3 seconds to load!(1)
A 1-second delay in page response can result in a 7% reduction in conversions.
If your eCommerce site is making $100,000 per day, a delay of 1 second could potentially cost you $2.5 million in lost sales every year.
Websites with fast-loading pages benefit by Google crawling more pages on the website. Furthermore, Google rewards these websites with better positioning on the Search Results Pages.
You can check load times of your product pages by using the Google's PageSpeed Insights Tool.
Example: The product page below produced timeout messages in the Google Structured Data Tool. When feeding the URL into the PageSpeed Insights Tool you can see that the desktop site scored 40/100 which is critical.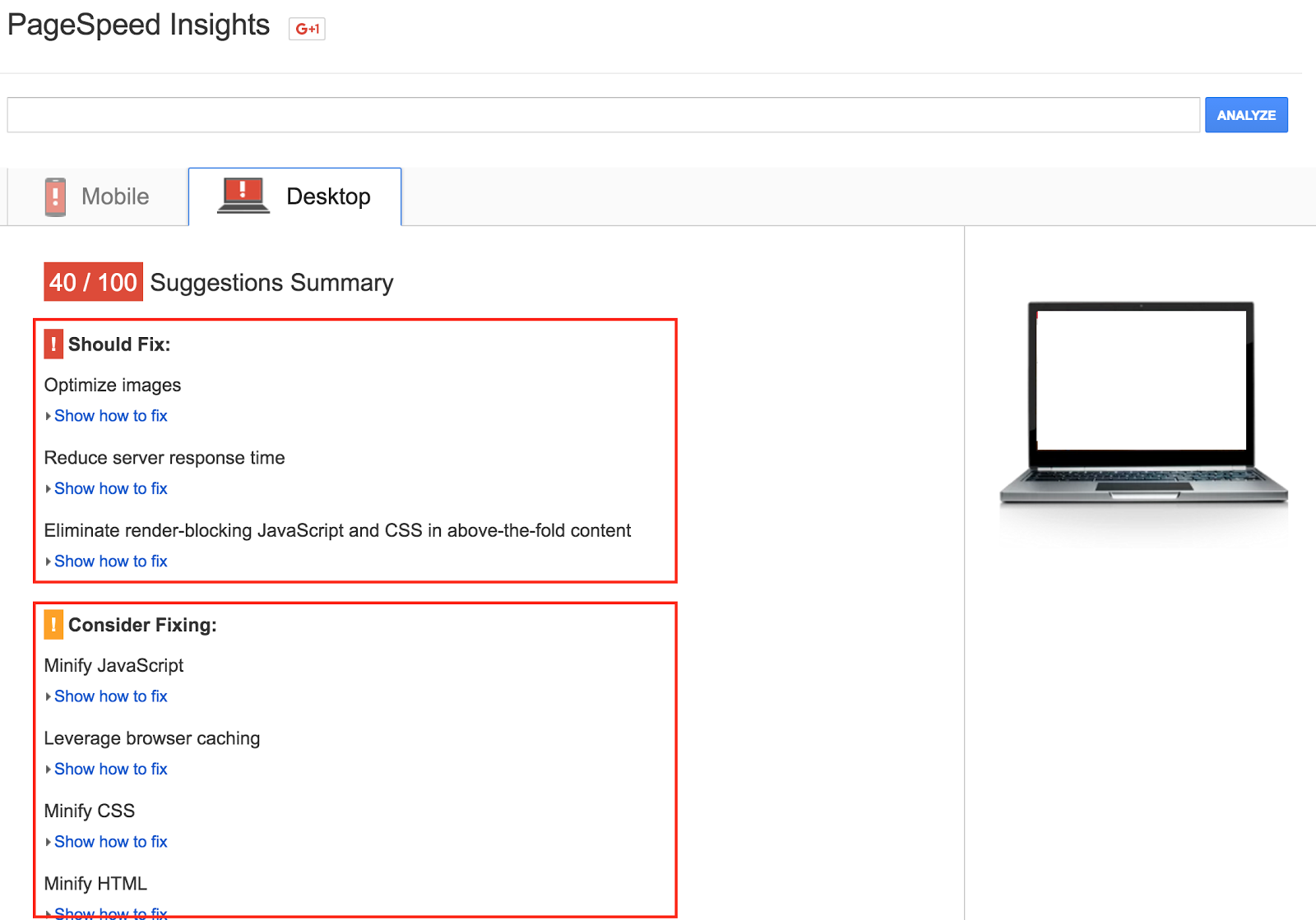 If your pages score similar to this, it is recommended that you work with your developers/engineering team to optimize the elements suggested by Google as soon as possible, or at least the elements that are within your control.
A good score to aim for is 70/100.
Additional Warnings and Ways to Help Google Understand Your Website
This section highlights various problems we have encountered on our customers' sites.
Avoid duplicate content
Search engines can easily pick up on duplicate content. This can result in fewer pages on your site being crawled. In extreme cases, it can also result in the search engine banning your site or lowering your ranking.
We sometimes see websites that are accessible on both http and https. This confuses Google and may result in duplicate content issues. We recommend addressing all forms of duplication where possible. With respect to a site being available on both http and https, the recommended solution is to create a permanent 301 redirect on http to equivalent pages on https. This will help Google better understand your website.
Avoid spammy structured markup
If you are using techniques that are outside Google's Structured Data guidelines, such as marking up content that is invisible to users, marking up irrelevant or misleading content, and/or other manipulative behavior, Google may penalize your site from gaining Rich Snippets.
Note: It can take up to six weeks from the time Google crawls your page to the time the Rich Snippets appears in search results. Sometimes a page must be submitted several times before it gets crawled, thus prolonging the process more.
Some useful links: