We have developed a new functionality with our TrustBoxes which will allow you to get Rich Snippets for SEO in an easy way. The new functionality works by marking up your TrustScore and total number of reviews and this in turn helps your company achieve Rich Snippet Stars in organic searches.
The additional markup can help your website stand out in Google Search (SERPs), and more importantly it increases your organic CTR, driving more traffic to your website. This doesn't directly improve your site's SEO, but the markup makes it easier for Google to understand it and the increase in CTR will help you rank better over time.

This has been made possible thanks to recent developments in Google's guidelines for structured data.
If you are interested in Rich Snippets for product reviews, check out our SEO-friendly Product Reviews TrustBox.
How to Implement on Your Site
TrustBoxes are the fastest and easiest way to showcase reviews on your site and to start using structured data. We're constantly following the trends in structured data and can ensure that your implementation is always compliant with Google's guidelines provided you carefully follow the TrustBox implementation guidelines.
There are two steps you need to complete in order to get started with Rich Snippets in Google Search using TrustBoxes:
Step 1: Add a TrustBox to Your Website
Choose a TrustBox from the TrustBox Library that shows service reviews.
Check the box marked Enable Rich Snippets for SEO
Implement the TrustBox code on your website, following the implementation guidelines. You should implement the TrustBox code on no more than 5 key pages that represent you as a company, for example:

About or Testimonials page
1-2 key landing pages based on traffic
IMPORTANT: Please read the full implementation guidelines below before implementing this TrustBox on your site.
Step 2: Prompt the Googlebot to Crawl and Index Your Pages
Log into your Google Search Console, select your website, and navigate to Crawl > Fetch as Google as per the screenshot below.
Input the URL of the page where you've implemented the TrustBox, then click on Fetch and render
Once Google has completed the Fetch, click on Submit to Index.
Check the I'm not a robot box, followed by Crawl only this URL, and click Go.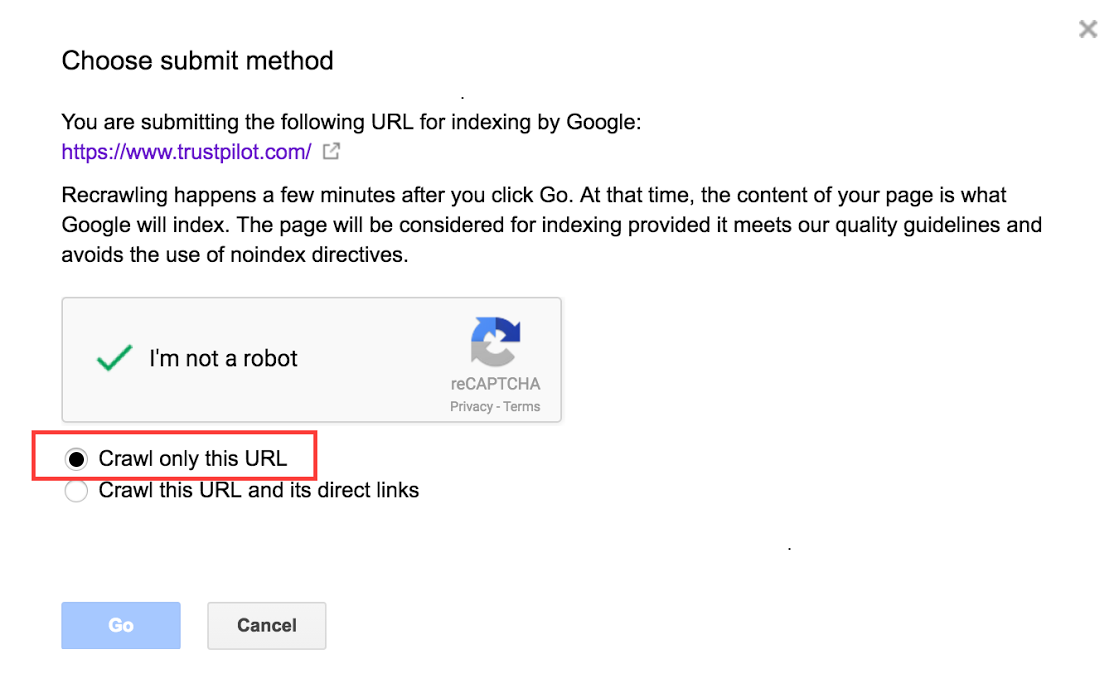 Repeat the above steps for all your URLs where you've implemented a TrustBox.
Once your page is indexed, Rich Snippets should begin to appear in Google Search shortly thereafter.
NOTE: If your site is of low authority, i.e., one that Google doesn't crawl very often, it can take more than three months before Google crawls your pages if you don't prompt Google to fetch your new content.
Implementation Guidelines
This is how you can ensure that your implementation is in line with Google's guidelines so you can achieve optimal results:
Always do this
Add the new TrustBox code only to a handful of key landing pages (not more than 5), for example

About Us or Testimonials page
1 or 2 top landing pages according to your analytics
Position it above the fold or in a clear and visible position, where people can easily see the stars right after they land on your page.

Tip: Avoid placing it in the global header/footer or navigation menu where the TrustBox will be surfaced across the whole website
Tip: Be careful with template pages that would lead to the TrustBox being added on more than 5 pages
Don't do this
Don't try to get Rich Snippet Stars from your TrustScore across your entire site, as this will be considered spammy and is frowned upon by Google.

On other pages of your site, you can have a regular TrustBox without rich Snippets markup.
NOTE: Google does not support Rich Snippet Stars when you place an SEO optimized TrustBox on your homepage. However, we still recommend adding an SEO optimized TrustBox to your homepage thereby enriching your website with good meta data about your site for improved visibility in Google's Knowledge Graph. Google might also change their guidelines in future regarding featuring Rich Snippets on your homepage.
NOTE: Rich Snippets are entirely down to Google's discretion. Even when you have satisfied all of their guidelines, it is still down to Google whether they display Rich Snippets in SERPs.
Frequently Asked Questions
Not seeing rich snippets? Find our troubleshooting guide here.
What are Rich Snippets?
Rich Snippets are a type of markup of the content of a webpage which help search engines to find and index information more easily.

NOTE: This should not be confused with Google Seller Ratings and the yellow stars that appear in your ads. Rich Snippet Stars appear in organic searches instead.
By using the TrustBoxes optimized for SEO, will Google index the service reviews too?
No. Google indexes the content of the reviews on your company profile page on trustpilot.com. The same content should never be indexed on your site as well, as this would be flagged as double content and may lead to SEO penalties. TrustBoxes only mark up your TrustScore – the overall rating and total number of reviews – which can give you Rich Snippet Stars in Google.
Can I add Rich Snippets to all my pages?
We strongly advise you not to do that. It would be misleading your customers and likely be looked upon as spam by Google. We recommend picking the one or two pages that represent you as a company the most, in most cases that is the about us or a dedicated testimonials page. In addition to that, you can also add rich snippets to 1 or 2 top landing pages according to your analytics. Don't add rich snippets to more than 5 pages on your site.
How do I add Rich Snippets on my category or product list page?
We've seen a lot of sites mark up their product list pages as products, maybe your competitors do it too, but it's against Google's guidelines and they risk losing all their Rich Snippets, including legitimate Rich Snippets on product pages. Google have already started taking action against some bigger sites who misuse Rich Snippets. The best option you have is to follow Google's guidelines, and with our TrustBoxes we're offering a safe way for doing that, which is in line with Google's guidelines. Recommended placements:
TrustBox for service reviews with Rich Snippets markup on:

Homepage, About Us or Testimonials page
1 or 2 top landing pages according to your analytics (this can also be a product list page, but cannot be a product page)

TrustBox for service reviews without any markup on all other pages of your site.
TrustBox for product reviews with Rich Snippets markup on all your product pages.
Why is the Rich Snippets markup only available on some TrustBoxes?
We've only made this new Rich Snippets feature available on a few of our TrustBoxes – the ones that are fully compliant with Google's guidelines. Each of these TrustBoxes:
Clearly shows your overall TrustScore and total number of reviews.
Shows actual reviews to back the overall score.
Cites the original source where your site visitors (and Google) can read all reviews.
How long does it take before Rich Snippets appear on my search results?
When you implement the new TrustBox functionality on your site, log into your Google Search Console and do a Fetch and Submit to prompt Google to re-crawl your page faster and let them know about the new Rich Snippets markup. We have seen customers get Rich Snippets overnight, while in other cases it has taken as long as six weeks. Sometimes you will see Rich Snippets right away, then they disappear. They will reappear upon Google's next crawl and this is normal Google crawling behavior. Note that Rich Snippets are entirely down to Google's discretion. Even when you have satisfied all of their guidelines, it is still down to Google whether they display them in SERPs. Some sites might never be able to get Rich Snippets, for example adult or gambling sites.
Only Google was able to pick up the schema. Why does nothing appear in Bing?
Bing doesn't support JSON-LD yet. Google only announced support for it in February 2016, so it is likely that Bing will follow suit at some point. Please note that all Service Review TrustBoxes optimized for SEO use JSON-LD.
Why aren't my Rich Snippets appearing in Google search results?
It can take up to six weeks from the time Google crawls your page to the time the content appears in search results. Sometimes a page must be submitted several times before it gets crawled, thus prolonging the process more.
Useful Links and Additional Reading