Integrating Zendesk with Trustpilot gives you a more streamlined customer service experience for managing your customer reviews. It allows you to manage all your reviews from a single location, meaning your business can interact with your service reviews without having to log into your Trustpilot Account or even change workflow.
How the Zendesk-Trustpilot Integration Works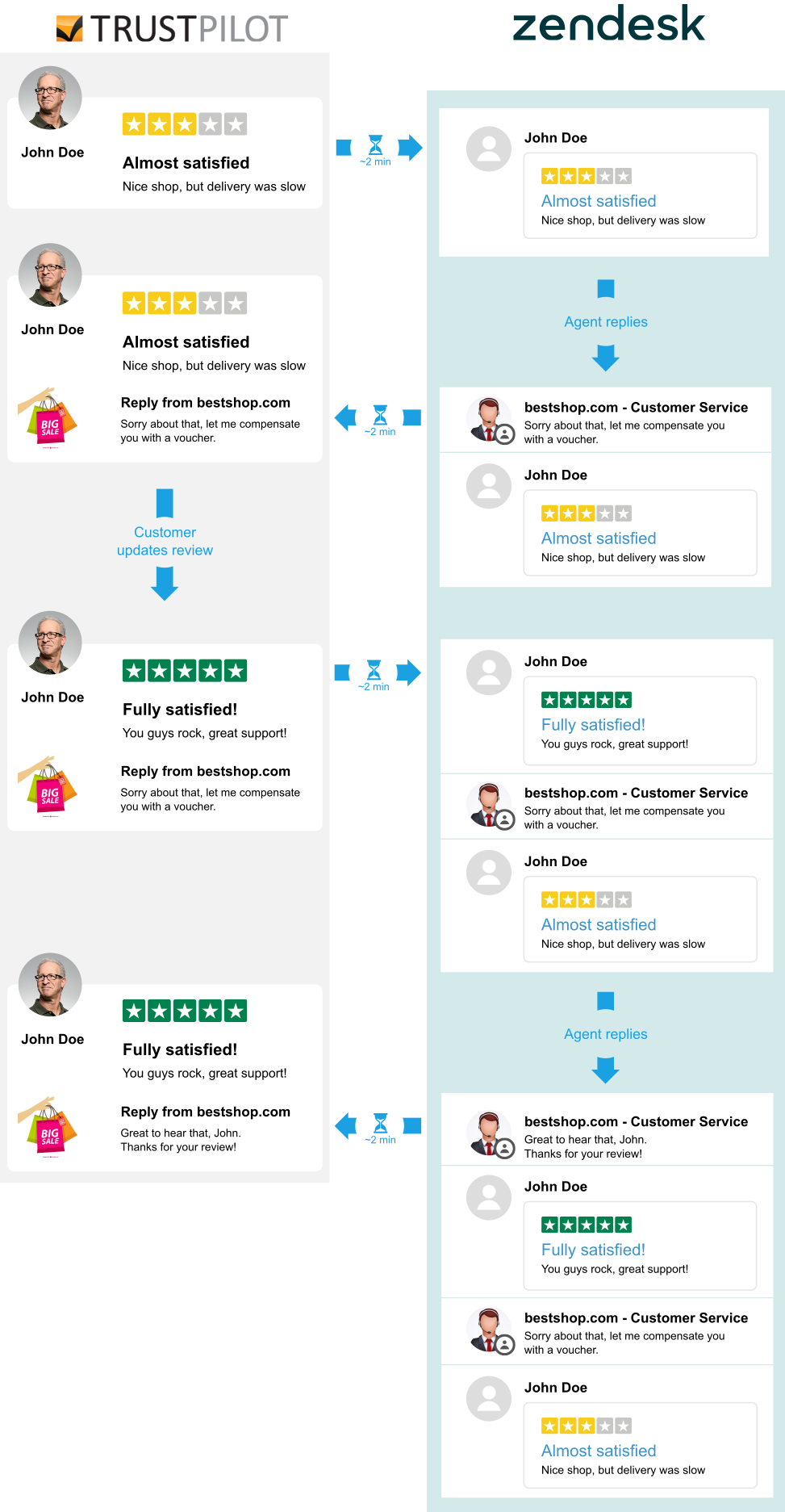 How it Works in Detail
Once the Zendesk Integration is set up and running, Zendesk will automatically create a new ticket for every new service review posted on Trustpilot. Zendesk checks for new reviews every few minutes (this timing is entirely Zendesk-controlled).
All public replies to customer reviews submitted through Zendesk will be added/updated directly on your customer's service review without delay (though caching might occur) in exactly the same way as it would if you had replied from within your Trustpilot Account. Therefore, all public replies will be visible on Trustpilot and, if you are submitting a second reply to the same review, the most recent reply will overwrite the previous one.
Should your customers at any point change their service review, the updated content will be added directly to the same ticket in Zendesk.
Functions That Are Not Integrated
Tags, reporting, and sharing are functions that are not available on the Zendesk integration. However, clicking the link to Trustpilot within each ticket will open up that service review inside your Trustpilot Business Portal, where tagging, reporting, and sharing functions are available.
Set up Trustpilot's Zendesk integration
Go to Zendesk and choose the Admin wheel in the bottom left-hand corner. Go to Channel Integrations and find Zendesk App Marketplace. (Alternatively you can go to the Admin wheel, choose Marketplace and find the Trustpilot Reviews app).
Click Free and specify in the drop-down which Zendesk account the app should be added to. Click Install.
Choose a Title for the app and check the Channel Integrations terms box. Click Install.
Please note that you can set role permissions to access the app from this page as well.
After the installation is complete, click Channel Integrations and select the app.
Select the Accounts tab in the top.
Click Add account and a pop-up will appear asking you to log in to Trustpilot.
Once you are logged in, you can choose the website from which you want to import reviews. If you have access to more than one website, you can choose which profile you want to get reviews from.
Once this is done, the setup is complete and reviews will start appearing in Zendesk.
Note: If you want to change your role permissions, you can select the app under Admin in Zendesk and click the tab Manage. The app can also be uninstalled from this location.