At Trustpilot, we're serious about trust and transparency. In fact, trust is so important to us that it's in our name.
And that's why we've invested in a Compliance Team dedicated to safeguarding trust, protecting the integrity of our platform and helping us set best practices in the online review industry.
What is compliance?
For us, "compliance" means ensuring that we work in accordance with our own rules and guidelines, and follow the external rules governing the online review industry. We help members of our online review community understand and comply with the rules, too.
What does Trustpilot's Compliance Team do?
Agents and Investigators from our Compliance Team spend most of their time responding to questions posed by businesses and consumers, and investigating reviews that are flagged by members of our community.
They're charged with helping everyone do the right thing.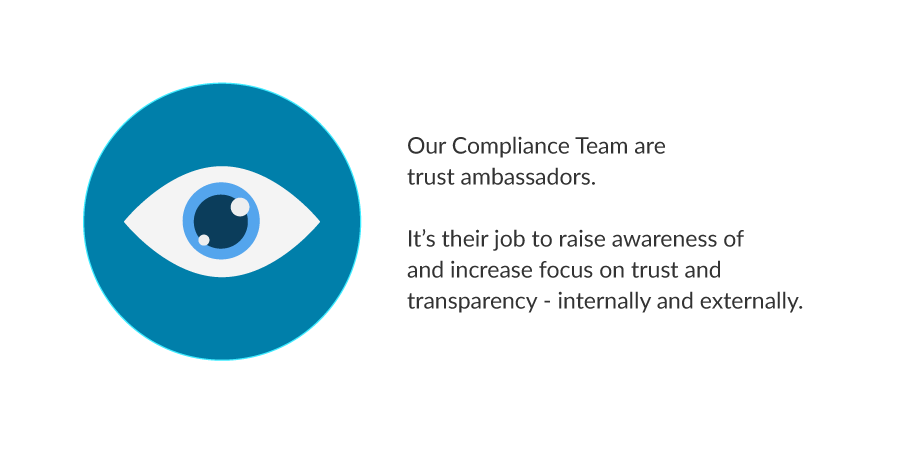 Our guiding principles
Central to our Compliance Team's everyday work is that they believe in what they do, and that they believe they're making a positive impact.
The principles that have guided Trustpilot in building and improving our Compliance Team include:
1. We want to make a difference
This is the tone set by our CEO and founder, Peter Mühlmann. He started Trustpilot to help people.
And key to being able to help people is having their trust. This principle fits with the Compliance Team's aim to establish the global benchmark for trust in the online review industry.
Day to day, the Compliance Team translates this goal into working smarter and in a scalable way, innovating to make our internal processes better, and producing quality communications that help the people who use and work with Trustpilot - including businesses and consumers.
2. Investing in great people
Trustpilot's Compliance Team brings together people with integrity. They come from a range of different backgrounds - including communication, diplomacy and law - and bring rich life experience to their work. Most of our Compliance Agents and Investigators are fluent in at least two languages, and many have worked internationally.
On top of their existing skills and education, they receive ongoing training in best practices and our ethical responsibilities, and opportunities to grow and develop professionally.
Our Compliance Team forms part of our cross-disciplinary Trust & Transparency Unit that includes lawyers, technical product experts, designers, engineers and communications consultants. It's a significant investment to have such a large team separate from the commercial side of the business, but we think it's a critical part of ensuring trust and credibility.
3. Taking responsibility for our tools, processes and procedures
Our Compliance Team are trust ambassadors for the organization. It's their job to raise awareness of and increase focus on trust and transparency - internally and externally.
They also understand the need to anticipate and prevent issues before they arise by looking higher up in the value chain. It's therefore part of Compliance's role to educate the commercial side of the business about best practices - including how they can relay critical information to businesses and consumers.
4. Providing useful information, internally and externally
Communicating about how to use Trustpilot, explaining our rules and why we have to take action against misuse of our platform are fundamental tasks for Compliance.
Sometimes, it's their job to simply explain to people how they can make the most of the features on our platform. For example, reviewers may not appreciate that they can update their review to reflect a changed opinion of a company. Or business owners may not realize that they can claim their profile pages on Trustpilot and reply to reviews about their company for free.
Other times, they need to clarify how and why we make decisions - such as finding the balance between allowing uncensored opinions on Trustpilot and removing defamatory statements that are flagged as problematic.
5. Being part of ongoing conversations
Aside from using the feedback we receive from our online review community, our Compliance Team also draws on technical support to measure its effectiveness with statistical data. They aim to respond to people's questions within a short time frame and it's important to them that they meet these deadlines.
They're also constantly evolving.
Trustpilot continues to listen and learn, and innovate to meet the changing face of commerce. To make sure any changes deliver real value to people, Compliance often works with our user experience (UX) designers. This helps ensure that our community will get the maximum benefit out of improvements.
To contact Trustpilot's Compliance Team, write to compliance@trustpilot.com.