Want to get a better overview of a company's service level? Or read reviews in different languages? Use our filter reviews tool to sort and show reviews by their star rating and language.
Filter reviews by their star rating
Reviews on Trustpilot are shown in reverse chronological order, which means that the most recently published reviews will appear at the top of each company's profile page. However, you can use our filter reviews tool to sort and select reviews by their star rating. This lets you do a more targeted search, such as finding out what customers like about a company (5 star reviews), or what they'd like to see improved (1 and 2 star reviews).
To filter reviews, simply click on the Filter reviews tool and choose the star rating you want to see - 1 star is the lowest rating and 5 stars is the highest. To remove a filter, click on the x icon next to the star rating.

Tip! Read our TrustScore article and learn how companies are rated on Trustpilot.
Filter reviews by language
On Trustpilot, reviews are shown in the language that matches the domain you've selected or the country you're in. For example, if you visit de.trustpilot.com, by default we'll filter to show you reviews written in German. If you go to fr.trustpilot.com, we'll show you French reviews. On Trustpilot.com, reviews are in English.
Change language: If you'd like to read reviews in different languages, simply use the filter reviews tool to select a specific language. When clicking on the drop down button, available languages will appear together with the number of reviews written in that language.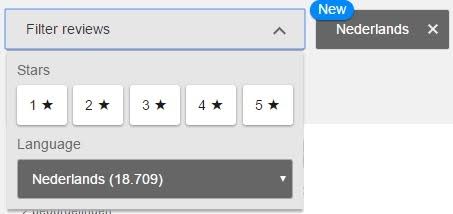 Please note that not all businesses will have been reviewed in multiple languages so you might not see all language options in the drop-down.
View all languages: If you wish to see reviews in all languages , remove the default language by clicking the x icon. You can also use the filter tool by clicking on Filter reviews and choosing All languages.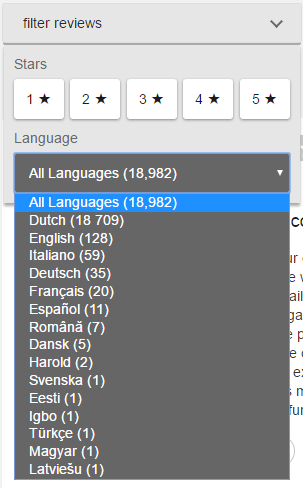 Tip! Narrow your search even further by selecting both the language and star rating of your choice. For example, to read 3-star reviews in Spanish, simply select '3 stars' and the review language 'Español' in the filter reviews tool.