5 ways to collect reviews for free
Want to get more feedback by collecting reviews? For free? Here are 5 ways to invite your customers to leave reviews so that you can gather even more valuable feedback.
1. Ask your customers to review you
When you speak with your customers on the phone or chat with them online, let them know you'd like them to leave a review on Trustpilot. You've probably been asked to leave a review when you visited a restaurant or a tourist destination. They ask you because it works.
2. Send an invitation email to customers after they've purchased
In our experience, there's often a large pool of customers who don't think about leaving reviews. Sometimes all it takes to activate these customers is a polite request. Invitations make it easy for people to leave a review, and remind them that their opinions matter.
Review invitation emails that are short, and keep things simple and on-topic are usually the most successful in getting customers to provide feedback about their buying experiences.
Avoid the temptation to include marketing material in the email. People don't respond well to "please leave a review and please buy this TV", and in some jurisdictions it's simply not allowed.
Best practices
Check out our best practices for creating great review invitations. Or you can take inspiration for your review invitation template here: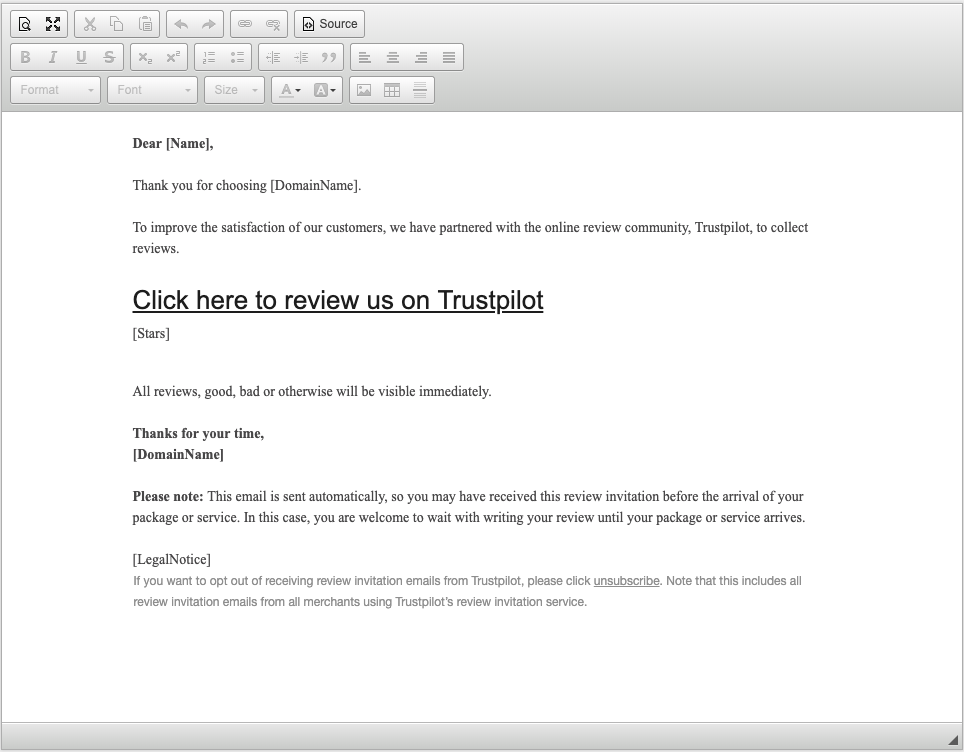 Tips for small companies: If you don't have thousands of customers, use that to your advantage. Tailor your invitations. Make them personal. People will leave a review because they care about you!
Tips for all companies: Experiment and try out different wording in your emails. See what works best.
Please remember to stay within our Guidelines for Businesses (US, UK) and keep the language neutral.
Offering an incentive?
Let our Content Integrity Team know about it via our contact form. We'll review the incentive to make sure it fits our guidelines, and update your company's profile page so that our review community is aware that you sometimes reward customers for leaving reviews. Read more here.
Note: From 1 August 2020, businesses will not be allowed to offer consumers incentives of any kind for reviews of any kind. Incentives include, but are not limited to promotional discounts, monetary rewards, loyalty points, gifts, coupons, etc.
3. Embed a link in your current emails
Think it's too much trouble to email everyone? Make it easy for yourself. Insert a link to your evaluation page on Trustpilot in all your emails, and politely invite people to leave a review.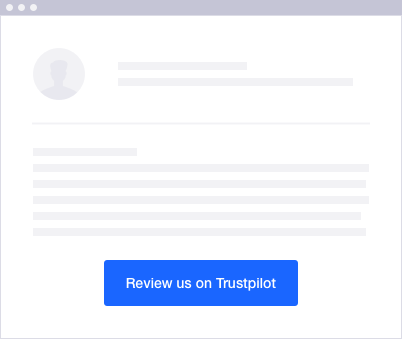 4. Put a link on your website
You can embed a link on your website that sends customers directly to your company's profile page on Trustpilot - where they can leave a review.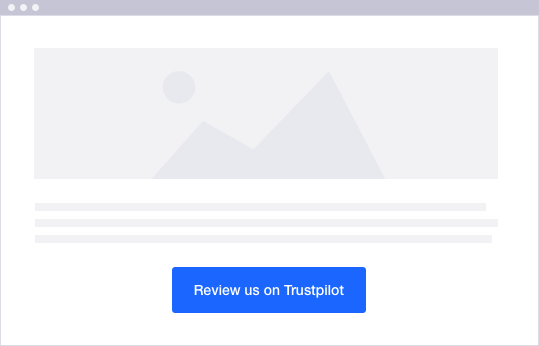 5. Include a postcard in your packages and encourage customers to leave a review
Consider making the most of the range of customizable stationery available nowadays. It's easy to put together a catchy and attractive postcard inviting customers to leave a review. Postcards could be added to all the packages you send out, showing people how to go to Trustpilot and review your company in just a few easy steps. Take inspiration from a simple example here: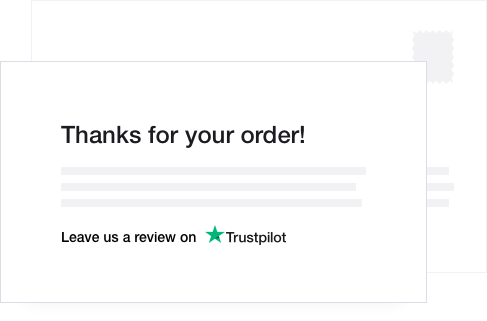 Let people know you're "Asking for reviews"
To keep things transparent, we ask that you let people know if you're actively inviting your customers to write reviews on Trustpilot. Here's how:
Log into your Business Account, select Get reviews then Invite customers.
Below Other options, select Basic Invitation.
Check the box indicating that you're actively inviting customers to write reviews, then select Save settings.
This will change the status shown on your company profile page to 'Asking for reviews'. Companies using Trustpilot's automated invitation services may find their status has been updated automatically.