Trustpilot's BigCommerce app - download, install and configure it
Trustpilot's BigCommerce application allows you to automate your review collection for service and product reviews. You can also add multiple TrustBox widgets using the app and invite past customers to write reviews.
In this article, you'll learn how to connect Trustpilot to BigCommerce.
Note: This integration is for companies who use the BigCommerce eCommerce platform. Making use of another platform? Check out our other integrations. Keep in mind that if you use other automatic invitation methods you'll have to disable them to avoid sending duplicate invitations to your customers.
Note: This integration isn't compatible with Internet Explorer.
Benefits of the BigCommerce app
Automate your review requests — a new order automatically triggers an invitation email to your customer.
Send review invitations to your past customers.
Add multiple TrustBox widgets to your webshop.
Connect with the BigCommerce app
To connect Trustpilot with BigCommerce:
Go to Trustpilot Business > Integrations > Ecommerce Integrations > BigCommerce and click on Connect now.
When prompted, log in to your BigCommerce account.
Under Trustpilot Reviews, click the Install button.
Review the access permission page and click the Confirm button.
If prompted, log in with your Trustpilot Business credentials.
Review the legal terms, click the I understand and accept the above check box, then click the Confirm button.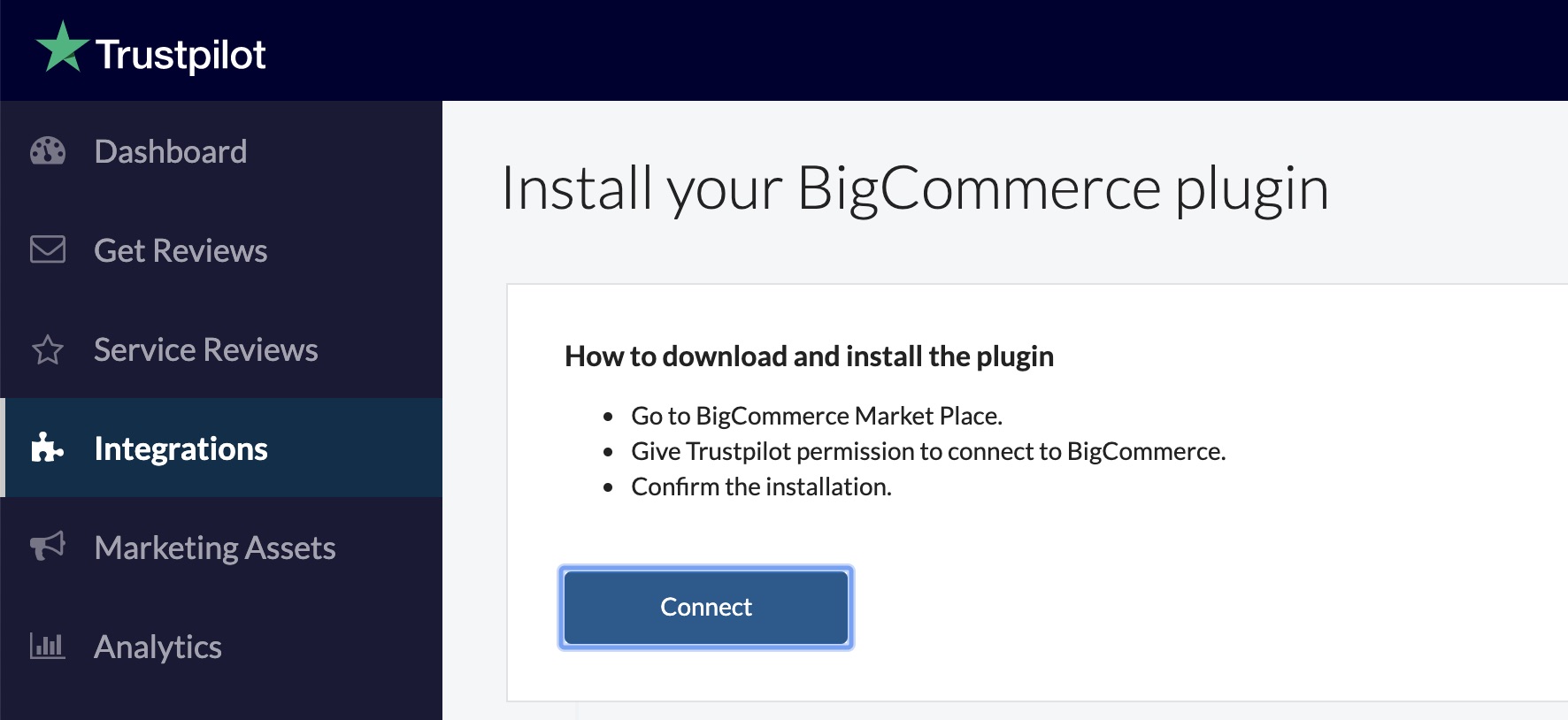 Once you've installed the app, you can:
Change your invitation settings and choose your invitation trigger.
Enable product review invitations, if you use Trustpilot product reviews.
Invite past customers to write reviews.
Add multiple TrustBox widgets.
Configure the invitation trigger
On the General tab, configure what triggers invitations to be sent to your customers.
Select your Invitation trigger from the drop-down menu.

Choose Order confirmed if you'd like to invite your customers when your BigCommerce order status is Awaiting Fulfillment/Awaiting Shipment or Awaiting Pickup, whichever status happens first.
Choose Order completed if you'd like to invite customers when the BigCommerce order status is Shipped or Completed.

Click the Save changes button.
Update your invitation settings
You can update your invitation settings on the Invitations tab. Customize your:
Sender Name – the information that appears in your customer's email inbox when they receive your review request. Currently, the Sender Email is by default the noreply.invitations Trustpilot email address.
Reply-to Email – the email address you want your customers to use if they respond to your email.
Trustpilot website – the Trustpilot landing page where your customers will write their review, for example, www.trustpilot.com or de.trustpilot.com.
Send Delay – Set the number of days you'd like to wait before your invitation email is sent to your customer. The maximum delay is 90 days.
Send product review invitations
The BigCommerce app allows you to send product review invitations if you use Trustpilot's Product Reviews feature.
Click on the Product Reviews tab, then enable the Product reviews invitations toggle.
Under SKU (Stock Keeping Unit), select a SKU field from the drop-down menu to indicate where your SKUs are stored. You must choose an option if you want to send product review invitations.

Click the Check that all your products have SKUs link to make sure all your products have recorded SKUs. If there's missing data, go back to the Admin products section and update the field with missing SKU information.

You can also select product GTIN and MPNs from the relevant drop-down menus, but these are optional.
Once you're done, click on the Save changes button.
Invite past customers to write reviews
The BigCommerce app allows you to send review invitations to customers from the past 7 days up to 6 months ago.
In Past Orders, select the time interval you want and click the Sync up orders button.
If any orders didn't sync properly, click the Re-sync button to try to send the invitations again.
Add a TrustBox using the BigCommerce app
You can add multiple TrustBox widgets to your web pages using the BigCommerce app.
In BigCommerce Admin > Trustpilot Reviews app, on the TrustBox tab, select the Try it out button. You'll see a list of the available TrustBoxes and the preview of your shop.
Drag and drop a TrustBox onto the preview of your website. You can choose to place TrustBoxes on your landing page, category page, or product page.

To place your TrustBox on another page, click on Add a new page and simply enter the specific web address.

To configure your TrustBox, hover over it and click Customize. Customize the position, color theme, width, height, language and the vertical/horizontal offset of the TrustBox.
To publish the TrustBox on your site, click the Publish changes button.

If you use the Legacy BigCommerce Blueprint theme, copy the TrustBox script into the <HEAD> section of your website. See the implementation guide for detailed steps.
Note: Your data-sku attribute updates automatically if you choose a Product Reviews TrustBox. Remember to add it to your product page.
Note: We currently don't have a sandbox environment available for testing purposes.
Trustpilot is not liable for any links to third party websites in this article, including the content on any other websites linked to from this article.