Here are 5 key points to help you create the best email invitations possible, and comply with our Company Guidelines.
Companies can choose from different options for inviting their customers to leave a review. However, regardless of which method they choose, review invitations must meet Trustpilot's Company Guidelines (US version, UK version) and invite customers in a neutral way.
1. Is every genuine customer given the chance to express their opinion on Trustpilot?
We ask companies to invite all or none of their customers to write reviews. If that's not possible, companies must select an equally impartial system, such as inviting every third customer.
Invite everyone to review
An example of a biased invitation is: "If you were happy with our services, please review us on Trustpilot. If not, please contact our customer support". This isn't allowed because it filters out negative reviews; happy customers will leave a positive review on Trustpilot, but unhappy customers will contact the company instead of leaving a negative review.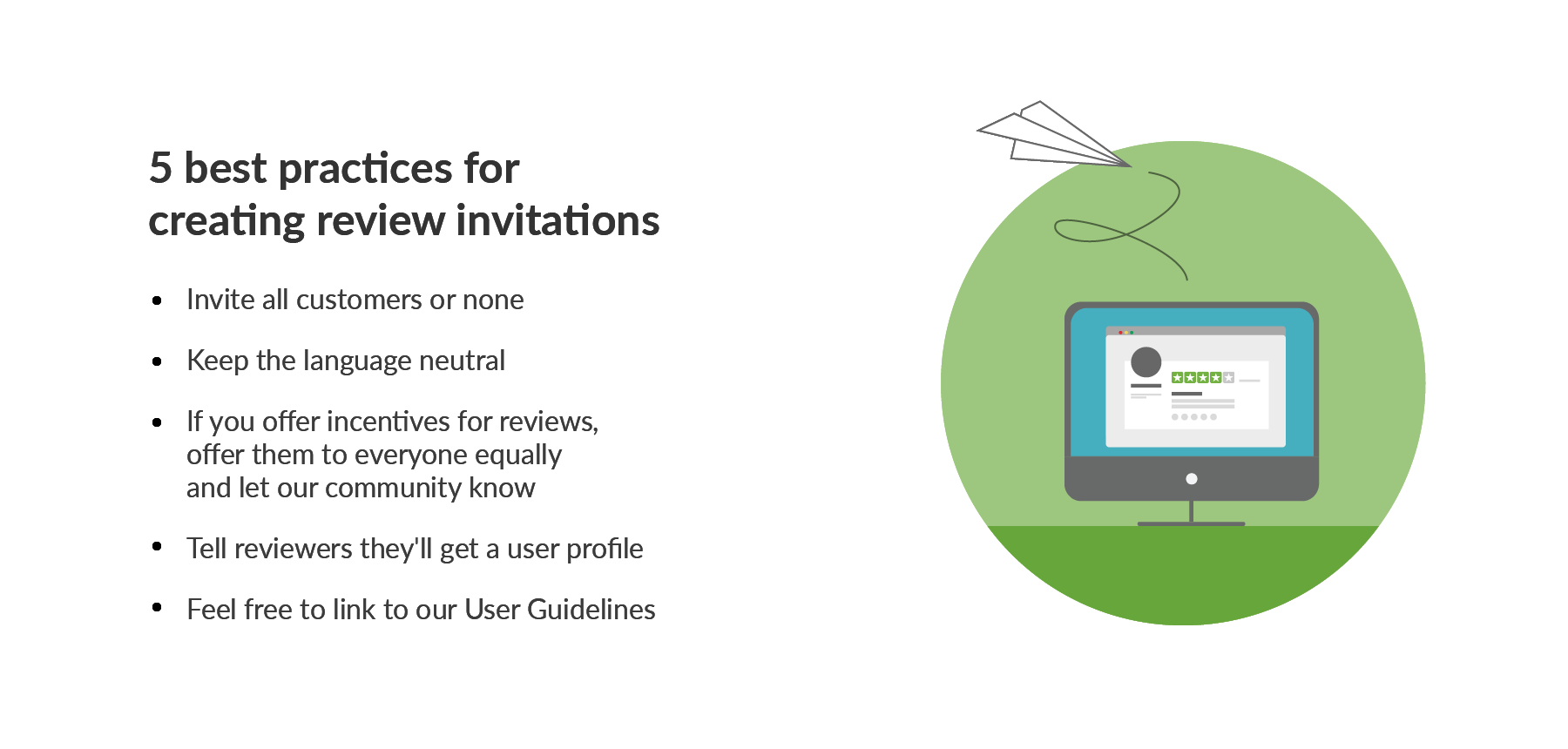 Don't miss out on opportunities to build credibility!
Companies that filter out negative reviews waste an opportunity to get feedback and learn how to improve. They also miss a chance to build credibility: consumers reading Trustpilot reviews often see company efforts to reply to and resolve negative reviews as a good thing!
Contact info below the Trustpilot link
Companies can include contact information in their invitation emails, but it should be done neutrally. This means equally inviting all customers to contact the company with feedback, not just those who had problems.
A neutral example is: "We'd like to invite you to review us on Trustpilot. Or you can contact us directly with any feedback by writing to: feedback@companyaddress.com." Contact details should be placed below the link that directs customers to review on Trustpilot.
2. Is the language and format neutral?
Invitations must be written and structured in a neutral and unbiased way. Leave out any statements that try to persuade customers to write reviews that reflect anything other than their honest, genuine opinion.
Put the Trustpilot link first for more reviews
We've found that people are more likely to leave a review if the Trustpilot link is easy to find. Companies are welcome to link to their own websites or other review sites, but these links should be placed below the Trustpilot link.
3. Are any rewards or incentives offered to your reviewers? If so, are they offered to all of them?
Companies that choose to offer incentives or rewards (including discounts or entry into prize draws) in their review invitation emails should follow our guide to offering customers incentives, which is summarized below:
Offer the same incentive neutrally and equally to ALL reviewers
When we say neutrally, we mean irrespective of the star rating awarded by a customer, or the review content. For example, businesses cannot offer rewards to customers who leave "a positive review" or "a five-star review" on Trustpilot. Similarly, if a company runs a competition, the winning customer(s) should be selected at random and without regard to the content of their review(s).
Be open about any incentives!
Companies offering incentives should inform our community by emailing Trustpilot's Content Integrity Team (compliance@trustpilot.com).
We'll add a small note to the company's profile page on Trustpilot stating that incentives are sometimes offered in the process of collecting reviews. This complies with international guidelines for online reviews.
4. Will writing a review on Trustpilot trigger a user profile and account?
Customers have to register on Trustpilot to write a review, and accept our Terms & Conditions. When a review is submitted, a user account is automatically created for the reviewer, and they receive an email about it. Companies should avoid stating otherwise in their review invitations because this is incorrect.
We need reviewers to have a profile
We require reviewers to have a personal profile so that they can log in to see what they've written, and edit or delete information. This also allows us to contact them if we need to ask for documentation about their review or if it doesn't meet our guidelines.
5. Help customers write great reviews!
We have tips for writing good reviews, and companies are welcome to direct reviewers to read our User Guidelines (US version, UK version) that outline the requirements for writing reviews on Trustpilot. They set out a number of important points, including that we specifically prohibit personal information in reviews, such as names. Companies should avoid encouraging reviewers to include names of employees or staff. If a review containing personal information is brought to our attention, we'll ask the author to edit their review. If the change isn't made, we have to remove the review to protect the personal information.
What happens if your review invitation or review invitation template doesn't meet our guidelines?
We work hard to protect the integrity of our online review community, so we take violations of our Company Guidelines seriously. If we find problems, we'll ask companies to make changes to bring their materials in line with our guidelines.
Change the templates to avoid resetting
Where companies have customized a Trustpilot review invitation template and fail to bring it in line with our Company Guidelines, we may reset their template to our standard, optimized invitation template.
Follow the above pointers to create the best review invitations possible and make things clear and easy for your reviewers, right from the start.
If you have questions about whether your review invitation emails or templates comply with our Company Guidelines (US, UK), please ask our Content Integrity Team at: compliance@trustpilot.com.