If people ask us: "Are reviews on Trustpilot genuine? Can I trust them?", we tell them about all the work we do to make sure this is the case!
Trust in reviews defines the very essence of Trustpilot, so we take the job of maintaining a trustworthy community populated with genuine reviews very seriously.
We have a host of measures to ensure the reviews on our platform reflect genuine buying or service experiences with each reviewed company, and to detect and remove fake reviews. Here's an overview: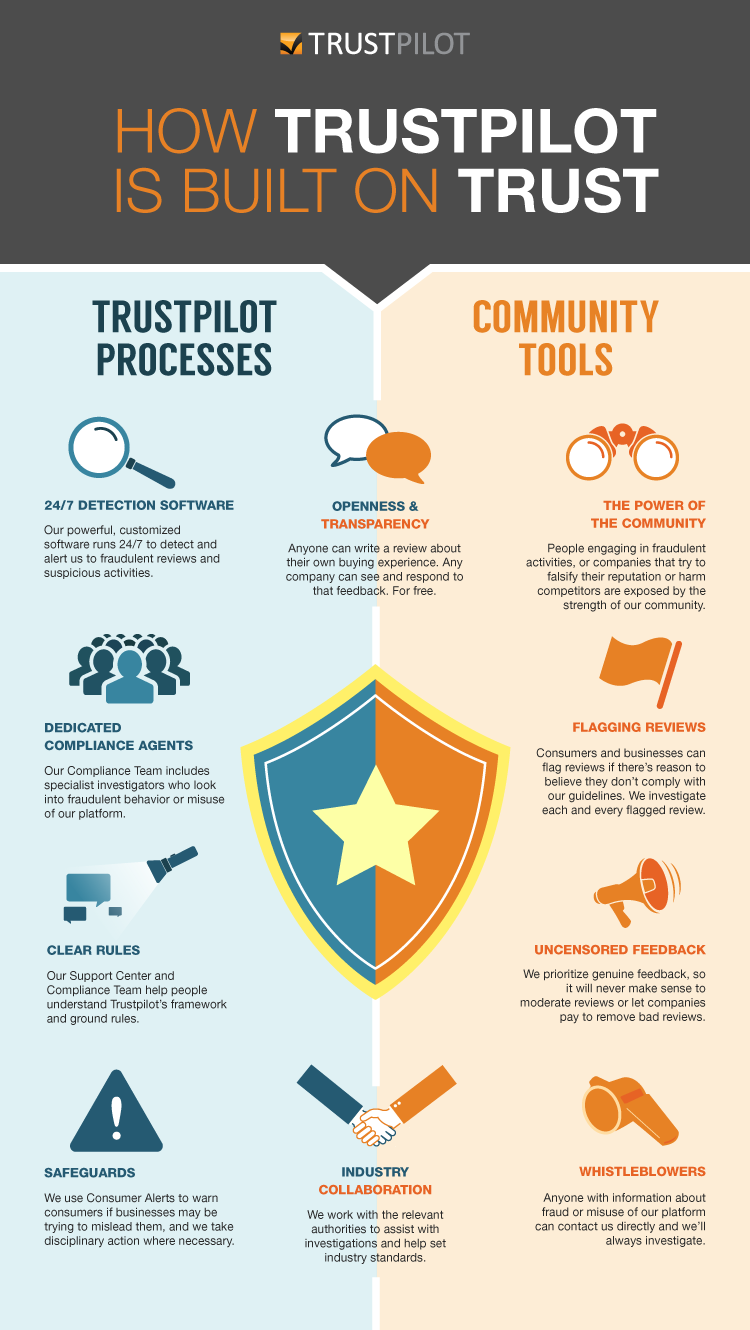 Openness & transparency
Anyone can write a review about their own buying or service experience on Trustpilot. Any company can see and respond to their feedback. For free.
24/7 detection software
We use customized, advanced detection software to identify fake reviews on our platform. This runs 24/7 to detect and alert us to unusual patterns, suspicious activities and fraud. Read more about how we combat fake reviews with our fraud detection software here.
Dedicated compliance agents
To support our software, we have a dedicated Compliance Team made up of agents, managers and specialist investigators who look into fraudulent behavior or misuse of our platform. Our investigators also systematically monitor the web for advertisements to write or solicit fake reviews and report them to the site-host to make sure they are removed.
Clear rules
Our Support Center and Compliance Team help people understand Trustpilot's framework and ground rules. When writing reviews, Trustpilot users are asked to comply with our User Guidelines:
Safeguards
We post consumer alerts on company profile pages to warn consumers if we have identified substantial fraudulent behavior or evidence that businesses may be trying to mislead them. We take disciplinary action where necessary, including terminating contracts with companies who continuously fail to comply with our guidelines. Similarly, our Compliance Team can also block reviewers if they misuse Trustpilot.
Industry collaboration
We work with the relevant authorities to assist with investigations and help set industry standards.
Whistleblower function
Anyone with information about fraud or misuse of our platform can contact us directly and confidentially at compliance@trustpilot.com, and we'll always investigate. Find out about our whistleblower function here.
Uncensored feedback
We prioritize genuine feedback, so it will never make sense for us to moderate reviews or let companies pay to remove negative reviews. We apply the same rules and processes equally across our community and treat all companies the same - regardless of whether they subscribe to Trustpilot's services or not.
Flagging reviews
Consumers can notify and businesses can report reviews if there's reason to believe they don't comply with our guidelines. Our Compliance Team investigates each and every flagged review. We also make sure that these functions are not abused by consumers or businesses.
The power of the community
The more sets of eyes, the better! People engaging in fraudulent activities, or companies that try to falsify their reputation or harm competitors are likely to be exposed by the strength of our community.