This style guide is designed as a resource to provide guidelines and recommendations regarding the use and display of the Trustpilot logo and star images.
Following Trustpilot's Brand Style Guide establishes credibility in your reviews, by demonstrating that they originated from a trusted and independent third party source.
Download our logos, icons and star images in different sizes at the end of this guide. For high-res or custom sizes, you can also download our official Brand Assets Package (high-res and vector files).
For more details on how to integrate reviews on your website, follow our service reviews integration guidelines.
These are the terms we use at Trustpilot:
How to use the Trustpilot Logo
The default colored logos are standard for use in all cases, except in circumstances where the contrast with the background is disrupting the visibility or readability (see Don't examples below).
Under special circumstances a mono colored version (black or white) of the logo can be used. For example, if the background color blends with the default TrustMark or letterform (see examples below).
Always do this:
Make sure the Trustpilot logo is visible, readable and with good contrast against the background
If you need a custom size, scale the logo proportionally
Don't do this:
Modify the Trustpilot logo
Note: Using the Trustpilot letterform is not a requirement, but if you use it, the letterform must be placed on the right-hand side of our TrustMark icon.

Here are examples of how to use the correct color of the Trustpilot logo on different backgrounds:
Here's an example of how to display the Trustpilot logo correctly:
Clear space around the Trustpilot logo and TrustMark icon
The distance between the TrustMark and the letterform is 20% of the height and width of the TrustMark.
The clear space surrounding the Trustpilot letterform logo should match the height and width of the TrustMark, and should not be less than 20% of the height and width of the TrustMark. 
How to use the Trustpilot Star Images
The default Trustpilot star images are available in six different colors, depicting no stars, one, star, two stars, three stars, four stars and five stars.
Note: Using the default Trustpilot star image colors and shapes is not a requirement, but please always ensure that your TrustScore is accurately reflected.

Download
Stars
Logo
Light Background 120x14 pixels
Light Background 255x29 pixels
Light Background 510x57 pixels
Trustpilot Icon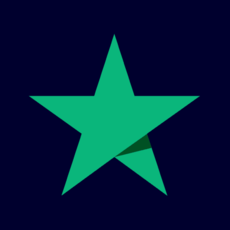 Download Brand Assets Package (high-res and vector files).
Please note that you need to log in to the Business Portal in order to download the Brand Assets package.