Trustpilot offers a wide range of widgets, apps, and integrations, which are easy to implement and do not require a lot of technical knowledge.
To get started, log into your Business Account, go to Integrations and choose the type of integration you want to use. For more information, please visit the Apps site.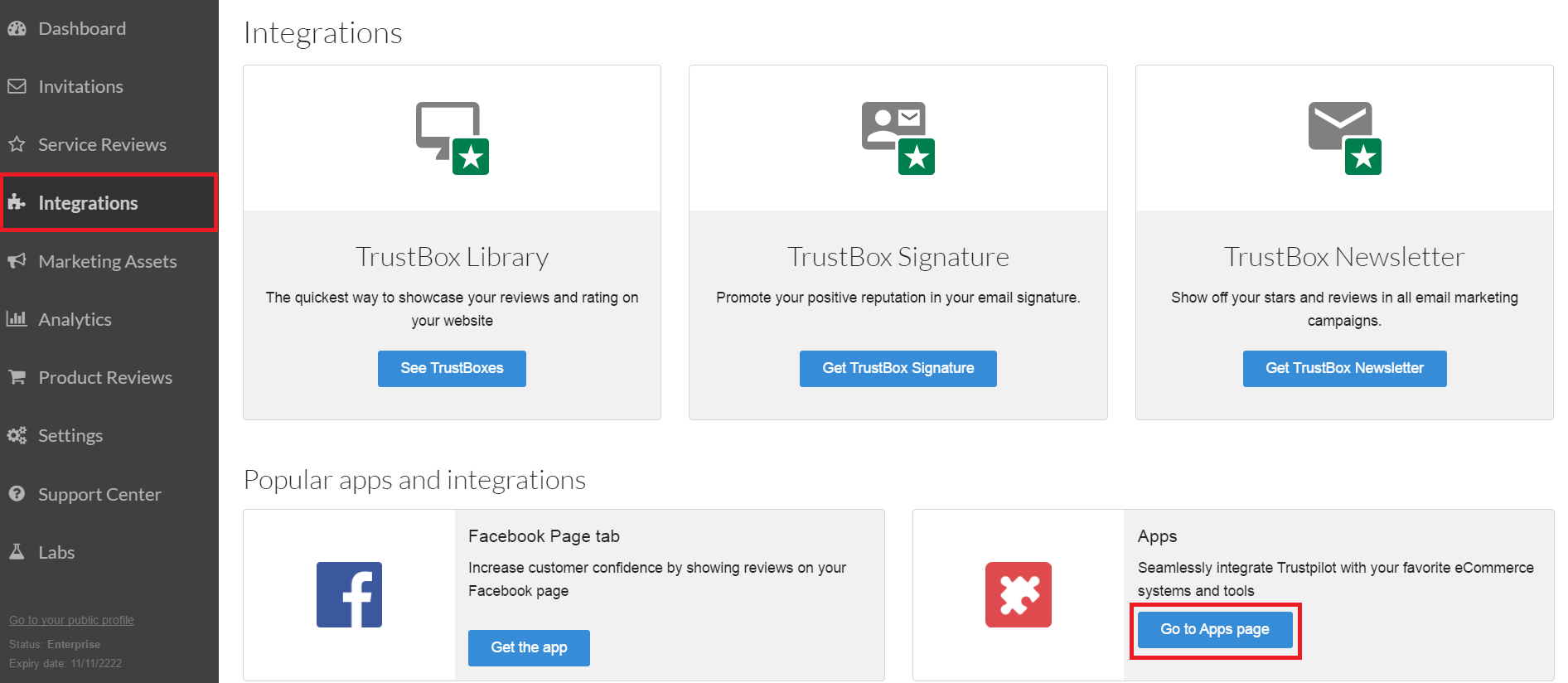 Here are some examples of the type of integrations that Trustpilot offers:
TrustBox Widgets
TrustBoxes are Trustpilot's widgets - stand-alone applications that are the fastest and easiest way for you to showcase your Trustpilot reviews and rating on your website. They are easy to implement and each TrustBox comes with a specific set of features and configuration options.
For more details, go to our TrustBox Library to browse all available TrustBox widgets, or read our help articles on how to get started.
Magento App
The Magento App provides a way for you to invite your customers to leave a service review, or a product and service review, on Trustpilot. This simple solution allows us to get all necessary data from your Magento webshop in order to trigger a review invitation to your customers. Read more about the Magento App in the article: How-to Guide: Trustpilot's Magento Application
WooCommerce App
The WooCommerce App is another invitation app, which allows Trustpilot to pull the required data directly from your WooCommerce webshop, passing that data to our invitation service so that you can automate sending service review, or product and service review, invitations. For more information and to find the Step-by-Step Instructions for Setting Up the WooCommerce App, read the article: How-to Guide: WooCommerce Application
Shopify App
The Shopify App is an invitation app that connects Trustpilot with your Shopify webshop, so that you can automatically collect service reviews and/or product reviews. For more information on how to get started, read the How-to Guide: Shopify Application
BigCommerce App
The BigCommerce App framework allows Trustpilot to get all necessary data directly from your company's webshop, passing that data to our invitation services. For more information on how to get started, read the How-To Guide: BigCommerce Application
Zapier App
Trustpilot's Zapier App is a web application that connects Trustpilot with other web apps (such as Salesforce, MailChimp, Zendesk, BigCommerce, etc.) to help you automate review invitations. Read more about the Zapier Application in the article: Trustpilot's Zapier Application and read the Zapier FAQ to find out how to get started.
Zendesk App
Integrating Zendesk with Trustpilot gives you a more streamlined customer service experience for managing your customer reviews. It allows you to manage all your reviews from a single location, meaning your business can interact with your service reviews without having to log in to your Trustpilot Account or even change workflow. For more information, read the Trustpilot-Zendesk Integration FAQ.
Hootsuite App
The Hootsuite App makes it easy for you to improve your social media strategy using genuine customer feedback. Monitor, reply to, and share your reviews across your social networks with one simple click. Read our Hootsuite How-to Guide for more information.
API Integrations
Trustpilot's REST API allows you, as a business customer or a partner, to build your own custom integration between Trustpilot and your existing systems e.g. CRM, website or other tools. Our APIs give you access to all content available on our consumer site, trustpilot.com, and enables you to automate review collection, create customized widgets, or integrate Trustpilot into your own systems.
Read more about how to get started with the Trustpilot API and check out our developer documentation on developers.trustpilot.com.