Step 1: Discovery - Collect reviews effortlessly
When getting started with Trustpilot, we highly recommend that you use our Invite Your Customers module. It's a fast way to collect reviews and is very easy to use: you simply need the email addresses, names and reference numbers of your customers.
---
Invite your customers: Add Invitations
Log on to your Trustpilot business account - If you haven't already signed up for a Trustpilot Business account, you can do so here:
Go to the Invitations tab on the left side panel
Select Invite Customers at the top of the page
Invite your customers by providing us with their names, email addresses and reference numbers. You can select a file containing the data (.csv or .txt), copy and paste your data, or enter it manually
Once the data is entered, Continue to next step
Tips: How to optimize the conversion rate of review invitations
When to send your invitations?
Based on marketing research, we advise that you send out your email invitations towards the middle of the week. Consumers tend to open their emails right before lunch or just after, so consider sending either at around 10:30am or closer to 2-3pm.
During which stage of your customers' transaction should you send the invitations?
Depending on your company and its services, be sure to catch your customers at a time when the transaction is still fresh in their mind, but also leave them enough time to appreciate your customer service. For example, if you are shipping various products, leave enough time for your customers to receive their products before inviting them to review.
---
Set up Sender Information
Set up your Sender Information to ensure that the invitation emails being sent are not regarded as spam
The Sender Name is what most email systems display in the recipient's inbox as the sender
The Reply-to Email is the address you want your recipients to reply to, if they choose to reply to the email invitation (e.g.info@yourdomain.com)
Sender Email: Choose your sender email - you can send your invitations from either noreply.invitations@trustpilotmail.com (no further setup required) or from your own domain
Continue to next step
---
Select template
Select an optimized template from the Select Template button in the top left hand corner
If you are on a Pro or Enterprise plan, you can customize your template by clicking Edit template
Send a test email to your domain before launching your invitations
If you are satisfied with your email template, click Next and review the sender details
If the details are correct, click Send invitations
You can track the progress of your invitations in Invitation History
Tips: How to attract your customer's attention with your Invitation template
The subject line: Be sure to make your subject line stand out and catch your customers' attention. In recent tests, we have seen best results with subject lines such as: "[DomainName] Needs Your Feedback", or "Rate Your Experience with [DomainName]".
Customize your Invitation template: Add your own logo and other branding to the template. Keep your wording short and sweet and avoid using words such as questionnaire or survey, which can make the review process seem longer. Include that you value feedback as it enables you to continually improve your customer service.
---
Customize your company information
Your company profile complements your website - use your profile to promote your great customer service.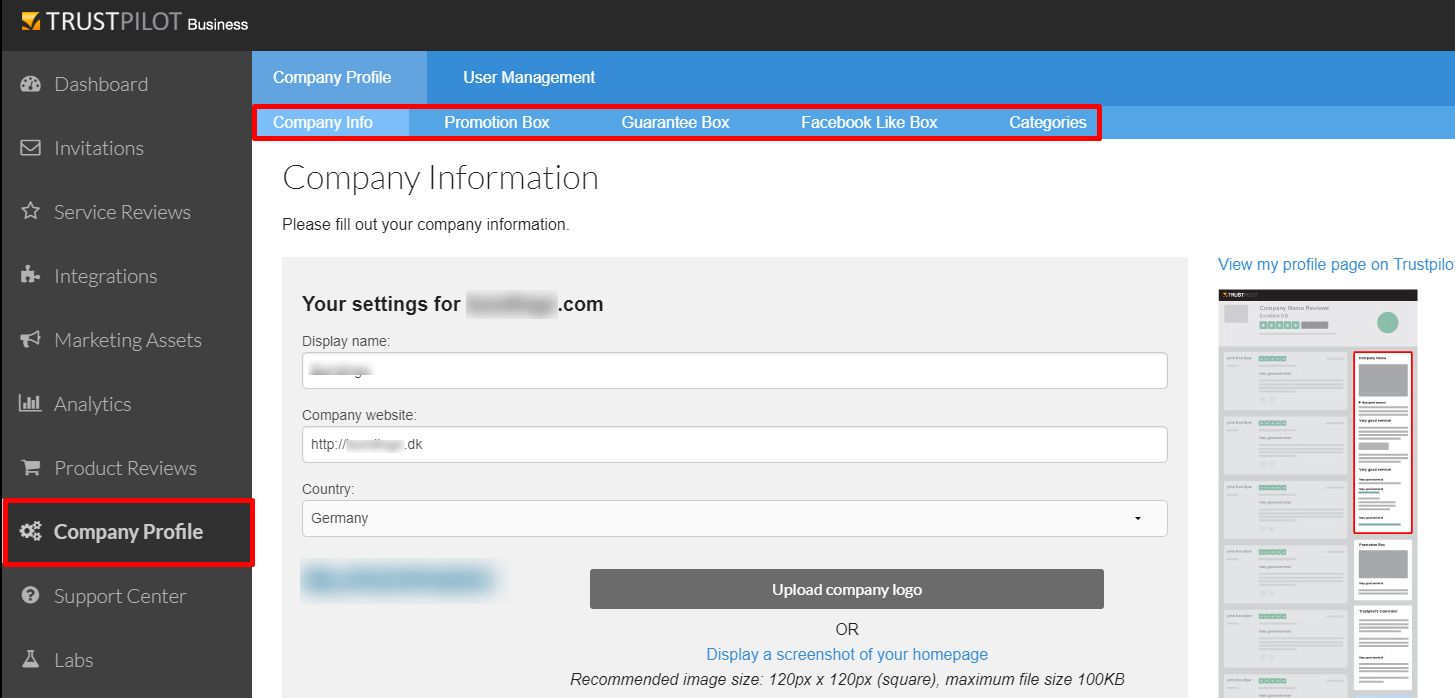 Select Company Profile then choose the relevant tab:
Company Info: Use this page to introduce your company and keep your customers updated with your contact information
Promotion Box: Raise customer awareness about your company's brand or customer service using the promotion box
Guarantee Box: If you have a guarantee to offer your customers, for example a money back guarantee, shipping within 24 hours, hassle free returns etc, you have the possibility to mention it here
Facebook Like Box: Boost customer confidence by implementing a Facebook Like Box on your profile page
Categories: Select categories that reflect your activity and help users navigate and compare reviews among relevant companies on the Trustpilot website. For more information about categories please refer to our category section on the Support Center
---
Track your performance
Track your average reviews per day, average TrustScore, invitations sent, and more in your Analytics module.
To get further performance data, like how your review invitations perform by open rate, click rate and overall conversion, you may need to upgrade your plan: