The Service Reviews page allows you to manage your reviews, contact and engage with reviewers, and share your reviews on social media, among other options.
Before you get your first review
If nobody has yet reviewed your business, your service reviews page will show information about how to start inviting your customers. There will also be an option to show examples of how your reviews will appear when you start to get them.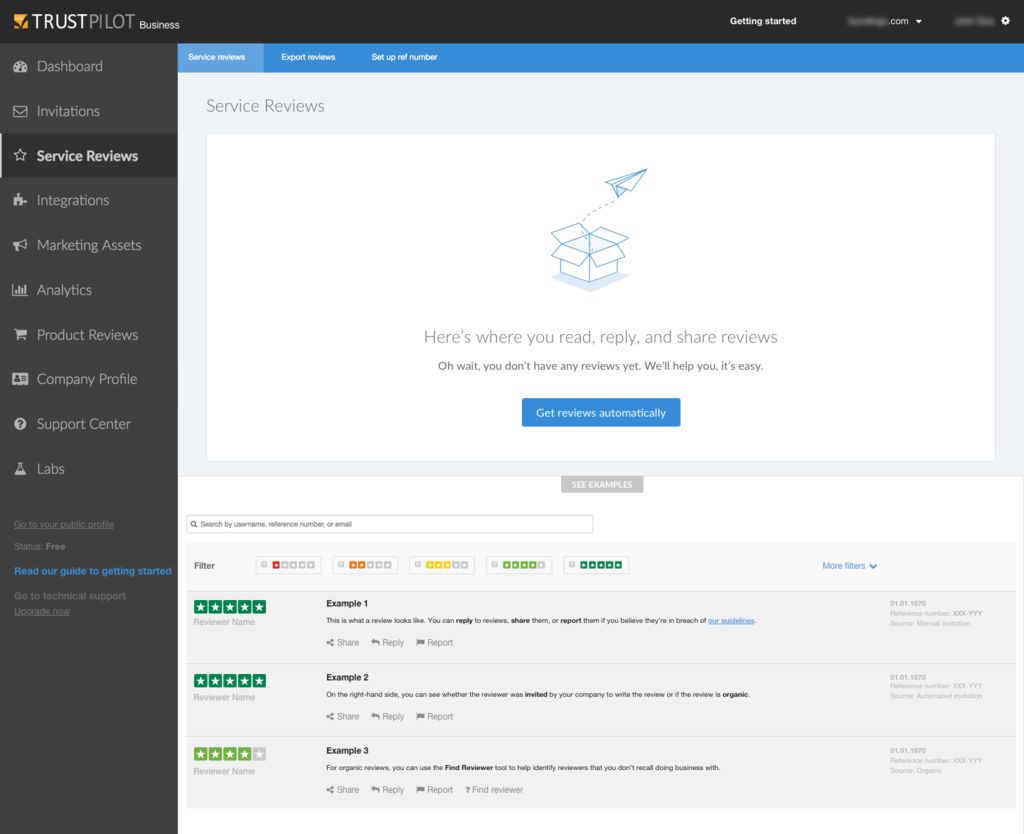 Identifying the review and reviewer
Source of the review: There are many sources from which a review can be written. Sources fall into the following categories:
Automatic Invitation: When reviewers are invited automatically through the integration you have set up between your ecommerce system and Trustpilot. This is the recommended (and most efficient way) to collect reviews with Trustpilot.
Manual Invitation: If you're new to Trustpilot, and you invite all your existing customers to write a review by manually uploading a file with their details.
Organic: When consumers write a review about your company based on their own initiative and not as a result of an invitation.
Generated Link: If you generate your own invitation links and possibly send these in your own email communication to your past customers.
Basic Invitation: If you invite your customers using a generic link to your company's evaluation form on Trustpilot.
Embedded Review Form: When consumers write a review using the review form on your own website.
Profile of the reviewer: By clicking on the reviewer's name, you will be able to see their information (e.g., country, language, photo, etc). However, if the review is organic, their email will not be shown.
Reference number: The reference number will help you identify your customers and their transactions. Our system adds the reference number automatically if it is supplied with the invitation. In the case of an organic review, the reference number could be blank if you have not chosen to ask reviewers for a reference number in the evaluation form. For more information about requiring that reviewers submit a reference number, please read this article.

Managing reviews
Sharing: You have the possibility to share your reviews on Facebook, Twitter, Google+ and LinkedIn. Click on the Social Media icons and follow the onscreen instructions.

Replying: You can reply to your customers' reviews from the Service Reviews page in your Business Account. Simply click on the Reply button under the review, write your response, and then click Publish. The reviewer will then be notified by email and your response will be publicly visible. For more information please read this article: How should I respond to reviews?

Find Reviewer: If you receive a review from a reviewer that you do not recognize, you can use the Find reviewer feature. This allows you to contact the reviewer directly. Simply click on the Find reviewer button and follow the instructions. For more information about this feature, you might find this article useful.

Report: If you believe that a review contravenes our Guidelines (US business users, UK business users), you have the option to report the review from the Service Reviews page in your Business account. Click on the report button and choose the relevant report option. For more information about reporting a review, please read this article: How to report reviews from your Business Account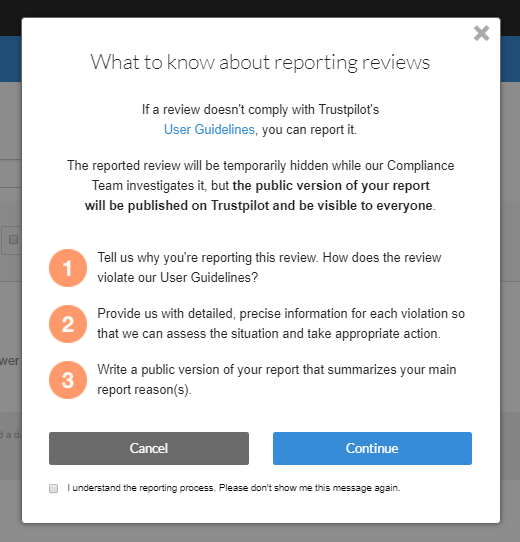 Tagging: Reviews can be tagged to be included in a TrustBox or other applications. Simply click on the blue Add tag button. A text box will appear, where you should enter the tag name. For more information please read this Tagging and pre-tagging service reviews

Filter reviews: You can filter your reviews by their star rating, their date, if they have been reported, if you have replied, and also by their source and tag (only one tag at a time). The search box allows you to search reviews by username, reference number, or email.
Export reviews: If you wish to export your reviews to a CSV file, click on the Export reviews tab found at the top of the page, and you will be directed to the Export your reviews page. Select the date range and click on Generate.csv file. You will then receive an email with a link to your CSV file containing your review data. If you stay on the page while the file is being generated, it will be downloaded automatically once it's ready.
Note: You may have to upgrade your plan to access some of these features.