Complement your service reviews with product reviews, and help your customers decide which products to buy.
Implement Trustpilot's Product Reviews directly on your product webpage, and give customers the opportunity to review and rate the products they've purchased. Product Reviews will help new customers make informed buying decisions, while giving you valuable product insights.
Is Product Reviews available in all languages?
Yes! Product Reviews is available in all languages that Trustpilot supports.
How is my overall product reviews score displayed?
Your overall product reviews score is displayed with a star rating from 1-5 stars. There is no TrustScore (number) or star label (text) displayed.
How is my star rating calculated?
Your star rating is an average of all the reviews for one specific product.
How do I invite customers to leave a product review?
There are three ways to invite customers to leave a product review. You may invite customers through your Business Portal, create a custom integration by using our APIs, or use one of our Apps.
Business Portal: Follow the on-screen instructions or read more here.
Apps: Connect Trustpilot directly with your eCommerce system to trigger customer invitations automatically (e.g., Magento, Shopify, BigCommerce, PrestaShop, OpenCart or WooCommerce).
API:

Send API-links to your customers via an email tool, e.g. MailChimp.
Send out invitations via Trustpilot's invitation tool—customers are asked to write a service review and then redirected to a product review request form.
What information does Trustpilot need to send the invitation?
Trustpilot needs the following product information to send a product review invitation:
Customer email
Customer name
Reference number
SKU
Product name
Product URL
Image URL (optional)
If you use our APIs or Apps, this information is shared automatically with Trustpilot.
Can I set the time for when my product review invitations are sent out?
The settings for product reviews allow you to choose a sending time. If you use APIs, you can select a specific time, and with Apps, you'll get even more options to choose from.
Can I import non-Trustpilot product reviews to Trustpilot?
Yes, you can import your non-Trustpilot product reviews to Trustpilot. Get all the details here.
Can I reply to a product review?
Yes, you can reply to product reviews from the Product Reviews page in your Business Portal.
Will my replies be shown in a Product Reviews TrustBox?
Currently, it isn't possible to show your replies to reviewers in Product Reviews TrustBoxes. If you want to display replies on your website, we recommend building a custom widget using Trustpilot's APIs.
Can consumers reply to me?
Yes, if you initiate a conversation. Simply reply to the consumer's product review and they can then write a reply. The entire conversation is visible in your Trustpilot Business Portal under the section Product Reviews.
How do I share product reviews on my website?
You can share your product reviews by integrating one or more of our product-geared TrustBoxes, or integrating reviews from our APIs. For SEO, we highly recommend using our Product Reviews SEO TrustBox, which is easy to implement. Alternatively, you can use our APIs directly.
Can I share my product reviews on social media?
You can share your reviews on Facebook, Twitter, Google+, and LinkedIn. Click on the social media icons and follow the onscreen instructions.
How do the Product TrustBoxes differ with regards to implementation and flexibility?
| | | |
| --- | --- | --- |
|   | Implementation difficulty | Design flexibility |
| TrustBoxes with and without SEO | Easy | Limited flexibility |
| Custom integrations using APIs | Difficult | Maximum flexibility |
Can anyone write a product review?
At the moment, customers can only write product reviews if you send them an invitation.
Should I show product reviews on my website?
We do not show product reviews on Trustpilot.com so we recommend displaying them on your website. You are responsible for implementing the product reviews on your website either using a product-geared TrustBox or Trustpilot APIs.
How can I ensure that my product reviews aren't fake?
Product reviews are currently invite-only, meaning you control who gets your invitations.
Where do I see my product reviews as they roll in?
See your product reviews on the Product Reviews page in your Trustpilot Business portal.
Can I filter my reviews by product?
Yes, you can filter reviews based on product number/SKU, stars, reply status, review status and date range.
Can I export my product reviews?
Yes. Go to Trustpilot Business > Product Reviews and search for the specific product. Select Download CSV file to export the product data. You also have the option of using Trustpilot's API to copy your product review data (help from a developer is required).
How can I integrate both my Trustpilot and non-Trustpilot product reviews?
You can use the Product Reviews MultiSource TrustBox to easily import and showcase all reviews for a given product.
Do product reviews have SEO benefits?
Product reviews are not published on Trustpilot.com, so for SEO benefits, we recommend displaying product reviews on your website. You can use one of our Product Review TrustBoxes.
Example of a product review with Rich Snippets in Google:

Can I mark up my category pages with the aggregate rating of my products?
No. Product reviews are for product pages only, they cannot be used on category pages. For more information, please refer to Google's guidelines.
What are Shopping Ads and where are they available?
Shopping ads with ratings are available in several countries. To see a full list, click here. Star ratings in Shopping Ads will only be available if you share all your product reviews with Google. To benefit from stars in Shopping Ads, you must have a Google AdWords account, a Google Merchant Center account, and you must feed all your products directly to Google Shopping. This is a separate product feed than Trustpilot's feed to Google Shopping.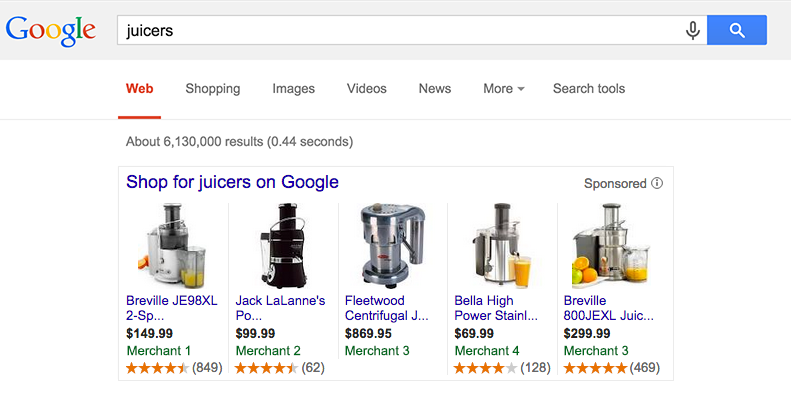 Why aren't my product reviews getting listed in Google Shopping?
Here are three common reasons:
You have not applied to get your star rating in Google Shopping Ads. Read Google's Products Feed Specification to learn how to get a feed of your products to Google.
You have not met Google's minimum requirements. To be listed in Google Shopping, your company must have a minimum of 50 product reviews in your feed. For one of your products to show up in Google Shopping, it needs at least three reviews, one of which being from a customer that you invited.
The SKUs and/or product URLs you've sent to Google are different than the ones you've sent to Trustpilot.
How long does it take for product reviews to appear on Google Shopping after submitting the Product Reviews Feed?
It takes approximately 5-6 weeks for Google to complete the process and publish product reviews live on Google Shopping. The process is split into 1-2 weeks for onboarding and 3-4 weeks for the matching process. Trustpilot submits a new batch of product reviews to Google daily. There may be cases where it takes longer than expected. This delay happens due to issues in Google's feed processing.