When a product review is submitted by one of your customers, it will first be checked by Trustpilot's system to look for coarse language and links. Then it's published, but you can moderate the review if necessary.
Request moderation of a review through your Business Portal
In addition to the automated detection of reviews for coarse language and links, you have the possibility to check and report the review manually for the following reasons:
Contains sensitive information
Contains coarse language
Is not a product review
Violates other User Guidelines
After you have selected the appropriate option and written a message to the author, an email is sent to the author requesting them to modify the review.
During the moderation process, the reviews are not published in our APIs or in our TrustBoxes. It is possible to see the moderation history for each product review in the moderation request window as shown in the screenshot.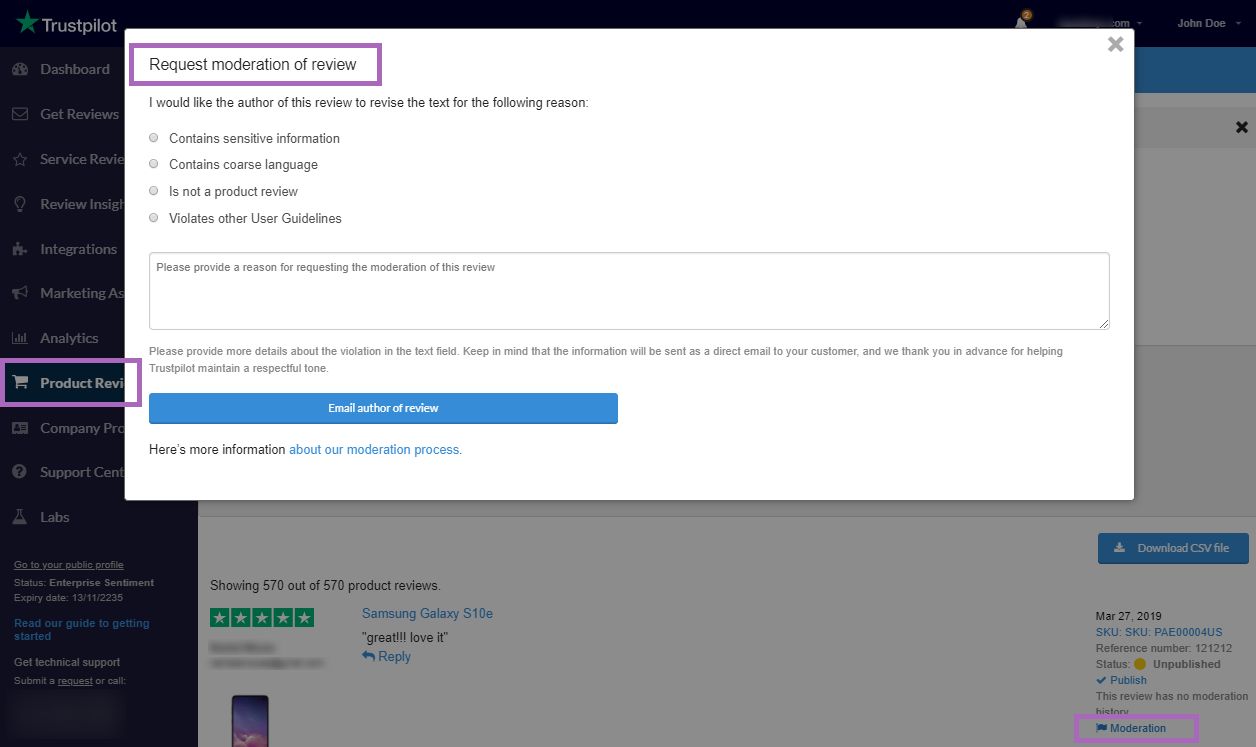 Moderation flow for the author of the review
When you report/moderate a review, an email is sent to the author of the review. The email mentions that if no action is taken within 7 days, the review will be archived. Clicking on the button in the email takes the author to the moderation window. In the moderation window, the author can either modify the review or notify Trustpilot's Compliance Team for intervention.
If the review is not modified or escalated to Trustpilot's Compliance Team within 7 days, it will be archived. However, the author still has the possibility to modify the review even after 7 days.
If you believe the modified review still violates our Guidelines, you are welcome to contact the author again through your Business Portal, or escalate the review to our Compliance Team. We always encourage you to contact the author of the review directly instead of going through our Compliance Team. We believe talking to your customers directly leads to better customer satisfaction.

Email notifications to companies regarding product reviews
Just like service reviews, it is possible to enable notifications whenever a product review is received. To enable notifications for product reviews, you need to log in to your Business Portal and click on My email notifications.
Notifications can be enabled based on:
Star ratings
Modified reviews and edited reviews
Can I export my product reviews?
Yes. Go to Trustpilot Business > Product Reviews and search for the specific product. Click the Download CSV file button to export the product data. Any active filters or searches that you've performed on the page are also applied to the contents of the CSV file.
You can also use Trustpilot's API to copy your product review data, but help from a developer is required.