Product reviews are published in our Product reviews API. You can request published reviews for one or more products identified by SKUs or productUrls. Among other details, the API call returns the Product Review content and star rating.
Publishing Product Reviews in TrustBoxes
The TrustBoxes for product reviews are as easy to implement as our other service review TrustBoxes. Please note that some Product Review TrustBoxes do not provide SEO benefits (content is not shown in a format Google can crawl/read) and it solely serves the purpose of increasing trust, transparency, and conversion.
You find the Product Review TrustBoxes in the Integrations module. Grab the code for the TrustBox and place it on your website.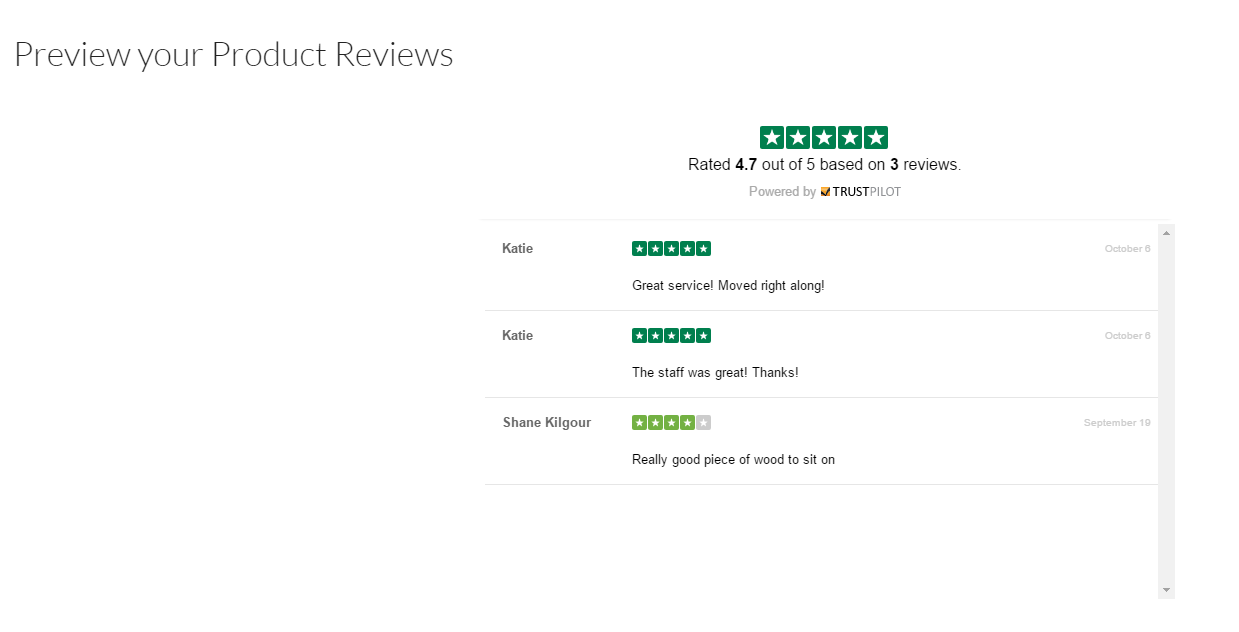 Custom Integrations using APIs
It is possible to create custom integrations for the product reviews you have collected on Trustpilot and on other platforms by using our collection of Product Reviews APIs. For more information, please go to our Developer site.
SEO TrustBox
In addition to the Product Reviews TrustBox and API solution, we provide an SEO TrustBox, which should be implemented on the server-side. When you call the SEO TrustBox endpoint, it will provide the markup that you should include on your own page. We also provide a stylesheet that fits with the markup, as well as a JavaScript that will allow responsive and paging features of the widget. Read this article for more information.
Product review TrustBoxes with SEO
The Product Reviews SEO TrustBox is the easiest way to display your Trustpilot product reviews, plus it gives you all the SEO benefits to boost the organic ranking of your website in search results. If you have product reviews collected from sources other than Trustpilot, we have created the Product Reviews MultiSource SEO. With this TrustBox you can import and showcase all your Trustpilot and non-Trustpilot product reviews together. This version additionally allows you to gain SEO benefits from all of your product reviews.
Product reviews and SEO
We will not publish the reviews on our website initially, and when we do, we will not let Google index those pages. This means that you will retain the right to get any SEO benefit that might arise from placing the reviews on your website. Read this article for more information.
Push to Google shopping
We will feed product reviews to Google Shopping. For customers that buy Product Listing Ads in selected markets, this will offer the benefit of having product ratings displayed below the product. If you wish to add additional information such as GTIN, brand, etc. in the product feed, please get in touch with our Support Team who can help you upload your product feed to Trustpilot.