If you don't wish to receive future invitations, you can unsubscribe from review invitation emails sent via Trustpilot, and resubscribe to them if you change your mind.
Unsubscribe from invitation emails
After a purchase or service experience with a company, you may receive an email inviting you to review their services.
If you don't want to receive email invitations to review businesses on Trustpilot, simply click the unsubscribe link at the bottom of the email.*

You will then be directed to an onscreen confirmation informing you that you have successfully unsubscribed.
Don't want to unsubscribe?
If you clicked the unsubscribe link by mistake and want to opt back in immediately, you simply need to click the resubscribe button, shown here in the onscreen confirmation:

Resubscribe via your account
You can also resubscribe to email invitations directly from your Trustpilot account.
Go to Trustpilot.com and log in — you can do this by clicking on the text log in in the top right corner. Or click log in to Trustpilot
Click on your profile picture at the top right corner of the screen to open the drop-down list
Click on My Settings
Open the field Which email notifications do you want to receive?
Tick the box next to the option Companies on Trustpilot can invite me to write reviews
Save your settings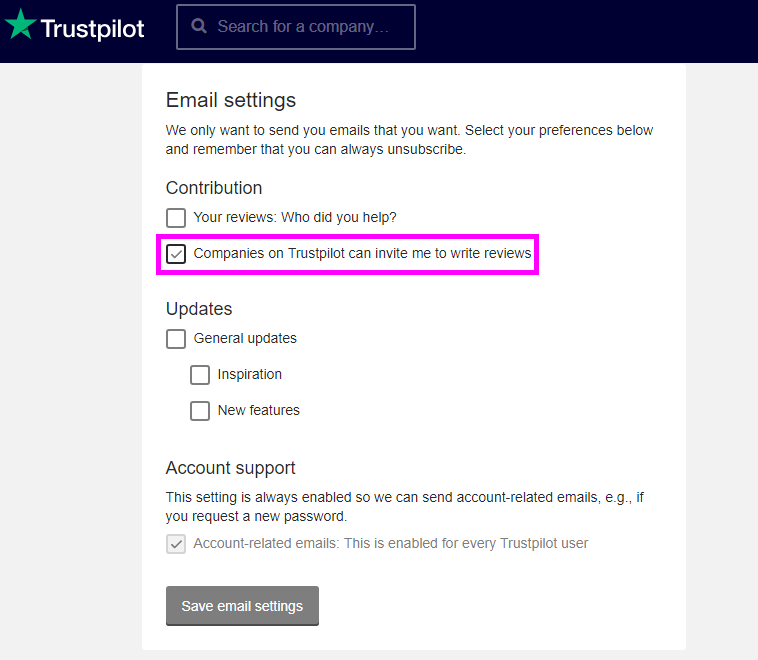 *Please note: We're only able to unsubscribe you from review invitations sent using Trustpilot's systems, and this includes all companies using them. However, even if you've unsubscribed, companies may still be able to email you invitations through their own systems.