To access the Conversion feature, log in to your business account and click on Analytics in the left side panel. At the top of the page, click on the Conversion tab.
Conversion displays the number of invitations, the open rate, click rate, and conversion rate (reviews) against a given date range. By default, you see overall conversion for the past 28 days.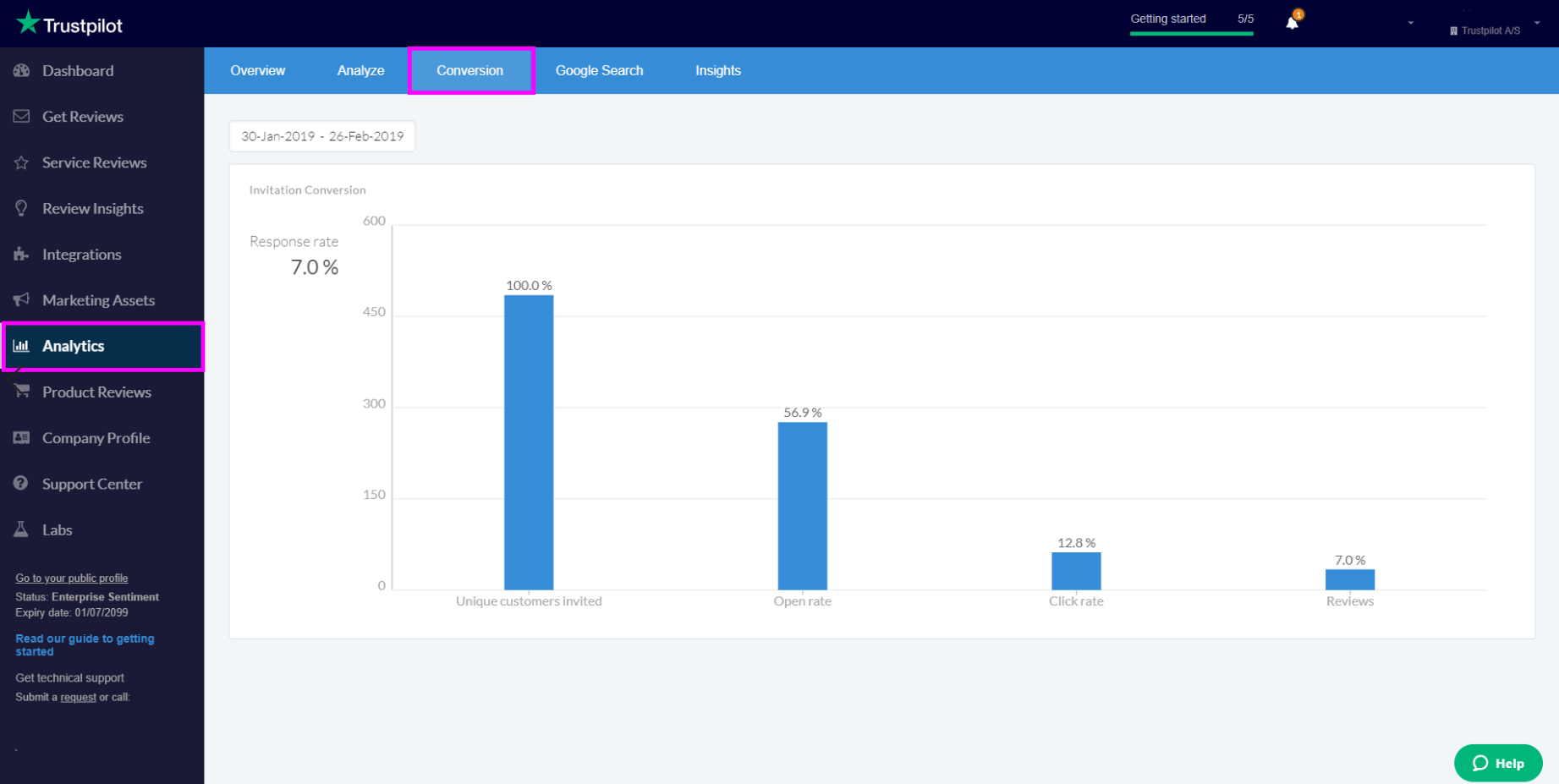 Note: Be aware that we are unable to show a conversion funnel for all invitation types.
Conversion funnel
The journey your customers take through the invitation process is referred to as conversion funnel. The metaphor of a funnel is used to describe the decrease in numbers that occur at each step of the process.
How conversion funnels are calculated
The conversion funnel consists of four steps: A, B, C, D - where A is the number of invitations sent.
Open, click, and conversion rates are all based on the total number of invitations sent. Therefore, our open rate is calculated as A to B; click rate as A to C; and conversion rate as A to D. This helps avoid limitations in email tracking.
In some cases, the click or conversion rates might be higher than the open rate due to limitations in email tracking.
For the open, click, and conversion rates to be registered, each step of the funnel must be completed within 30 days from the date the invitations are sent (A > B, A > C or A > D)
Date range selector:
It is possible to get conversion data for a specific date range. Conversion stats are available starting from April 2014 and onwards. This means that you should not select a date earlier than April 2014, as doing so would result in incorrect data for the click, open, and review percentages. Keep in mind that the numbers in the funnel might not match with the numbers you see in Analyze statistics due to the 30 days window used in calculating the conversion funnel.