Use your public profile on Trustpilot to complement your website and introduce your company and products. It's a great way to promote your customer service and boost your customers' trust, too.
To customize your public profile, log on to your Business Portal and select Company profile.
Please note that it can take up to 20 minutes for any changes you make to show.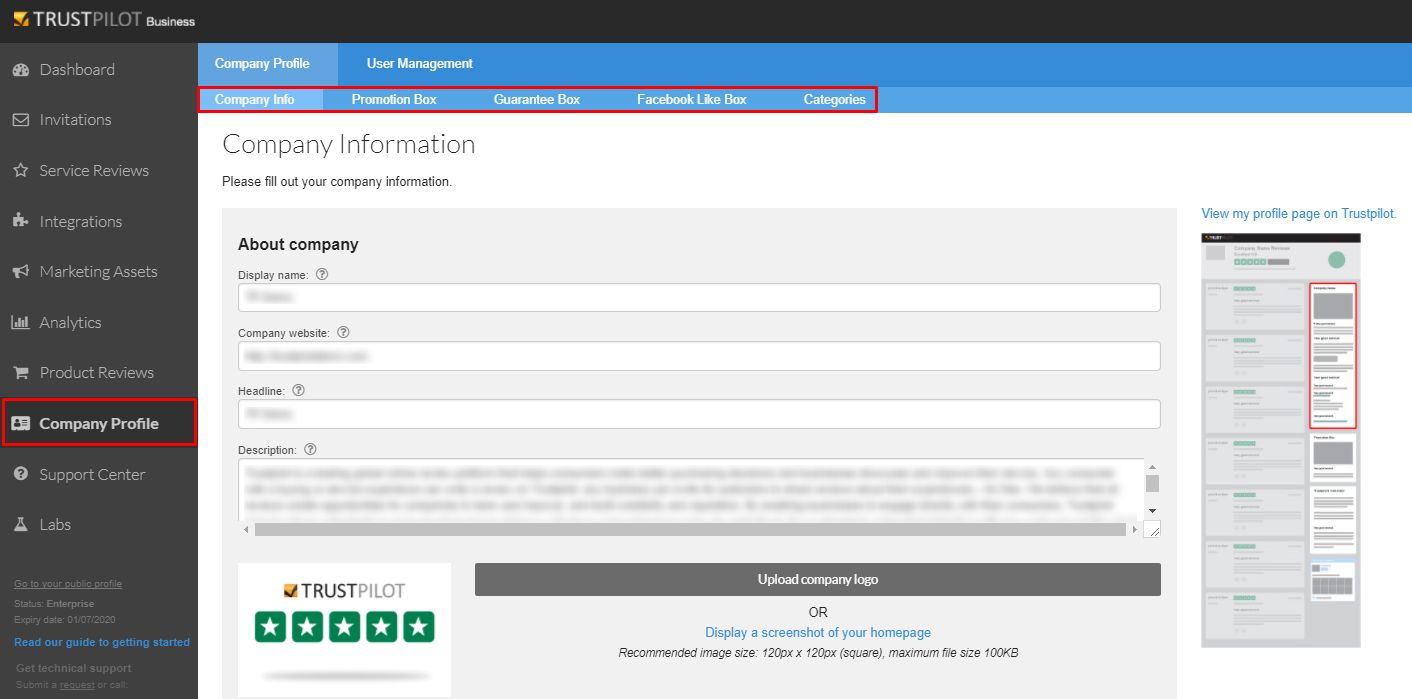 Your Company Information
Use this page to introduce your company and keep your customers updated with your contact information. Search engines will index your company information, so we advise you to check it regularly to ensure it's up-to-date.
Fill out your company information, such as display name and company website
Tell your customers about your company by writing a description*
Upload your company logo by either manually uploading a profile image or using our system to take a screenshot of your homepage**
Fill out your company's contact information, including your country***
*Please note that HTML is enabled for the description field.
**Your profile image links to your website. Search engines will index the link and expect them to match, so be sure to set your link to the exact domain URL of your website.
***Please note that the country you use should be where your company is registered, or your primary market. The category ranking is based on the country selected here.

The Promotion Box
Use the Promotion Box to raise customer awareness about your company's brand and customer service.
The Promotion Box Title can be edited, but by default, the title is automatically set with the same name as the display name specified in Company Information
Choose a headline for your promotional message and fill in the message details (It is possible to add more than one Promotional Message and Promotional Title)
Please note that HTML is not enabled in the title or in the message fields.
The Guarantee Box
If you have a guarantee to offer your customers, for example a money back guarantee, shipping within 24 hours, hassle free return, etc., you can mention it here.
Fill out a headline, a teaser and your guarantee details*
Choose a picture and finish by clicking on Save and Publish
If you wish to deactivate your Guarantee Box once it's published, simply click Deactivate
*Please note that it is possible to have HTML code in the guarantee details but not in the headline or in the teaser fields
The Facebook Like Box
Boost customer confidence by implementing a Facebook Like Box on your profile page:
Insert the Facebook page URL or the company page ID in the box provided.
You can either preview the Facebook Like Box by clicking on the Preview button, or publish it right away
Having problems integrating the Facebook Like Box?
The Facebook Like Box is not compatible with Facebook pages that have restrictions enabled for certain users, e.g. age or country restrictions. Here's how to ensure compatibility:
Log into your Facebook page as an administrator
Click on Settings
Remove any restrictions (Note: this gives everyone access to your Facebook page)
Once restrictions have been removed, the feature can then access the public Facebook Graph on your Facebook page, and the integration should work smoothly.
Categories
Select categories that reflect your activity and help users to navigate and compare reviews among relevant companies on the Trustpilot website. For more information about Categories, please refer to our Category section on the Support Center.