Providing a reference number when you write a review helps the reviewed business identify you as a customer, give a more detailed response to your review, and sort out any service issues.
In turn, this can benefit other consumers reading your review by giving them a more complete picture, and also provide learnings for other companies striving to deliver great service.
Who can ask for a reference number?
Any company on Trustpilot who has claimed their business account has the option of asking reviewers to provide a reference number. This is regardless of whether the company subscribes to Trustpilot's free or paid services.
What is a reference number?
Reference numbers can include reference or order IDs, invoice numbers, a telephone number, track & trace number, a ticket number or perhaps a user number.
If the company you're reviewing has decided to ask reviewers for reference numbers, you'll have the option of providing one when you start writing your review. Specifically, after you rate the company by scrolling over the Trustpilot stars, a box will appear asking for the number: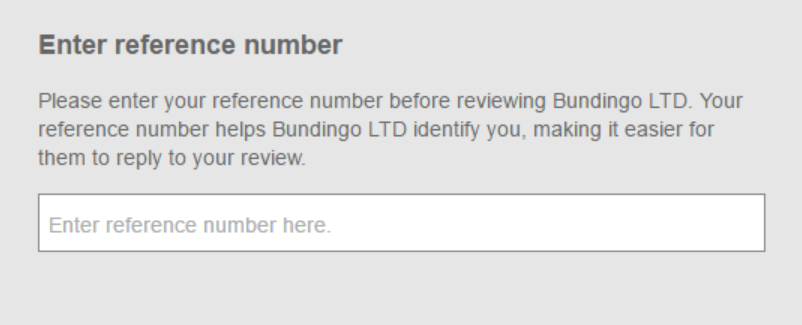 When you insert your reference number and submit your review, only the reviewed company and Trustpilot will be able to see it and connect your review with your order or experience.
What do I do if I'm having trouble submitting my review?
We believe that anybody who's had a genuine buying or service experience, or can show they've used a company's services, should be able to share their experience in a review on Trustpilot.
Please contact us at compliance@trustpilot.com if you're having trouble posting your review. Keep in mind that we'll be able to help you faster if you can attach documentation to show you've had an experience.