If you'd like to create a tailor made invitation email to match your company branding, you have the possibility to customize our optimized email invitation template.

Our optimized templates are created and maintained by Trustpilot, and cannot be directly modified. However, you can make a copy of an optimized template and use it as a starting point to create your own customized version. Or you can create a new one from scratch.
You can do pretty much anything you want, but in this guide, we'll look at how to create a simple customization.
How do I create a template that I can customize?
The first thing you'll need to do is create a new template and give it a name.
To do this, log in to your Trustpilot Business Account and follow these steps:
Go to Invitations
Click on Template Editor
To select the language of your template, click on Select template and select the language of your choice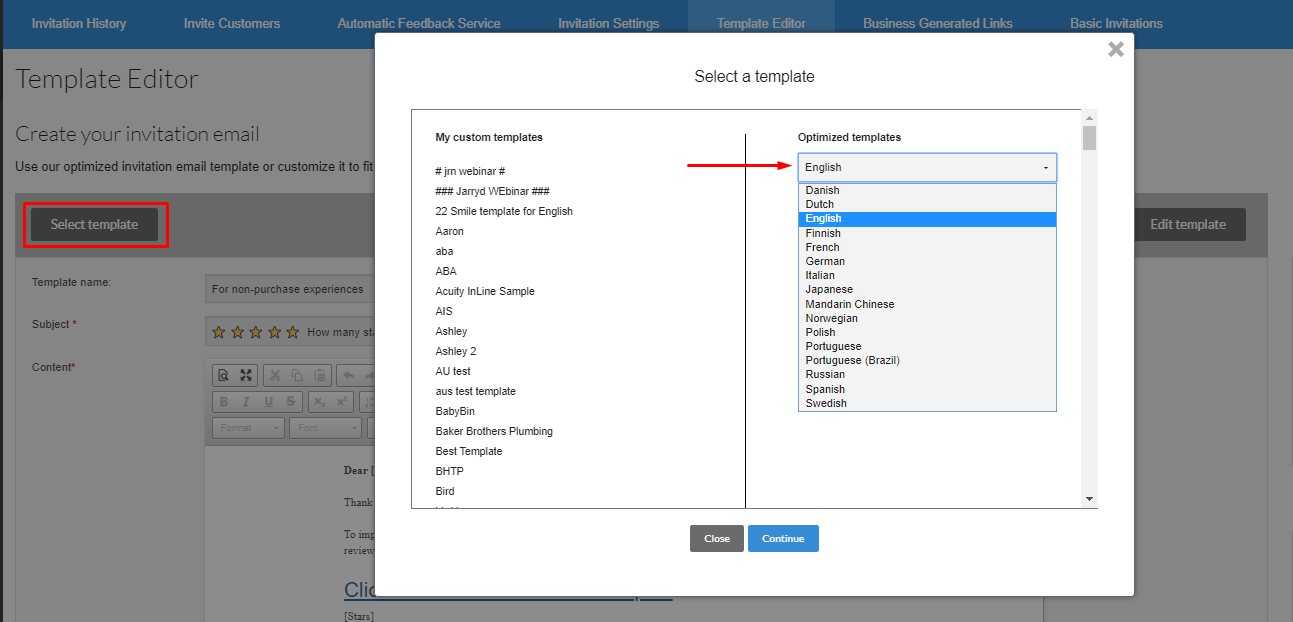 Select which template you wish to use from the available template options
Once you've done that, click Continue
Once you've completed that step, you'll be able to rename the template to something more memorable. To do this, click on Edit template, choose a name for your template and click Save
How do I modify my new template?
Once you have selected a new name for your template and saved it, you are now in Edit mode.
You can customize any element of your template using the tool bar.
Quickly change wording and formatting by clicking the corresponding buttons in the tool bar of the text editor. The icons are the same as you would find in a standard word processor, and allow you to quickly change font, text style, size etc. To change the wording, just click where you want to type, just as you would in a word processor.
You can add your own company logo to the template by following this video guide:
What is a placeholder?
A placeholder is a piece of text, usually just a single word, contained within square brackets, which acts as an instruction to the Trustpilot invitation system.
When you use one of these placeholders, you are instructing Trustpilot to replace that piece of text with something specific, such as the name of the recipient, the name of your website or the mandatory unsubscribe link.
Here are some examples of placeholders which you can use in your own invitations, and the information that your invitations will show in their place when you send them out. It is important that you use these exactly as they are shown here, as any changes will cause them not to work correctly.
[Name] The name of the customer (or 'customer' if unknown).
[Link] The review link URL.
[DomainName] The name of the website.
[Order] The reference number.
[UnsubscribeLink] The mandatory unsubscribe link URL.
[Stars] The Trustpilot star rating element.
Tip: The [Stars] placeholder inserts a specific call to action into the email invitation, which our testing has shown to be extremely effective in persuading people to leave a review. The stars are displayed in descending order, with check boxes appearing alongside them. Clicking the stars will then open a review form, which the reviewer can fill in and submit in a couple of minutes.
Can I check before I send?
Once you have made your changes and saved your template, you can either send the invitations straight away, or make a test to your email address.
To do this, click the button that says Send test email to (your email address). The email address that this will send to is whichever email address you selected as your reply-to email when you were setting up your invitations.
You can also select Show preview of email to see how your email will look, without having to check your email.
Once you've done that, and you're happy that everything looks OK, you're ready to send your invitations!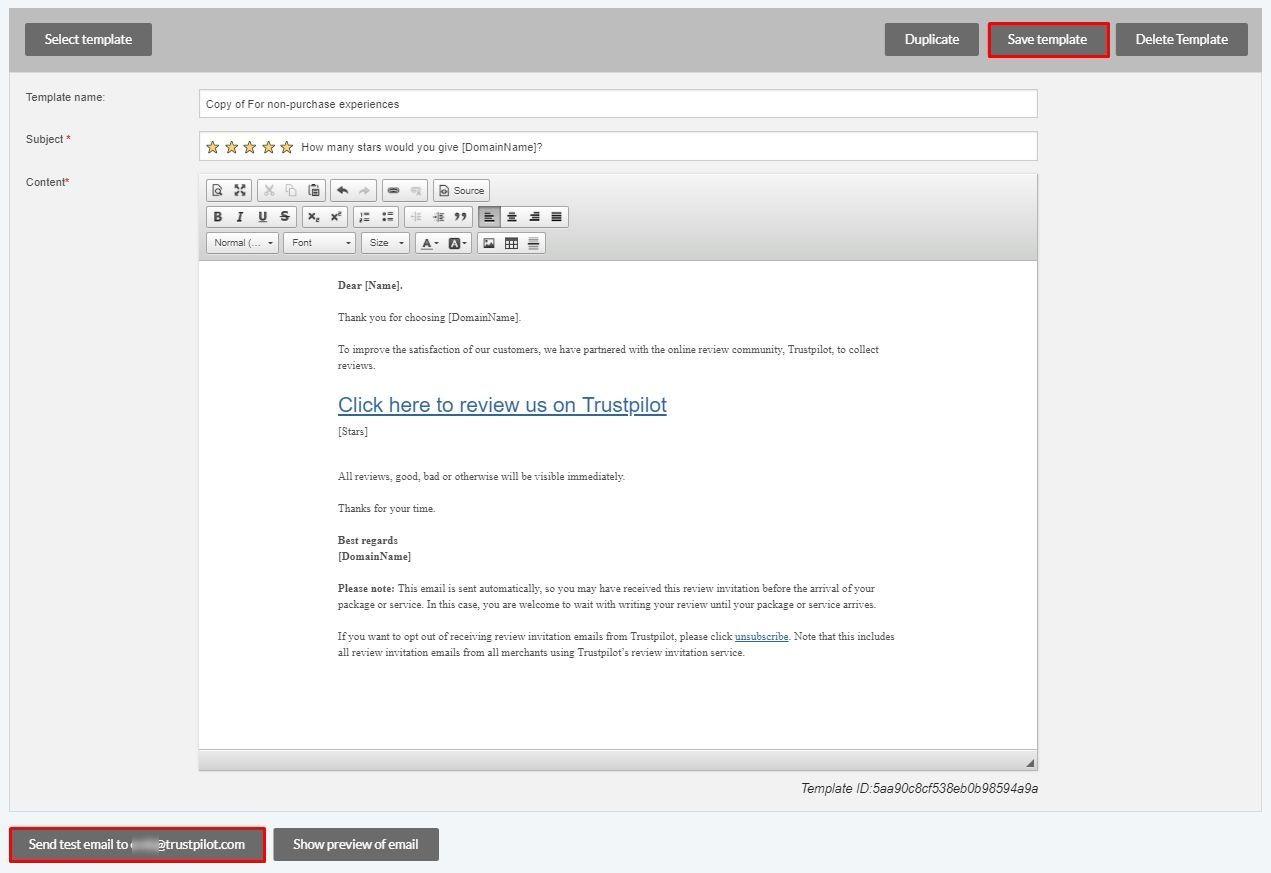 How will the email appear to my customers?
This is an example of how your email will look when your customers open it. Note that the bracketed placeholders have been replaced with the customer's name, company website and star element.
Can I make changes to my customized template later on?
Yes! You can always find your customized template by clicking on Select Template, after you've logged in to your Business Account, and you can edit your template whenever you like, as many times as you like.