Install the Trustpilot Facebook Page Tab integration
Display up to 50 of your latest reviews in a separate tab on your company's Facebook page. The app links to your company profile page on Trustpilot so reviewers can read all your reviews.
If your Facebook page has over 2000 likes, you can add the Trustpilot Reviews tab to your page that displays your TrustScore, number of stars, and a selection of up to 50 of your reviews.
Note: Make sure that you've got administrator rights to your Facebook account before you install the application.

Install the Facebook page tab integration
Log in to your Facebook account. On your business's page, in the left-hand menu, click About.
Copy your Facebook page ID. It's listed on the bottom of the page.
Navigate to Trustpilot Business > Showcase > Social sharing > Facebook tab.
In the Set up your Reviews Tab section, paste your Facebook Page ID in the first text field.
Choose the number of reviews that you want to display from the drop-down menu, then select the rating that the displayed reviews will have.
Choose your tab language from the drop-down menu, then click the Save settings button.
Click the Add the tab to your Facebook page button.
Note: A pop-up dialog will appear that asks you to confirm that you want to add the Trustpilot app to your Facebook page. If you've got a pop-up blocker installed, please disable it so you can finish installing the app.

You're done! You can find your Trustpilot Reviews tab in the left-hand menu of your Facebook page.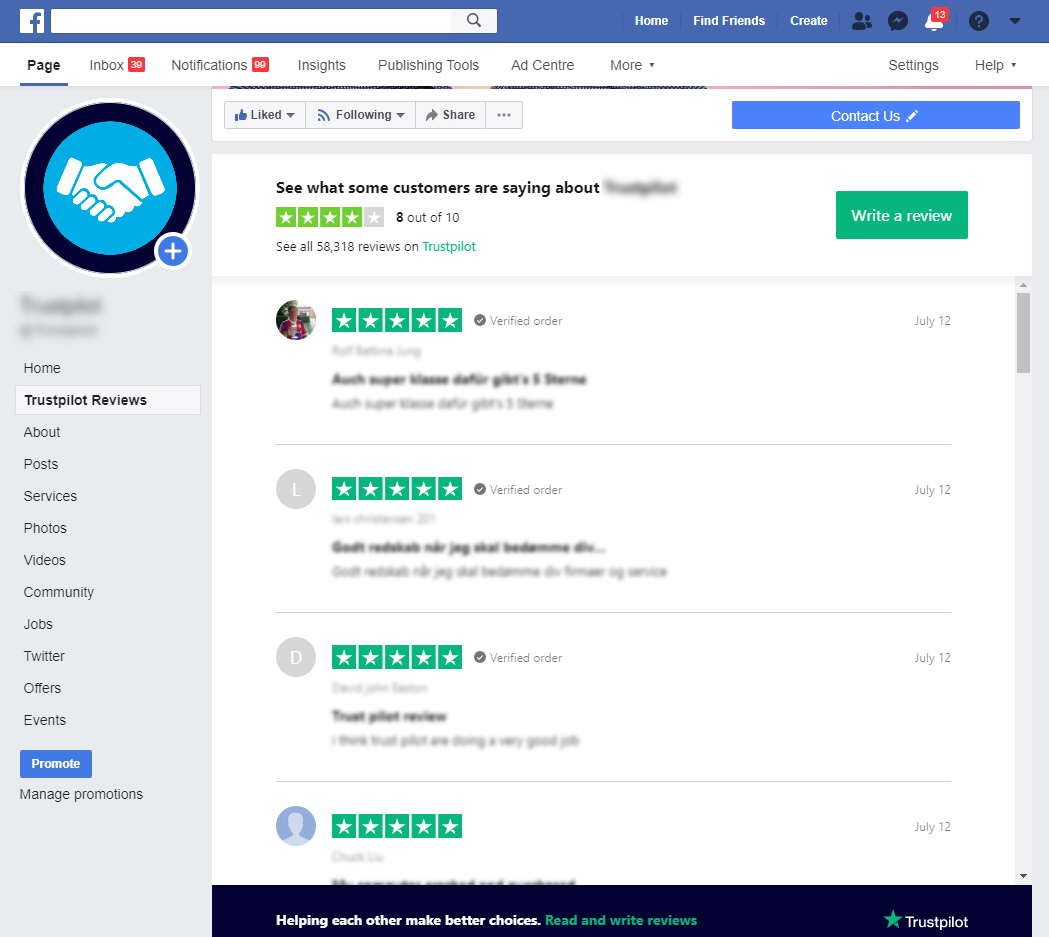 Note: Unfortunately, Facebook's platform doesn't support page tab apps on mobile devices.
Move the Trustpilot Facebook page tab
Now that you've installed the Trustpilot tab, you probably want to display your reviews in a more prominent place on your Facebook page. Here's how you do it.
In Facebook, on the white menu bar, click on Settings.
In the left-hand menu, click on Templates and tabs.
In the Tabs section, scroll down and find Trustpilot Reviews. Drag and drop the Trustpilot Reviews tab where you want it to appear.
In the upper left-hand corner of the screen, click on Page. This takes you back to your Facebook page, where you'll find your newly moved Trustpilot Reviews tab.