Providing us with documentation that shows your buying or service experience lets us verify that you're eligible to write a review. This helps us create a more trustworthy online review community.
We may ask reviewers for documentation when, for example:
A user of our platform flags a review that they have reason to believe is fabricated.
A business flags a review because they believe the reviewer has not had a genuine buying or service experience with them.
Our fraud detection software has flagged and removed a suspicious review.
What types of documentation can we accept?
Order confirmations
Invoices or receipts
Delivery notes or reports
Screenshots of your logged in user profile
Your email conversation with the reviewed business
Your phone call history or text messages where the relevant phone numbers can be linked to the reviewed business
This isn't an exhaustive list. If you don't have one of the documents listed here, you can send us what you do have if you believe it demonstrates a buying or service experience with the business - and we'll be happy to consider it.
What do you need to show?
In looking at the documentation, we try to connect the reviewer to the buying or service experience they've described. We usually look for four key elements:
Name of the business
Name of the buyer, recipient or user of the service
Date of the purchase, or date of provision or use of the service, and
A reference number or order ID.
Order confirmation is the most common type of documentation we receive. Here's a more detailed explanation of which elements we look at: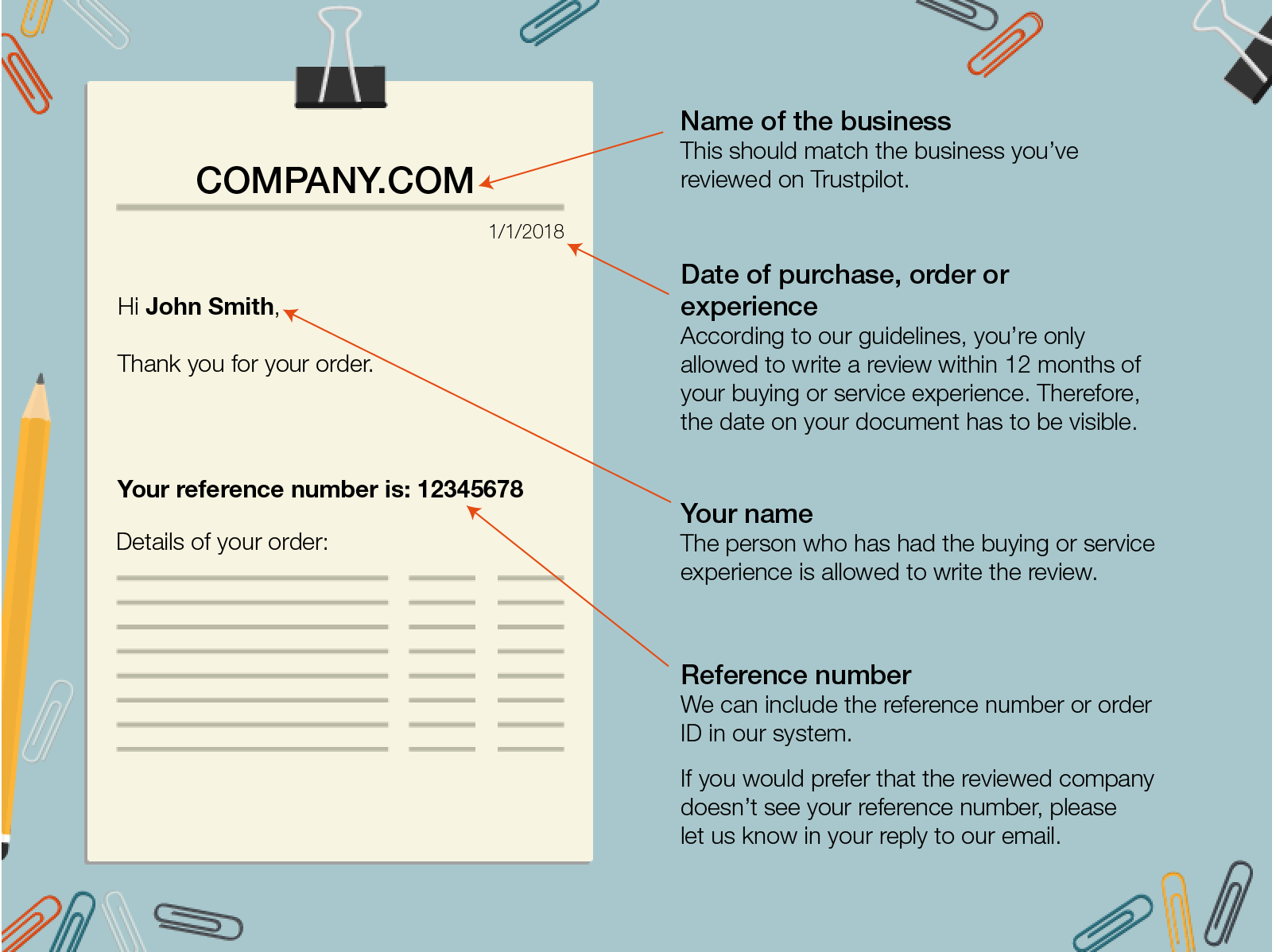 Please don't send us any sensitive documents — for example, copies of passports or medical records. If your documentation contains sensitive information, such as bank account details, please be sure to redact or black out those parts before sending it to us.
How to take a screenshot
We know that not everyone's an IT whiz. For help with creating screenshots from a laptop or PC, see this guide.
How to submit documents
If our Content Integrity Team has emailed you asking for documentation to verify your review, you can send your documents by replying to that email. You can also submit them via our contact form.