The Category Badge is one of Trustpilot's most powerful badges, because it displays a company's rank/position in a particular category.
Features
The Category Badge is available in five types of display for different category rankings:
Number 1 in Category (for companies ranked number 1 in a category)
TOP 3 in Category (for companies ranked 2-3 in a category)
TOP 5 in Category (for companies ranked 4-5 in a category)
TOP 10 in Category (for companies ranked 6-10 in a category)
TOP 100 in Category (for companies ranked 11-100 in a category)
Please note: the wording TOP … in Category indicates a range, and not a specific ranking.
The Category Badge is also available in 6 default sizes to meet the needs of your website:
100px x 86px
120px x 103px
140px x 120px
180px x 155px
220px x 189px
280px x 240px
The category badge is available in two different formats - code-generated (script) or static (Adobe Illustrator & Photoshop) - and it's up to you which one you choose to use.
The code-generated Category Badge changes automatically if a company's position in the category changes. This change applies both in the Category Badge section of the Business Portal, and on the company's website if the company has inserted the script into its website.
The static Category Badge is not dynamic and is provided to give companies more flexibility regarding design (shape, color, size).
Usage
The Category Badge is available on your Trustpilot Business Portal. In the Integrations module, at the bottom left of the page, is a link to other integration options.
Anyone with a Lite, Pro or Enterprise account can use the Category Badge function.
The Category Badge is used to show your ranking in the category (or categories) relevant to your company. If you are not in a category, you can learn how to apply for categories here.
We would advise you to exercise caution when using the static Category Badge for printing promotional items (e.g. flyers, newspapers, and brochures), as a company's ranking in a particular category can change at any time. It is the company's responsibility to ensure that the badge it uses displays the factual/current information from the Trustpilot site.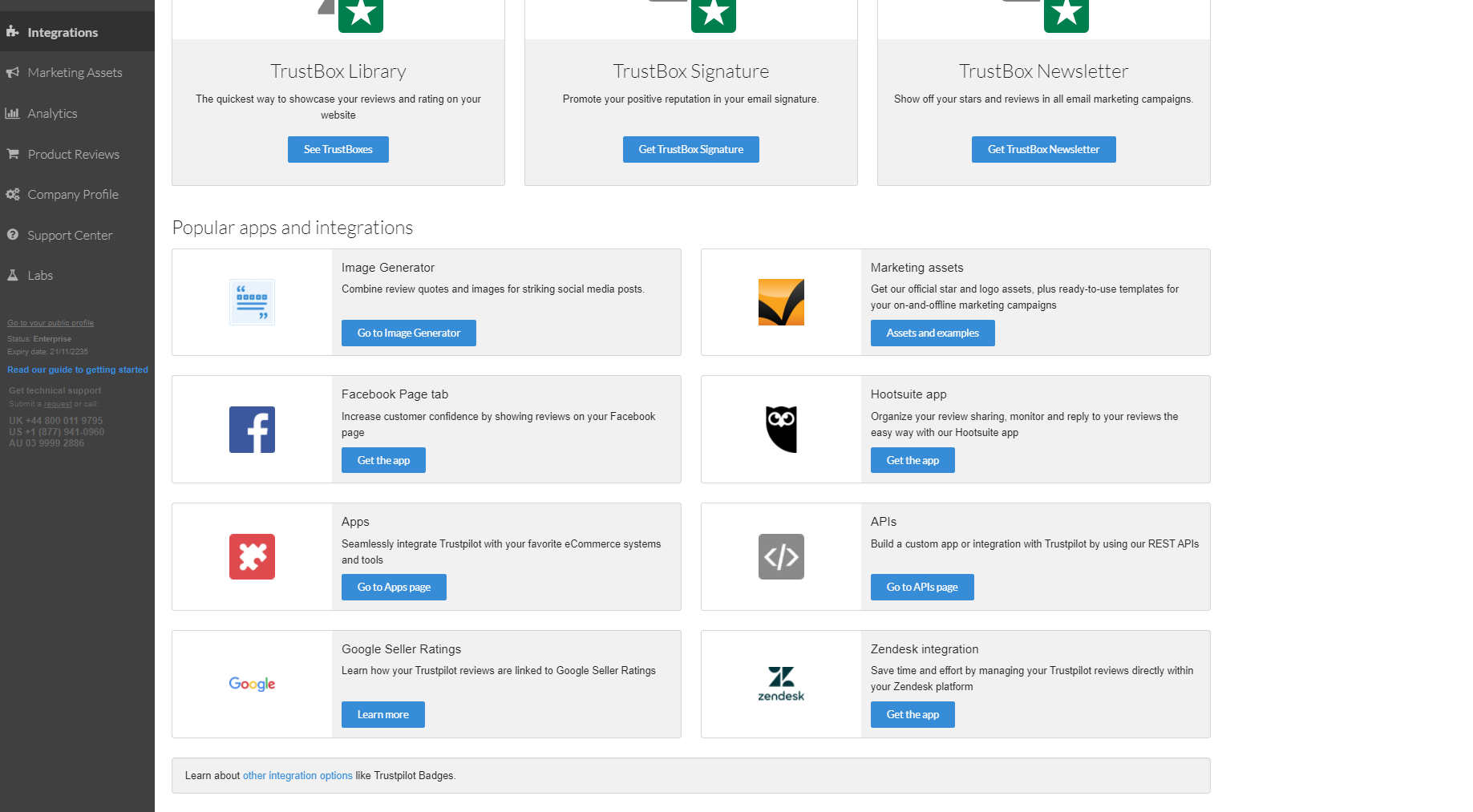 Misuse
The use of the Category Badge must comply with Trustpilot's Terms & Conditions.
Misuse includes, but is not limited to, unauthorized use of the badge.
Misuse of the Category Badge will be reported and escalated to Trustpilot's Compliance Team.