Reviews on Trustpilot are marked "verified order" when we have information connecting the reviewer to an experience with the business they've reviewed. We receive this information if:
the reviewer was invited by the company to leave a review, and the invite was sent using our systems, or
the reviewer has provided Trustpilot with documentation showing their buying or service experience.
1. Where invitations are sent via Trustpilot
All businesses using Trustpilot are welcome to invite customers to leave reviews - regardless of whether they subscribe to our paid services or not.
However, if they use our automated systems (via our free or paid services), we're able to match the review with the invitation and email link that was originally sent to the reviewer. This lets us automatically mark the experience as "verified".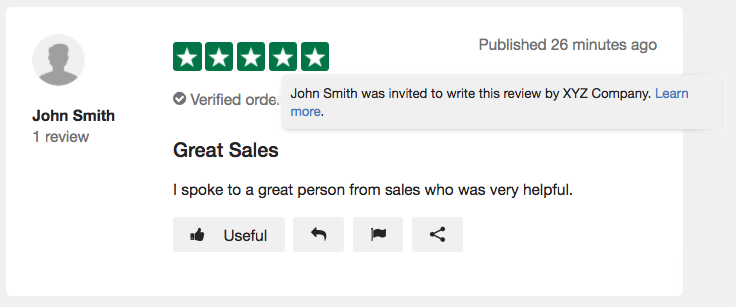 Companies that link their webshops to Trustpilot can automatically send review invitations to customers following each purchase. Those invited reviews will be marked as "verified".
Note: If companies send out review invitations, we ask them to invite all of their customers equally and identically (or using a neutral system), and with neutral language. See our Company Guidelines (US, UK) or article on best practices for creating invitations.
2. Where documentation is provided
Reviewers on Trustpilot can be asked to provide documentation showing they've had a buying or service experience with the reviewed company. This can happen, for example, where a company reports a review because they don't believe the person writing the review has had a genuine experience.
Reported reviews are handled by our Compliance Team. If they request and receive documentation showing a buying or service experience with the reviewed company, the review can be placed back online.
To indicate that they've seen valid documentation, our Compliance Team will mark the review as a "Verified order".
Please note this option is only available where Companies have first used the Find Reviewer Tool.
Help us maintain trust
We work hard to ensure our rules are followed. But we always welcome help from our community. Please let us know if you receive a review invitation that violates our guidelines, or if you're a business with proof that your documentation is being falsified.
Send compliance@trustpilot.com an example of the invite or document that breaches our guidelines and we'll investigate. See more on whistle blowing here.