If you are a business user and have forgotten the password for your Trustpilot Business account, follow these steps to reset it and regain access to your account.
From the Trustpilot.com home page, click For companies in the top right hand corner.
You will be redirected to the Trustpilot Business site. Click Log in, at the top right of the screen. Note: Displayed background image may differ from pictured image.
Click on the link Forgot your password?
Enter the email address that you use for your business login and click Send email.
You can also go directly to your Trustpilot login page by clicking this link: b2b.trustpilot.com, and then clicking Forgot your password?
Within the next few minutes, you should receive an email containing a link to reset your password.
I haven't received the email
If you do not receive the reset email, you may be trying to log in from the consumer site, rather than your business' Trustpilot login page.
Tip: The quickest way to rectify this is to use this link, which will direct you to your business log in: b2b.trustpilot.com.
If you have been trying to log in from the Trustpilot.com consumer site, you'll see a section underneath the main log in options that says Are you a business? You need to click the button that says Log in.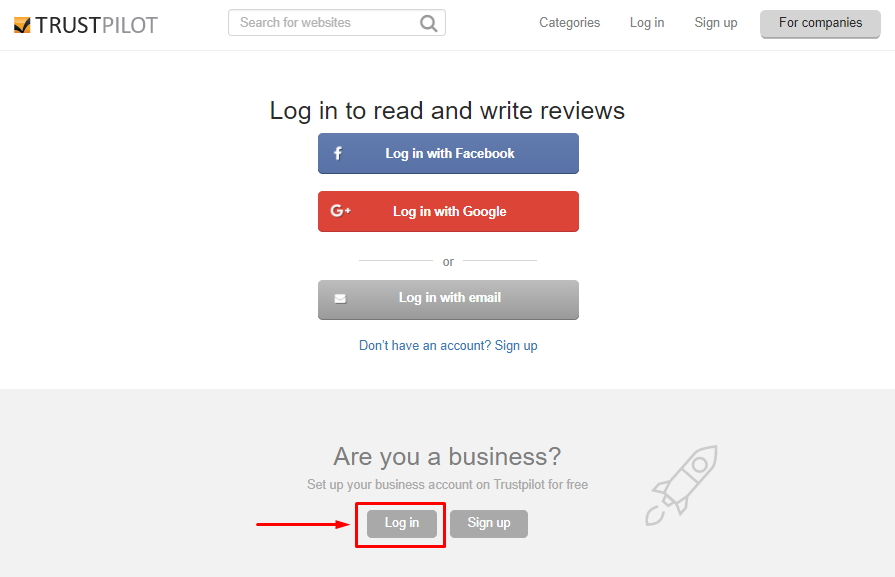 You will now be redirected to the business log in page, where you can either log in using your usual credentials, or reset your password using the instructions above.
Still having problems?
If you're still having problems logging in after trying the above suggestions, you may be experiencing problems with your cache. Try following the above suggestions from within an incognito browser window. You can open an incognito window by Ctrl+Shift+N on a Windows computer, and Cmd+Shift+N on a Mac. If this works, clearing your cache should solve the issue.
If you are still having problems after trying all of the above, get in touch with our Support Team.