As a company, when you log into your Trustpilot Business Account, the landing page you are sent to is called the Dashboard. The Dashboard consists of two main elements: statistics showing how you are performing, and a checklist that tells you what to do next in order to collect, manage and share your reviews. This is designed to help you improve your business and your customer satisfaction.
My websites
If you have more than one website on Trustpilot, you can select the website you wish to access by using the My websites pop-up. This appears when you initially log in to your Business Account, and you will be shown a list of your websites that you can access. Select a website and you will be taken to the dashboard for that site. You can select only one website at a time.
If you do not wish to see the pop-up each time you log into your Business Account, you can disable the feature by removing the check mark from the Always show on login box in the bottom left corner. Once disabled, please note that you can switch between any of your websites from the drop-down list at the top right side of the page.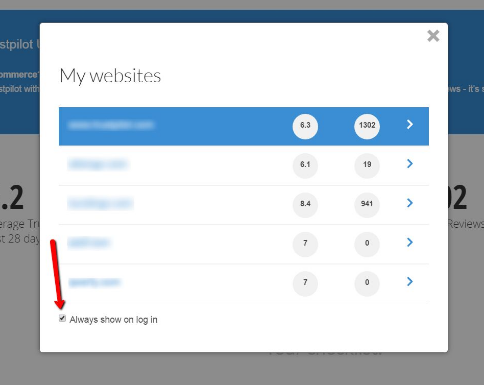 Statistics
The statistics give you a brief overview of how you are currently performing based on the following indicators:
TrustScore (last 28 days and total)
Collected reviews (last 28 days and current total)
Invitations sent (last 28 days)
Checklist
The checklist is designed to help you set up your account. A list is displayed with tasks that need to be done in order to get the best use out of Trustpilot's features. The checklist is dynamic and only shows tasks that are currently relevant for you. This list appears in your Dashboard when you are signed in to your Trustpilot Business account.