As a company, when you log into your Trustpilot Business Account, the landing page you are sent to is called the Dashboard. It consists of several elements, which we will go through in this article.
The main purpose of The Dashboard is to give you a quick overview of how your business is performing on Trustpilot, and enable you to quickly identify any areas where you could make improvements.
My websites
If you have more than one website on Trustpilot, you can select the website you wish to access by using the My websites pop-up, which appears when you initially log in to your Business Account. Select a website and you will be taken to the dashboard for that site; you can select only one website at a time.
If you'd rather not see the pop-up every time you log into your Business Account, you can disable the feature by removing the check mark from the Always show on login box in the bottom left corner. Once disabled, please note that you can switch between any of your websites from the drop-down list at the top right side of the page.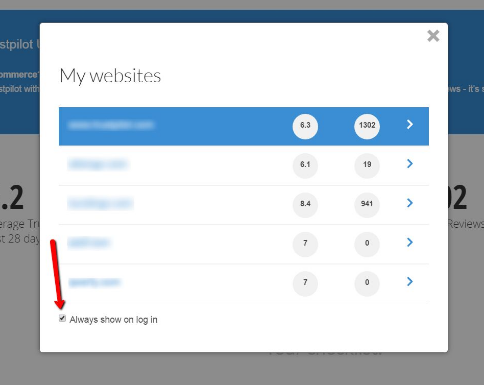 Main elements
The Dashboard is split into five separate cards, each of which appears in its own box. You can find out more about the function of each element by by hovering over the i icon, which appears to the right of the header in each box.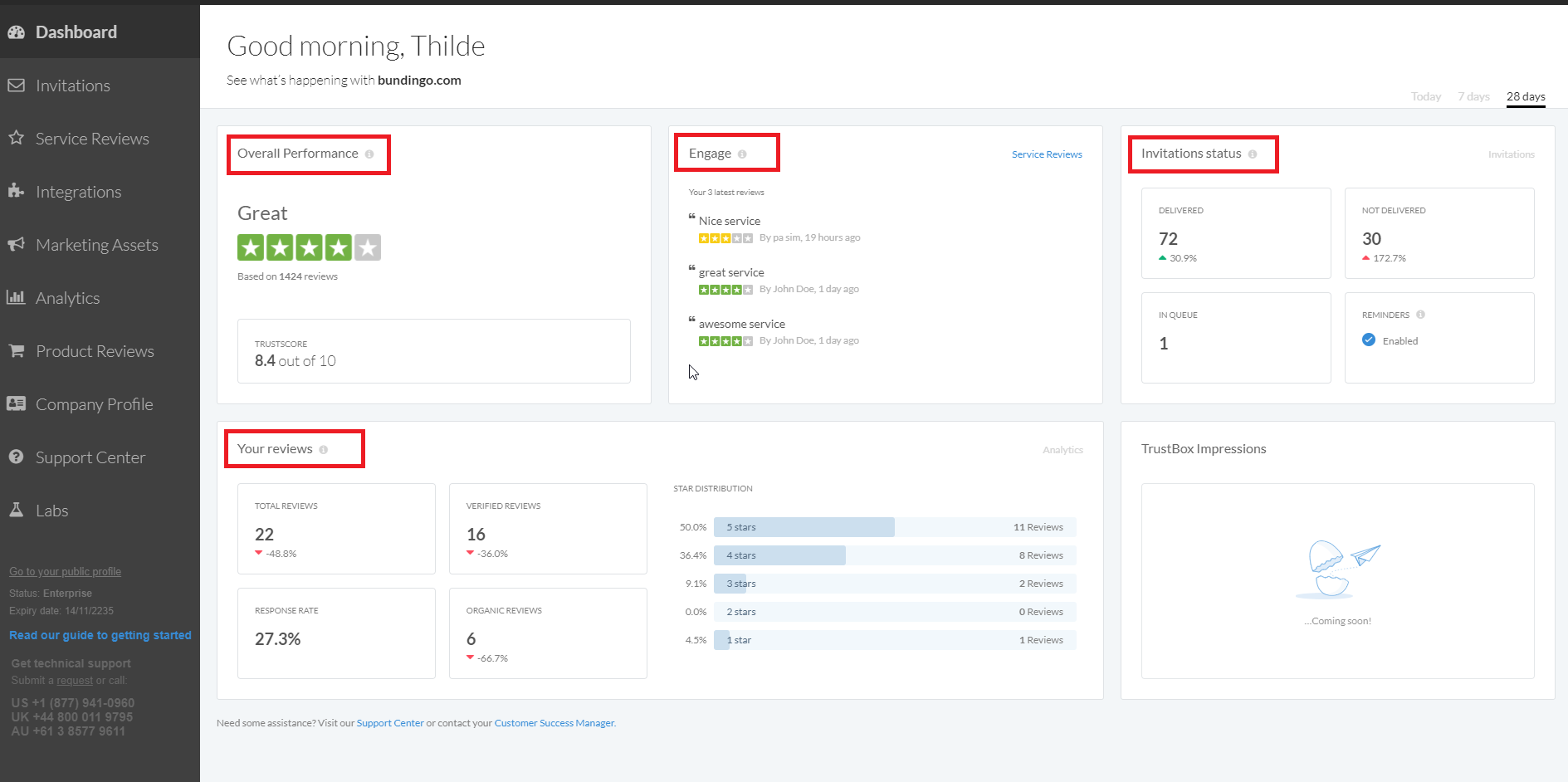 Overall performance
This is a summary of how you're currently doing on Trustpilot. The box contains your current star rating, the number of reviews your profile has, and your current TrustScore.
Engage
This section displays your three most recent reviews, so you can easily see what your most recent feedback says about your performance.
Invitations status
This section shows the status of all of your invitations for the specified period, broken down into Delivered, Not delivered, In queue, and Reminders. It also displays whether this is an improvement on the previous period, by way of a percentage and a red or green arrow, to show either a decrease or increase.
Your reviews
This section summarizes all of your new reviews for the specified period, broken down by total reviews, verified reviews, response rate, and organic reviews. There is also a breakdown of star distribution. This section also displays whether each element is an improvement on the previous period, by way of a percentage and a red or green arrow, to show either a decrease or increase.
Navigating The Dashboard
The Dashboard contains a lot of top level information, which you might want to look at in more detail. There a couple of ways that you can do this.
Time period
The information displayed when you log in will be set by default to cover the last 28 days, however you can also view data for the last seven days, and also just for today, by clicking 7 days or Today, at the top right of the page.
Further links
In the top right of the Invitations status, Your reviews, and Engage boxes, you'll find a link. These link to the relevant section of your Business Account, and are designed to allow you easily navigate to and examine these areas in more detail.
The areas they link to are Invitations, Analytics, and Service Reviews.