When you log into your Trustpilot Business Account, the landing page is called the Dashboard. It gives you a quick overview of how your business is performing.
My websites
If you have more than one website on Trustpilot, you can select the website you wish to access by using the My websites window that appears when you initially log in to your Business Account. Click on the website name to access that website's Dashboard.
You can select a different website from the website drop-down list on the top right side of the page. You can select only one website at a time.
To disable this feature, deselect the Always show on login box.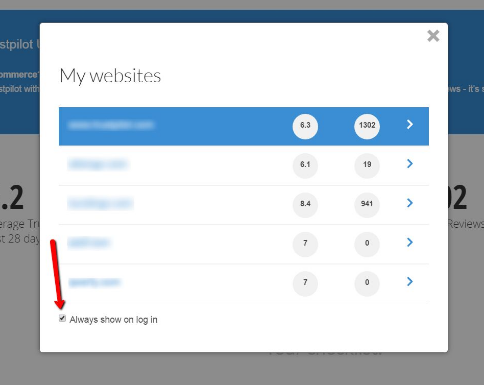 The Dashboard
The Dashboard is split into five separate cards. For more information about each element, hover over the i icon to the right of the header in each box.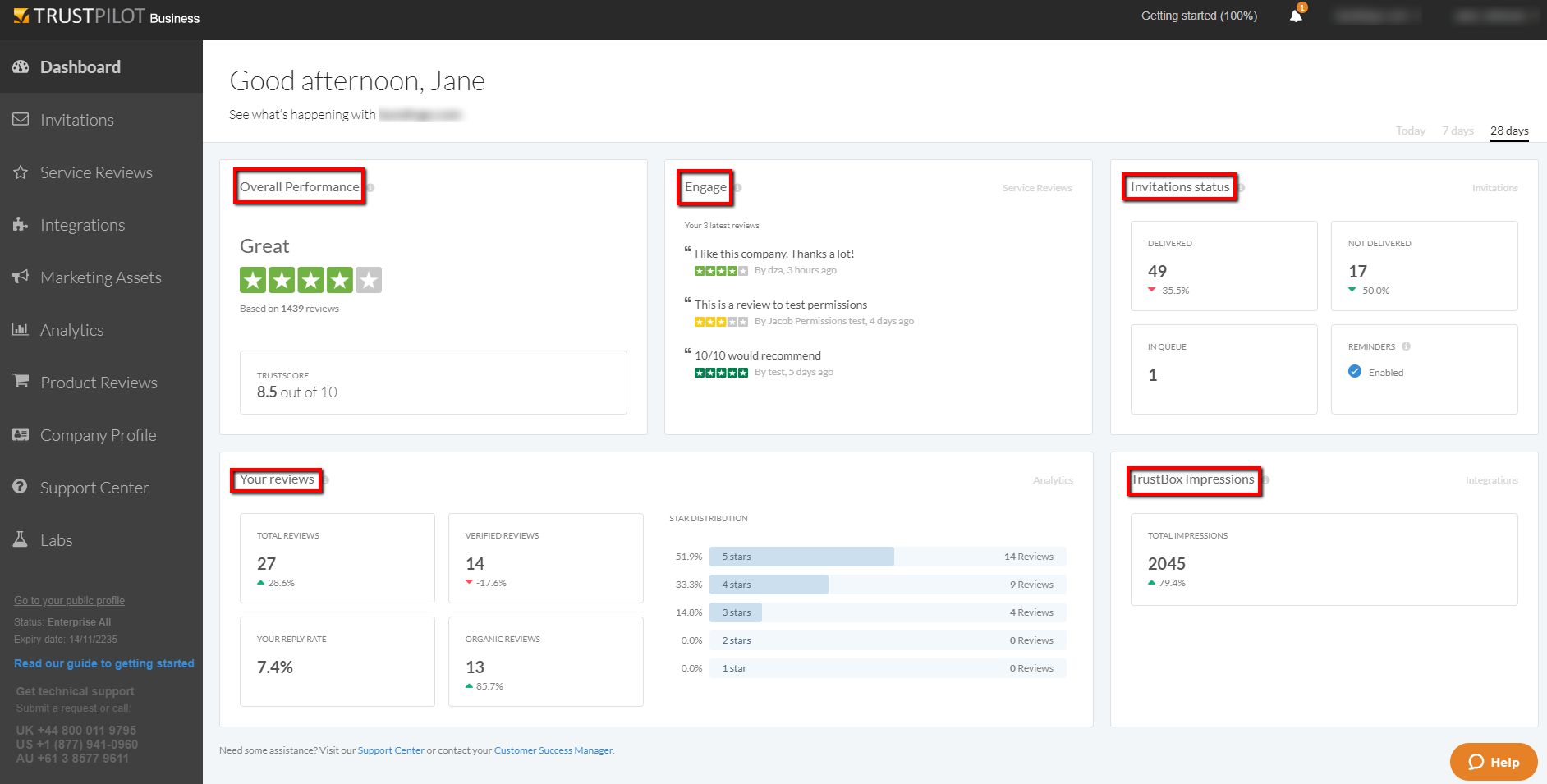 Tip: If you're new to Trustpilot and this is your first time logging in to the Dashboard, the cards will not contain any data. Instead, you'll find helpful information and links to help you set up your Dashboard and start getting reviews. You can also find useful tips on how to get started with Trustpilot in the Checklist.
Overall performance
This tile gives you an overview of your current Trustpilot performance. You can view your current star rating, the number of reviews your profile has, and your current TrustScore.
Engage
The Engage card displays your three most recent reviews, so you can see how your customers feel about your recent performance. You can also click on the Service Reviews link to go directly to the Service Reviews report.
Invitations status
The Invitation status card gives you insight into how many of your invitations were Delivered, Not Delivered, or In queue over a specific time period. You can also if have your Reminders setting enabled.
The Delivered and Not Delivered panels contain information about your delivery rates over the selected period. Green arrows indicate that the rate has improved, and red arrows show you that the performance has gotten worse.
Note: For Not Delivered emails, a green arrow pointing down shows that your undelivered rate has improved.
Your reviews
The Your reviews card gives you an overview of your new reviews for the specified period, broken down by total reviews, verified reviews, response rate, and organic reviews. Beneath the number of reviews and response rates, you can also see metrics about your review rates over the selected period. Green arrows show an improvement, and red arrows indicate that the performance has gotten worse.
There is also a report that shows you your star distribution.
TrustBox impressions
The TrustBox Impressions card shows you how many total impressions your widget has received over your selected time period. You can also see if the total number of impressions has increased or decreased since the last time period.
Navigating The Dashboard
The Dashboard provides you with a high-level overview of how your website is performing on Trustpilot. You may want to get more insight into how specific areas are performing. There are two ways that you can do this.
Time period
The information displayed when you log in covers the last 28 days by default. You can also view data for the last seven days or the current day by clicking 7 days or Today at the top right of the page. You may want to do this, for example, to change the information displayed in the Invitations status reports.
Further links
In the top right of some cards, you'll find a link that takes you to a related section of your Business Account. These sections provide you with a more in-depth look at the information you can find on the Dashboard.