Please note that these instructions only apply to those who have not yet upgraded to AFS 2.0. Click here for the AFS 2.0 guide.

Automatic Feedback Service 2.0 introduces a smarter and far more powerful way to integrate your eCommerce store with Trustpilot. With AFS 2.0 you can increase the number of clients who respond to your invitations in several ways. First, you can include Trustpilot's interactive stars in your invitation template. Adding these interactive stars to your invitation template can increase your current conversion rate by up to 61%! Additionally, you can now optimize your conversion rate by specifying the exact date and time to deliver your invitations. Yet another benefit of AFS 2.0 is pre-tagging. For example, you can pre-tag your reviews and collect data such as city, shipping methods, or sales agent, and thereby gain insights into your business - helping you make smarter business decisions. Finally, with AFS 2.0 you can include the products your customers have purchased, allowing them to leave both a service review and a product review through the same invitation. Click here to upgrade now or contact our Support Team or your Account Manager to make the switch today.
Customizing your email invitations is a great way to catch your customers' attention and boost the amount of reviews you collect.
Simply follow these steps to customize your email template(s) and encourage your customers to leave you a review.
In the Business Portal, select the Invitations tab and click on Template Editor.
Click Select template and you will find your customized template(s) in the My custom templates column. Your customized template(s) that was used for AFS 1.0 will have your domain name and locale in the name. Please note that you can not select a different template unless you migrate to AFS 2.0, though you are still able to modify the template used for AFS 1.0. Click here to read how to make the change today.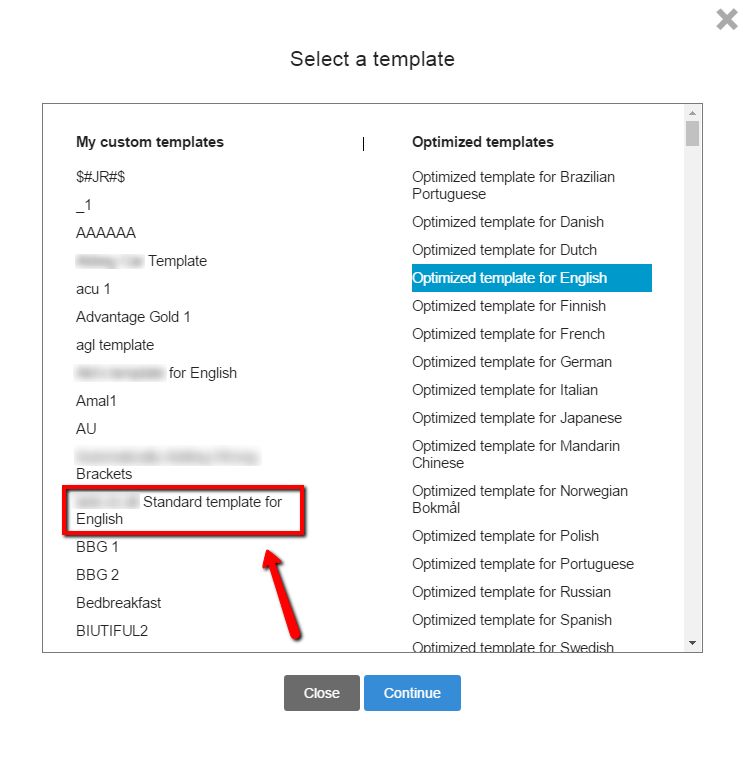 Click Continue to edit your template.
Click Save template when you are finished editing.
We strongly advise that you test the Automatic Feedback Service first before going live. This way you will be able to check if everything is working correctly and see the final result.
Note: It is not possible to change your invitation delay if you are still using AFS 1.0, this delay can only be changed in the upgraded version of AFS 2.0.