This article will talk you through how to claim your company profile on Trustpilot, whether it is empty or has already begun to attract reviews.
Do I need to create a company profile?
If your business has already been reviewed on Trustpilot, those reviews will have triggered the automatic generation of a company profile on Trustpilot. You should be able to find it by searching on Trustpilot for your business name.
If no one has reviewed your business yet, search for your website (using the name of the active domain) to automatically generate an empty company profile on Trustpilot. Even if there are no reviews for your business yet, you can still claim the page, customize the details and start collecting reviews!
Why should I claim my company profile?
Claiming your company profile lets you:
Include useful information: Claiming your company profile allows you to include useful information about your business, such as opening hours and product or service offerings.
Engage with reviewers: You can also respond to reviews, and set up notifications to be alerted when new reviews are posted.
Be notified about new reviews: If you don't claim your profile, you may not be notified of all new reviews - even though they're instantly visible and count towards your TrustScore!
Invite customers to review: Claiming your profile gives you access to our invitation services, so you can start inviting customers to leave reviews.
Use Trustpilot for free. Claiming your profile is free. Read more about how to use Trustpilot for free here.
Best of all, claiming your profile and actively engaging with reviewers is a great way to take control of the narrative and use all reviews - positive and negative - to your advantage.
How do I claim my profile?
Go to www.trustpilot.com and enter your business name or website into the search bar, at the top of the page.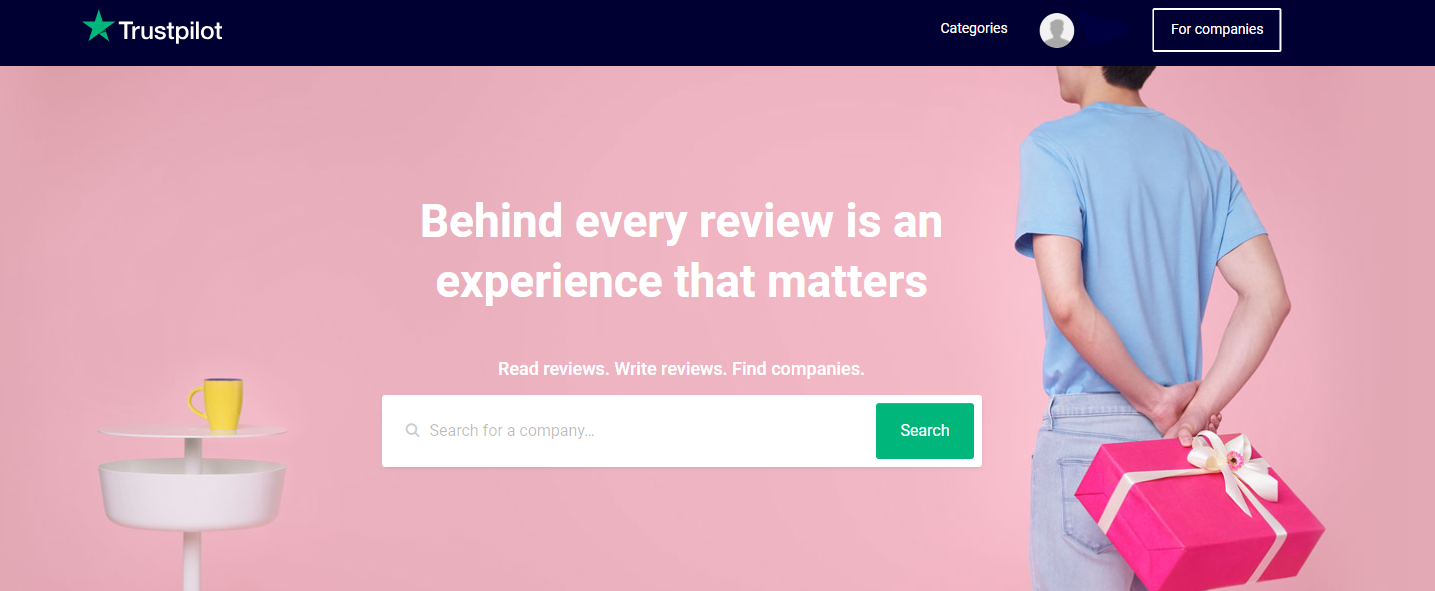 Business name search:
Enter your company or business name in the search bar. If no one has reviewed your company, you'll see a message stating Sorry, we couldn't find [business name], but if there are existing reviews, your profile page should come up.
Website search:
Enter your domain name - e.g. www.domainname.com - into the search bar. If no one has reviewed your business, an empty company profile page will be automatically generated when you search. It will state that there are no reviews - Reviews (0) - under your company name.
In both cases, if someone has previously reviewed your business, a page for your business will already exist and will be populated with at least one review.
In order to claim your company profile, you need to click on the button which says Get Trustpilot Free, or simply click here.
This will redirect you to a new page, where you will be asked for some further details. You should fill out the form with all of the information requested, and select whether you wish to take advantage of a free demonstration of Trustpilot's Lite, Pro or Enterprise solutions.
If you sign up using an email address which matches your company website domain, you'll be granted access immediately.
Note: You can't claim a profile for the subdomain of an eCommerce platform, for example, xxx.myshopify.com.
Issues with claiming?
In some circumstances, it isn't possible to immediately verify from the information provided that you are the owner of the website.
The most common reason for this delay is if the email address you have provided is not part of the same domain name as the website you are trying to claim.
For example, if you're trying to claim the website www.mywebsite.com, then your email address might be yourname@mywebsite.com. If your request comes from a different domain, for example, yourname@gmail.com, then we won't be able to immediately grant you access to the account. In this case, you'll be given several options to verify your domain, which you can use to complete the signup process.
What if I want to remove my company profile?
Trustpilot is an online review community, and we regard reviews as original content, owned by the reviewers. For this reason, we don't delete company profiles from Trustpilot.
However, it is possible to remove your business account details, and return the company profile to its unclaimed state. We don't recommend this, particularly if your company has already been reviewed, as responding to and engaging with reviews tends to have a positive impact on a company's overall ratings.
If you've claimed your company page, but have changed your mind about using Trustpilot's business services, you can of course ask us to remove your business user account, and the company page will revert to an unclaimed state. You should be aware, however, that this doesn't stop customers from searching for, and reviewing your company at any time, and it doesn't remove reviews that have already been written.
Tip: Keeping your business account active will ensure that you are able to receive notifications about new reviews.
What should I do now?
Once you've claimed your company, you can start getting the most out of Trustpilot, with options to reply to and manage reviews, change your company description and picture, invite customers to leave reviews, and more.
For more information, and to start exploring what the Trustpilot platform can do for your business, have a look at this article on getting started.