Find out how you can get your Trustpilot login credentials so you can access your profile and review companies.
Find your login credentials
If you've ever reviewed a business on Trustpilot, you've got a profile. It doesn't matter if you went to the Trustpilot homepage and wrote a review, or if a company invited you to leave a review. Leaving a review = profile created.
So if you're not sure what your credentials are, it's time for a little detective work. You've got two options to try so you can recover your login details.
Attempt to login with an email address
On the Trustpilot homepage, in the upper right-hand corner of the screen, select Log in.
On the Log in page, select the Log in with email button.
Select the Forgot your password? link, then enter your email address in the Email field.
If there's an account connected to that email address, you'll receive a password reset email on that account. Open the message, reset your password, and log in to Trustpilot. Success!
If you get an error message, try to repeat this process with another email address.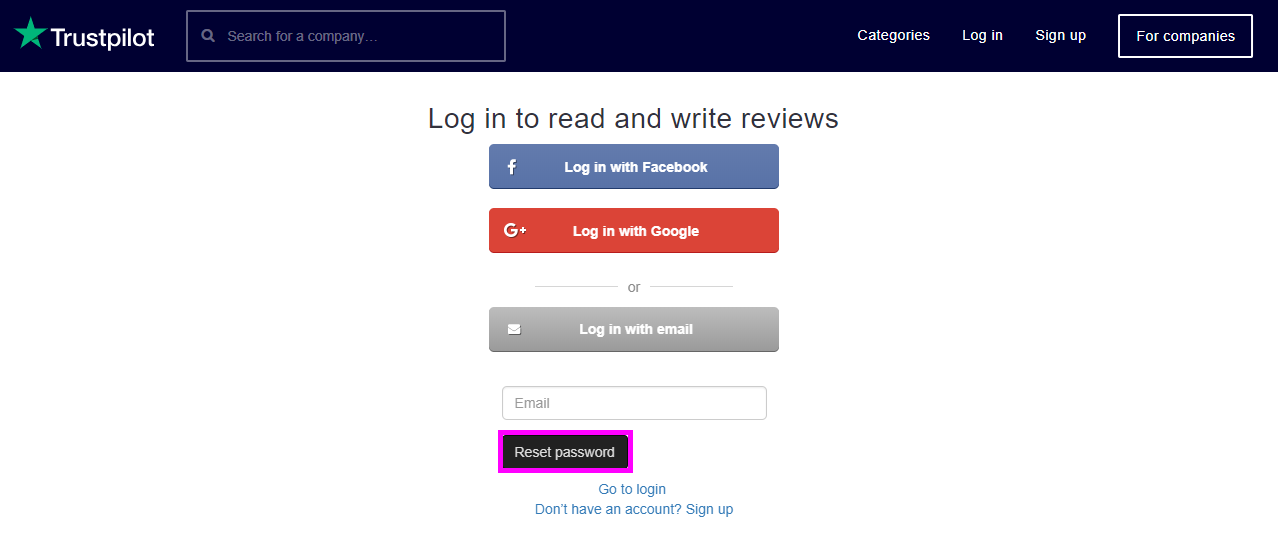 Search your email inbox
Log in to your email account.
Search for emails that contain the word "Trustpilot."
If you find the welcome email that you received when you first wrote a review on Trustpilot, select the link in the message. This redirects you to your Trustpilot profile.
Note: If you signed up to Trustpilot with email after November 11, 2019, you will receive a new four-digit confirmation code to your email address every time you log in. The confirmation code will be used instead of a password.
Why can't I leave anonymous reviews?
Trust and transparency are extremely important to us here at Trustpilot. They help keep our community safe and fair for everyone – consumers and businesses. Anonymous reviews remove accountability and can create a greater potential for misuse. To combat this, everyone who leaves a review must have a user profile.
You can freely select a display name that may or may not reveal your identity to the public, but your profile needs to be connected to an email address so that we can contact you if there's a question about your review. This is also a requirement under review industry guidelines.