If you've never reviewed a business on Trustpilot before and you'd like to start reviewing, then you'll need to create a user profile. It only takes two minutes.
Trustpilot requires all reviews to be connected to an account with a real person behind it. This is so that we can make sure our platform is transparent and fair for everyone who uses it.
If you don't want to write reviews, but you want to carry on reading them and using them to make better buying decisions, that's fine! You only need to have an account if you're intending to actually review businesses.
How to create a user profile for writing reviews
1. Go to www.trustpilot.com
2. At the top right of the screen, click on the link that says Sign up
3. You'll be taken to a page with three options: Sign up with Facebook, Sign up with Google or Sign up with email. Select the option you'd like to use.
Sign up with social media
If you choose to log in with Facebook, this will allow the Trustpilot app to access certain parts of your public Facebook profile.
If you're not already logged in to Facebook on the computer you're using, when you click the Facebook link, a new window will pop up, asking you to enter your username and password, and accept Trustpilot's Terms & Conditions and Privacy Policy.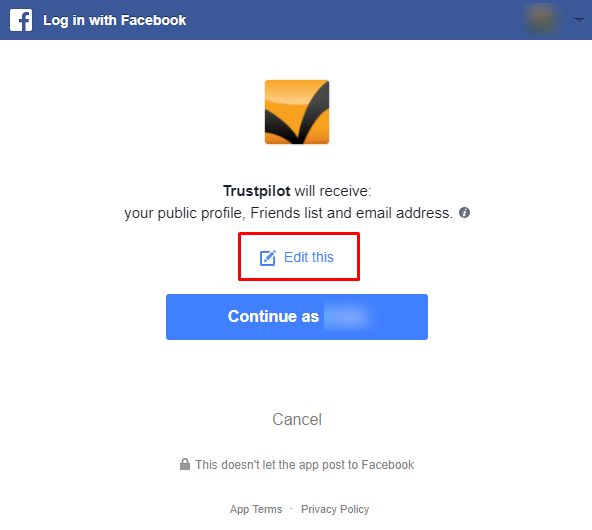 At this point, you can also choose which information you share with Trustpilot by clicking on Edit this, and then de-selecting the details you don't wish to share.

When you log in through social media, your account information will be automatically filled in using the information available on your profile. Trustpilot will never post anything on your behalf. Please note that, if you use your full name and a photograph on social media, this means your full name and a photograph will be visible on your Trustpilot profile, unless you manually change it. However, this is very easy to do in your account settings.
Once you have logged in with Facebook, you're ready to start writing reviews.
Sign up with email
If you don't have a social media account, or you'd simply prefer not to connect your Trustpilot profile to a social media platform, you can also sign up using your email address.
Simply click the link that says Sign up with email, enter your email address and name, as you would like it to appear on the Trustpilot site, tick the box to accept the Terms & Conditions and Privacy Policy, and click Sign up.
This will trigger an activation email to be sent to the email address you provide. You will need to click the link in the email to activate your account.
When you click the link in the email, you will be prompted to create a password for your account.
What next?
Once you've created your user account, you can begin to customize your settings from within your user profile.
Don't like your chosen display name?
Wrong country?
Unhappy with your social settings?
You can edit all of these and more within your personal profile, as well as uploading or changing your profile picture.
You can access your profile and settings at any time, while you're logged into Trustpilot, by clicking your profile icon in the top right of the screen, and selecting My settings from the drop-down list.
If you need help getting started and writing your first review, you might find this article helpful.