When you connect your Trustpilot account to Facebook, your friends will be able to see your reviews, but only from within certain parts of the Trustpilot and Facebook websites.
So, where will my Facebook friends be able to see my reviews?
Apart from if they happen to come across your review on the page where you originally wrote it, your Facebook friends will be able to see your review from within their own profile on the Trustpilot site.
When you click on your profile icon from anywhere on the main Trustpilot site, a drop-down list will appear, from which you can select the option My reviews.
If your account is connected to Facebook, your My reviews page will also contain a box on the right hand side labeled Reviews by my friends and their connections, where you can see which companies the people in your network have recently been reviewing.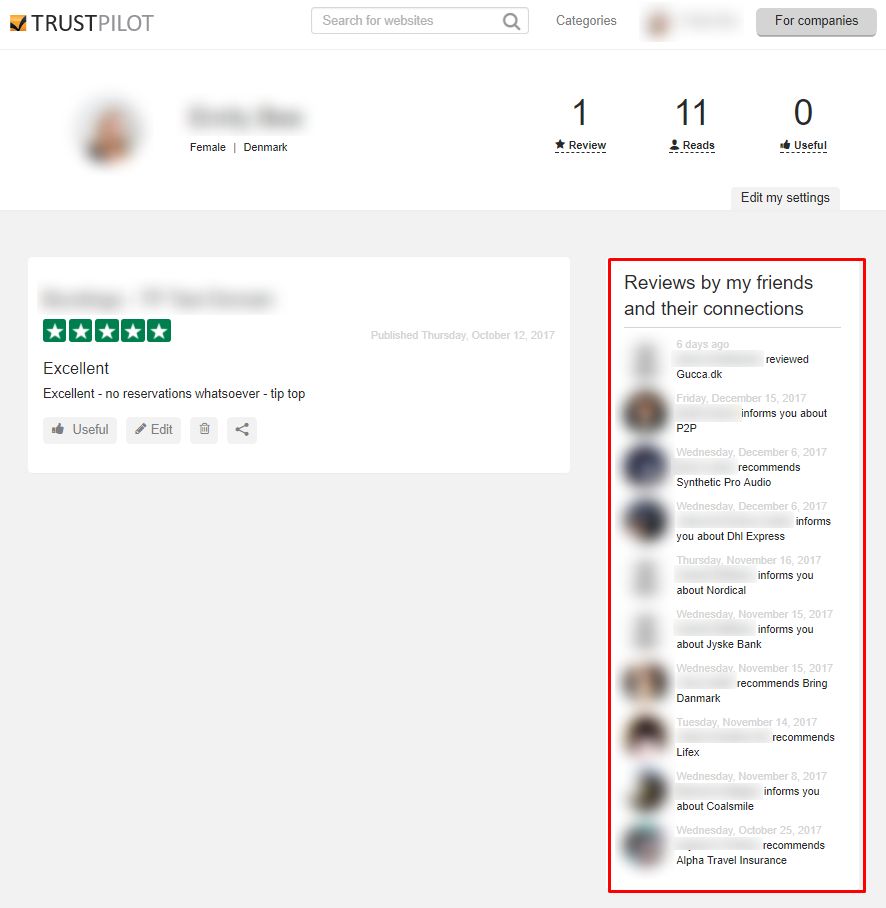 The same is true for your friends (if their account is connected to Facebook), and your recent reviews will show up in that box, on their profile.
Note: Trustpilot will never post to Facebook on your behalf, so your reviews will only be shown on Facebook if the company you review has the Trustpilot app enabled for their page.
Making the most of Trustpilot with Facebook
As well as providing a convenient way to log in, Trustpilot's integration with Facebook allows you to easily keep track of what your connections and network are reviewing right now, and vice versa.
With many people trusting a personal recommendation above everything else, using Trustpilot with Facebook allows you to access all of your friends' personal recommendations easily and quickly.
What if I don't want my Facebook friends to see my reviews?
If you'd rather keep your reviews private, you can always disconnect your account from Facebook from within your settings.
Simply click on your profile icon, in the top right of any Trustpilot page, and select My settings from the drop-down list. Under My Social Settings, you can then select the option to Disconnect my Facebook profile from Trustpilot.
Note: This will also stop you from seeing your friends' reviews.