Trustpilot's free PrestaShop plugin allows you to automate your review collection for service and product reviews. You can also add a TrustBox widget using the plugin and invite past customers to write reviews.
In this article: learn how to download, install, and configure the PrestaShop plugin in your web store.
Note: This plugin is for companies who use the PrestaShop eCommerce platform. Not you? Go to our other apps. Keep in mind that if you use other automatic invitation methods, you'll have to disable them to avoid sending duplicate invitations to customers.
Key facts about Trustpilot's PrestaShop plugin
Automate your review requests — a new order automatically triggers an email to your customer, requesting that they review your company on Trustpilot.
Send requests to your past customers in one go.
Add a TrustBox widget using the plugin.
How to set up the PrestaShop plugin
Connect your PrestaShop web store to Trustpilot in 2 easy steps:
Download the PrestaShop plugin to your computer.
Upload and activate the plugin in your web store.
Download the PrestaShop plugin
Go to Trustpilot Business > Integrations > eCommerce Integrations > PrestaShop and click on Connect now. Then click on Download.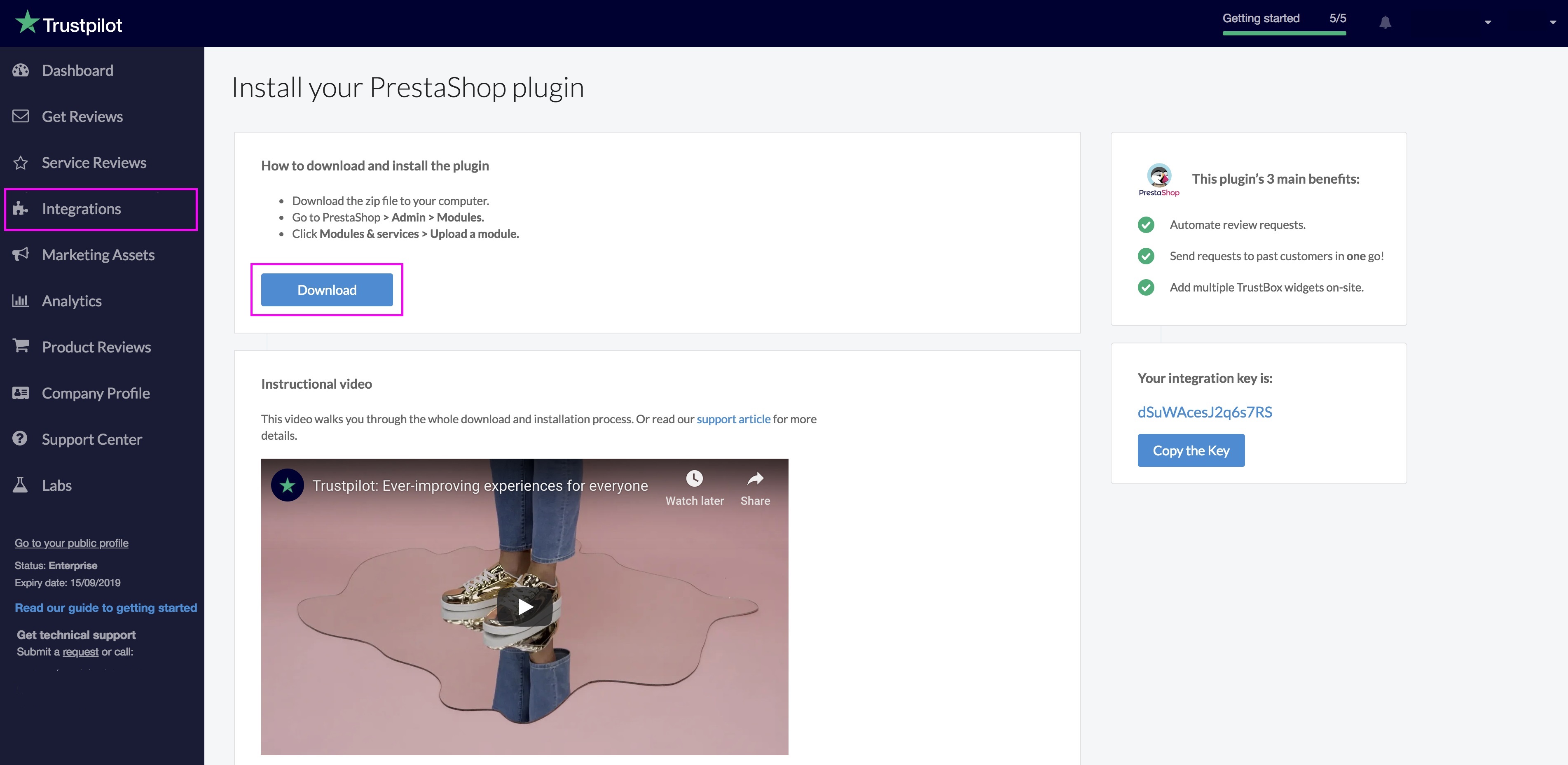 Install the PrestaShop plugin
Now that you've downloaded the plugin, you can log in to your PrestaShop Admin page and install it:
Go to Modules and Services > Modules and Services and on the top right of your screen you will see "Add a new module".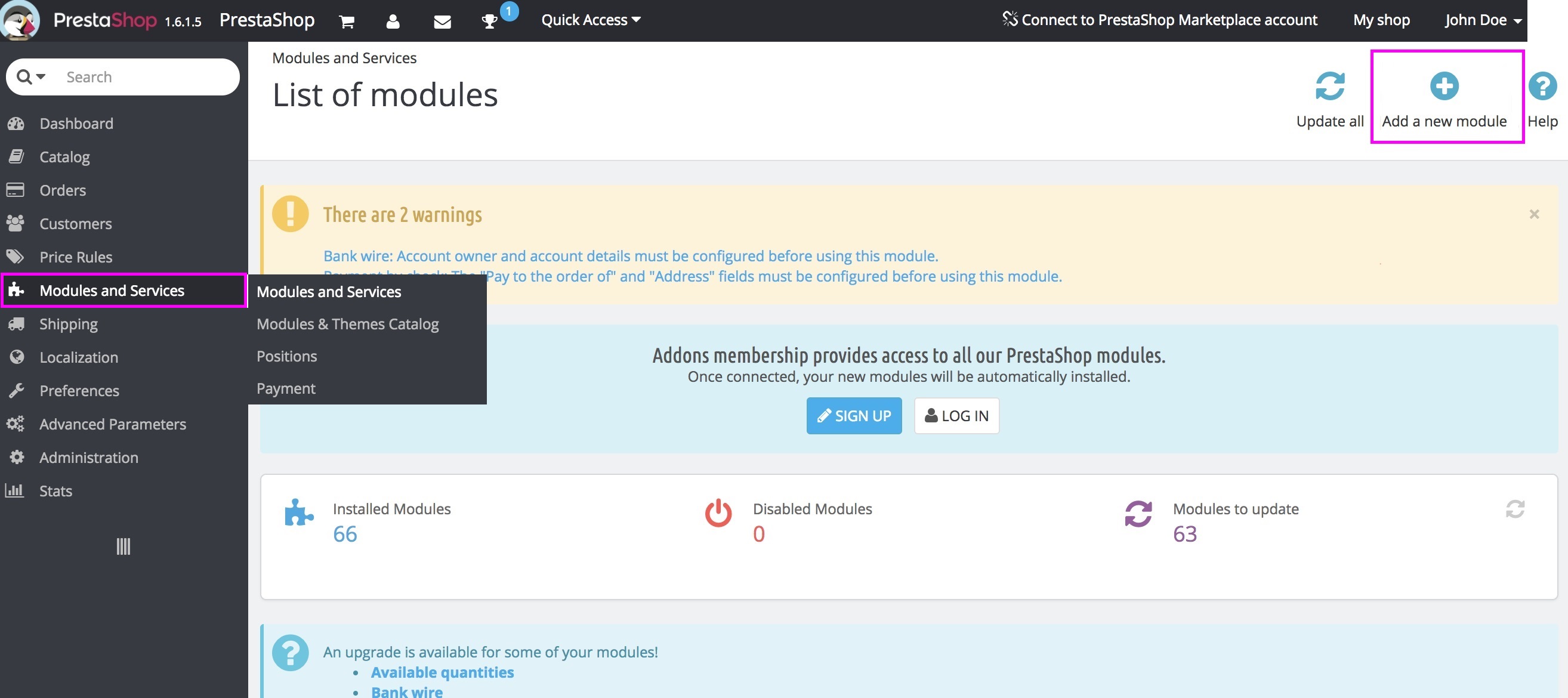 Click on Add a new module followed by Choose a file.
Now select the Trustpilot plugin file you just downloaded, and once you see it in the Module file field you can click on Upload this module.
Scroll down the list of modules and you will see the Trustpilot reviews plugin on the right side of the screen. If you do not see the plugin, you can search for it in the search field by typing in Trustpilot. Once you can see the plugin, click on Install.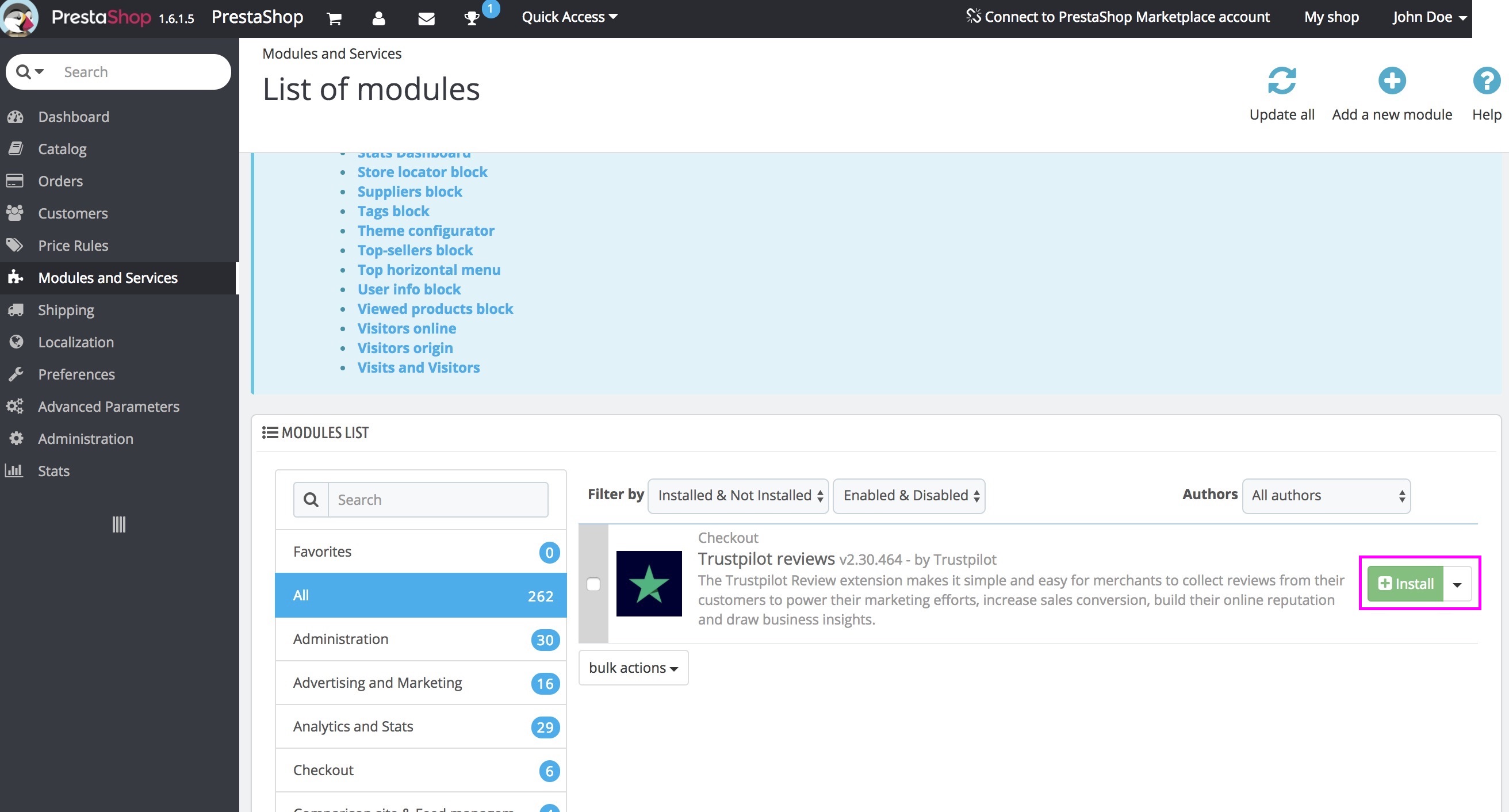 Once the plugin is installed, you will see the message "Module(s) installed successfully". You then have to agree to the privacy conditions, after which you'll be able to start using the plugin.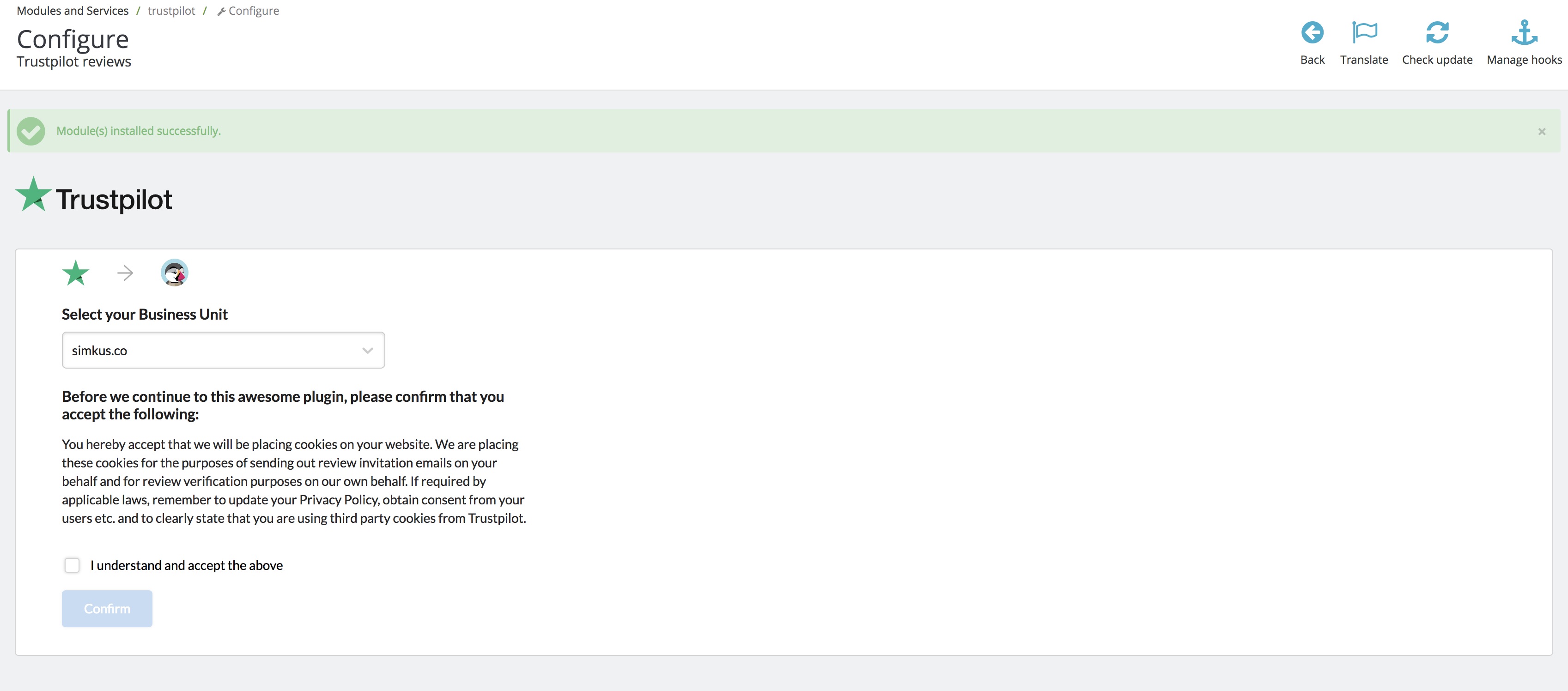 Configure the PrestaShop plugin
Once you've installed the plugin, you'll have various configuration options:
Set up your email information.
Add a TrustBox using the plugin.
Invite past customers to write reviews.
Set up your email information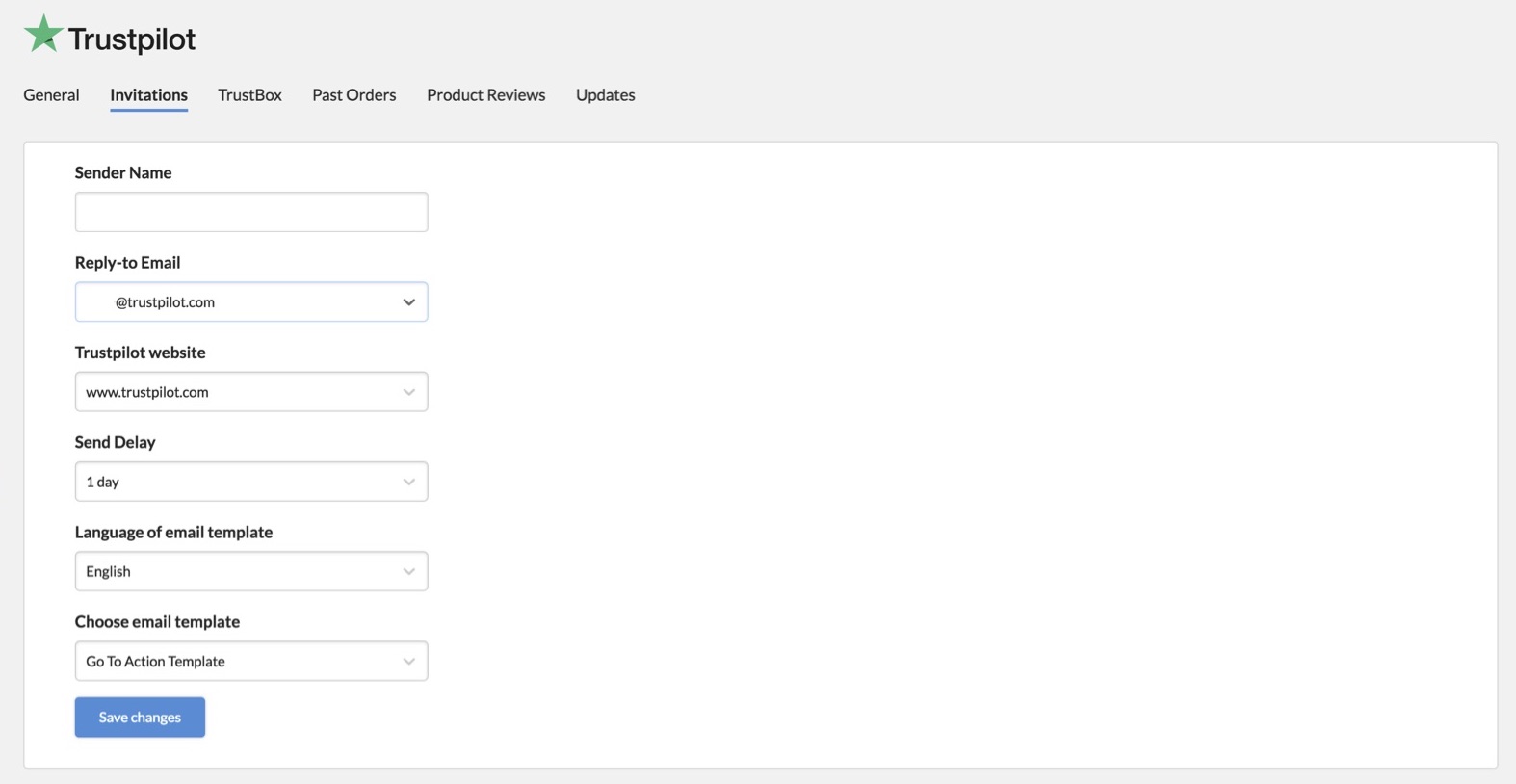 Go to Invitations and fill out your email information:
Sender Name: This is the sender information that shows up in your customer's email inbox when they receive your review request. Note: at the moment the sender email is by default the noreply.invitations Trustpilot email address.
Reply-to Email: The email address you want your customers to use if they respond to your email.
Trustpilot website: The Trustpilot landing page where your customers will be sent to write their review. Trustpilot has separate website locales, e.g., de.trustpilot.com is the Trustpilot website for Germany.
Send Delay: An order from your PrestaShop web store automatically triggers an email sent to your customer. Here you can set the number of days you'd like to wait before the email is actually sent out. The maximum delay is 90 days.
Configure the Invitation Trigger
You can configure what triggers the invitations to be sent to your customers on the General tab.

Choose Order confirmed if you'd like to invite your customers when your PrestaShop status is Payment accepted. Choose Order completed if you'd like to invite customers when your PrestaShop status is Shipped/Delivered.
Add a TrustBox using the plugin
You can add a TrustBox widget using the PrestaShop plugin: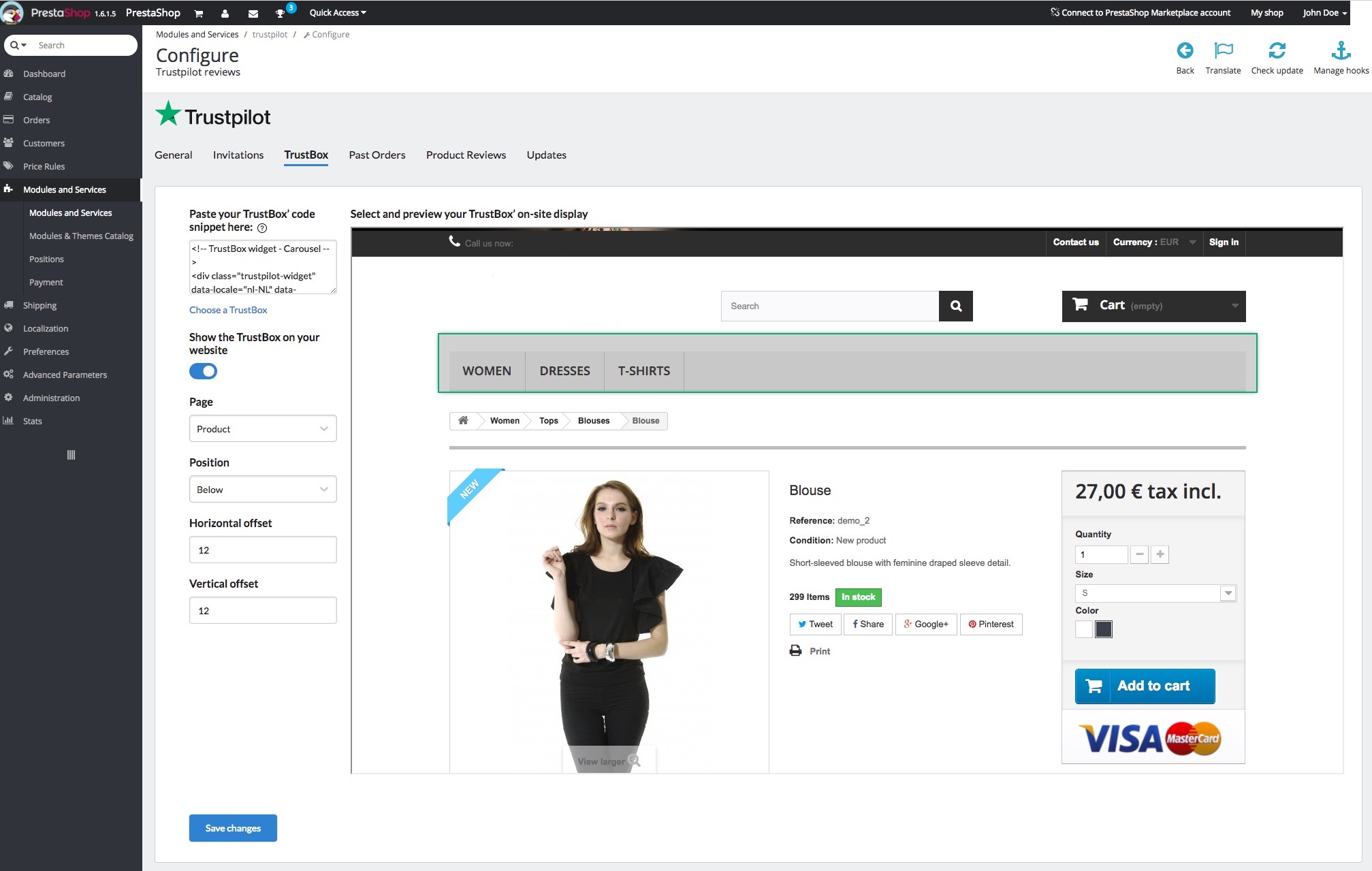 Click Choose a TrustBox.
You'll be sent to Trustpilot's TrustBox Library.
Once you've found the TrustBox you want, press Get code.
Copy the second code snippet and go back to the PrestaShop Admin page.
Paste the code inside the TrustBox code snippet box.
Now you'll be able to preview the on-site display of your TrustBox and position it wherever you want.
Press Save changes to publish your TrustBox.
Additional configuration options:
Page - You can place the TrustBox on your landing page, category page, or product page.
Position - Select where on the page you want the TrustBox to appear.
Horizontal offset - Offset from left and right side.
Vertical offset - Offset from top and bottom.
Remember to Save changes.
*If you choose the Product TrustBox, your SKU (Stock Keeping Unit) attribute will be updated automatically. Remember to add it to your product page.
Invite your past customers
The plugin allows you to invite customers from the past 7 days to 1 year. Select the period you want and click on Sync up orders. Now, your past orders will sync up with Trustpilot's invitation system.

Summary of synced orders
Here you'll see a summary of your synced orders, so you'll know which ones synced up successfully with Trustpilot and which ones failed.

In the bottom of the page, you'll see a list of failed orders with more details. You can try syncing up the failed orders again by clicking on Re-sync.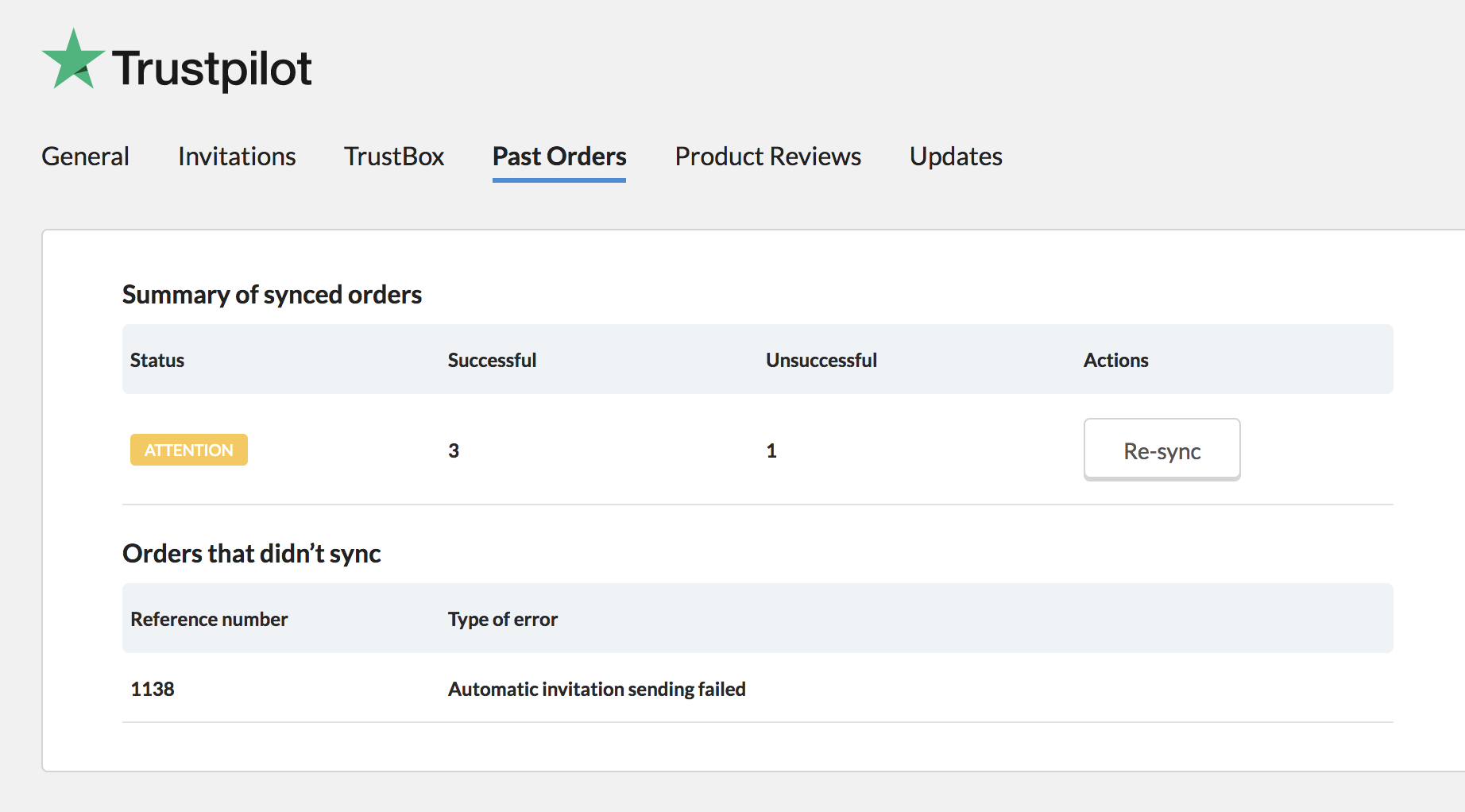 Include product review Invitations
The PrestaShop plugin allows you to send product review invitations if you're making use of Trustpilot's product reviews feature. Learn more about invitations and invitation templates.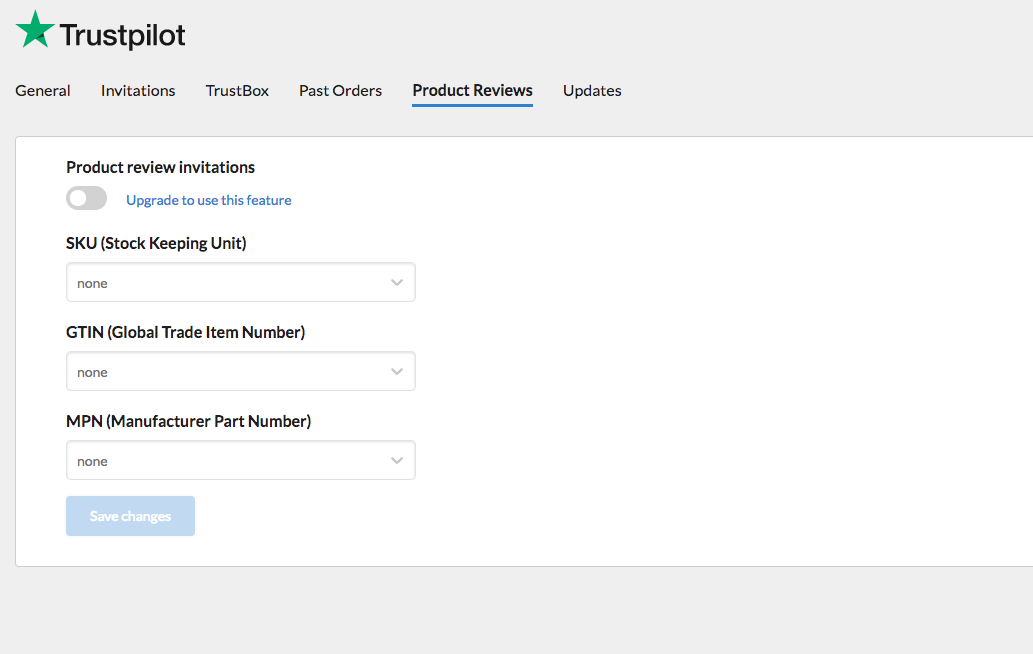 To start sending product review invitations, click on Enable to start getting product reviews.

Once you have enabled product reviews you can configure your product SKU, GTIN and MPN fields in PrestaShop to let Trustpilot know where you are saving this information on your PrestaShop platform. Select Save changes when you're done setting up the configuration.

We currently don't have a sandbox environment available for testing purposes.
Trustpilot is not liable for any links to third party websites in this article, including the content on any other websites linked to from this article.