The TrustBox Newsletter is a dynamic widget for your email marketing campaigns, which automatically displays your TrustScore and your latest reviews.
This article is for customers who want to configure their TrustBox Newsletter to show their latest reviews. Once you've learned how to show reviews in your TrustBox, you can get all the details on how to implement it
Step 1: Go to TrustBox Newsletter and select the 3rd layout
The TrustBox Newsletter is available in 3 layouts. Select the 3rd layout, if you want to show quotes from your latest reviews.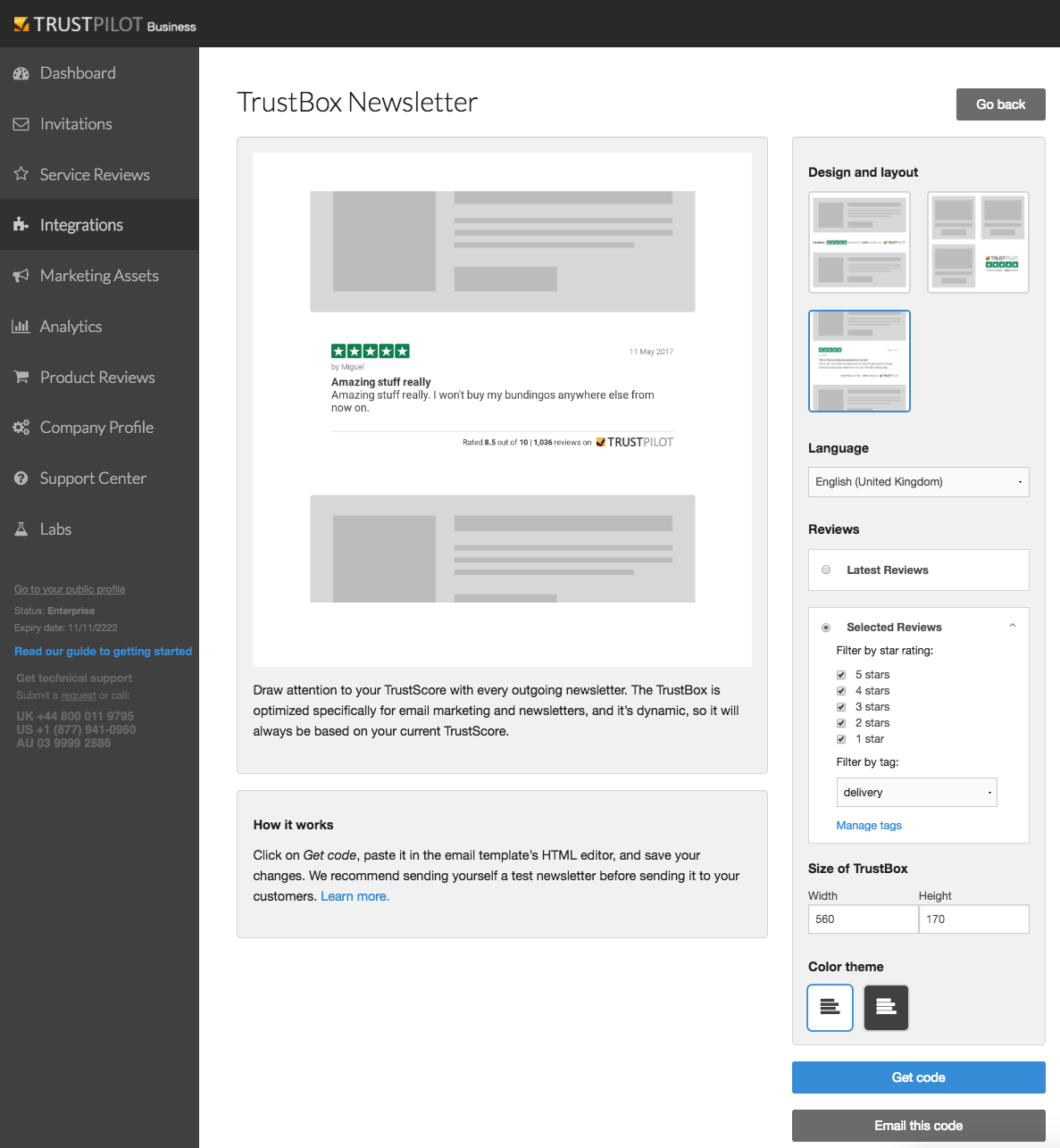 Step 2: Select your Reviews
Your TrustBox Newsletter can be configured to show your latest reviews or you can filter reviews based on stars and/or tags. It will always show your up-to-date TrustScore and total number of reviews.
Latest reviews
By default, the TrustBox Newsletter will display your latest reviews. The content is cached, so new reviews will appear every 20 minutes.
Select reviews by star rating
You can select reviews by star rating so the TrustBox will only show the latest reviews that match your criteria.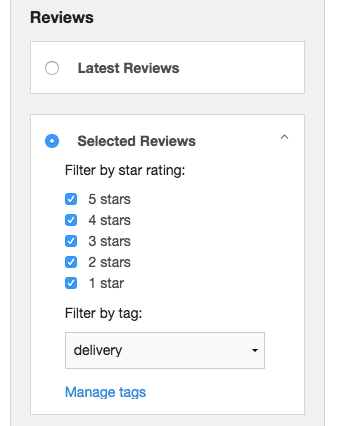 Select reviews by tag
In addition to the star filter, you can also show reviews that have been tagged with a specific keyword or campaign name.
Similar to Targeted TrustBoxes, review tagging can be leveraged to customize the reviews that are displayed in a given campaign and ensure that they fit the context of the email. For example, a company promoting its delivery services might choose to only display reviews tagged with relevant words like "always on time", "dependable", "fast delivery", etc….
You can select an existing tag from the dropdown and click on Tag reviews with "..." to manage which reviews are added to this tag.
Alternatively, to create a new tag for your email campaign click on Add a new tag
The TrustBox code only needs to be implemented once and it will automatically pull in new reviews with the specified tag. You can manage which reviews are added to this tag either from the TrustBox Newsletter setup page or from the service reviews page.
For more details on how review tagging works: Tagging and pre-tagging service reviews
Step 3: Configure Size & Color
The TrustBox Newsletter is available in two predefined widths - one-column layout (520px x 180px) and two-column layout (260px x 170px). You also have the option to enter your preferred sizes in the width and height fields. Please note that we do not support width and height sizes below (210px x 170px) and above (800px x 600px).
The TrustBox Newsletter is transparent and available in two color themes, which makes it possible to style the TrustBox so it fits the rest of your email template.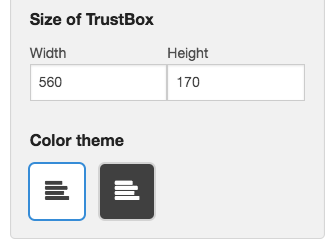 Once you're done configuring your TrustBox, simply copy the code and implement it in your email template. For more details, check out the implementation guide.