Share your reviews and your TrustScore with customers in every outgoing newsletter when you use our email-optimized TrustBox widgets.
The TrustBox Newsletter is a dynamic widget that helps you easily showcase your stars and reviews in your email marketing campaigns.
There are three TrustBox Newsletter widgets you can choose from:
One that displays your star level and number of reviews
A TrustBox that shows your TrustScore, as well as your star level and number of reviews
One that displays reviews, in addition to your TrustScore and the number of reviews. This widget is only available for customers on our Pro and Enterprise plans.
Add a TrustBox Newsletter widget
Log in to your Trustpilot Business account and go to Integrations > TrustBox Newsletter. Click the Get TrustBox Newsletter button.
Under Design and layout, choose the TrustBox Newsletter that you want to add to your newsletters.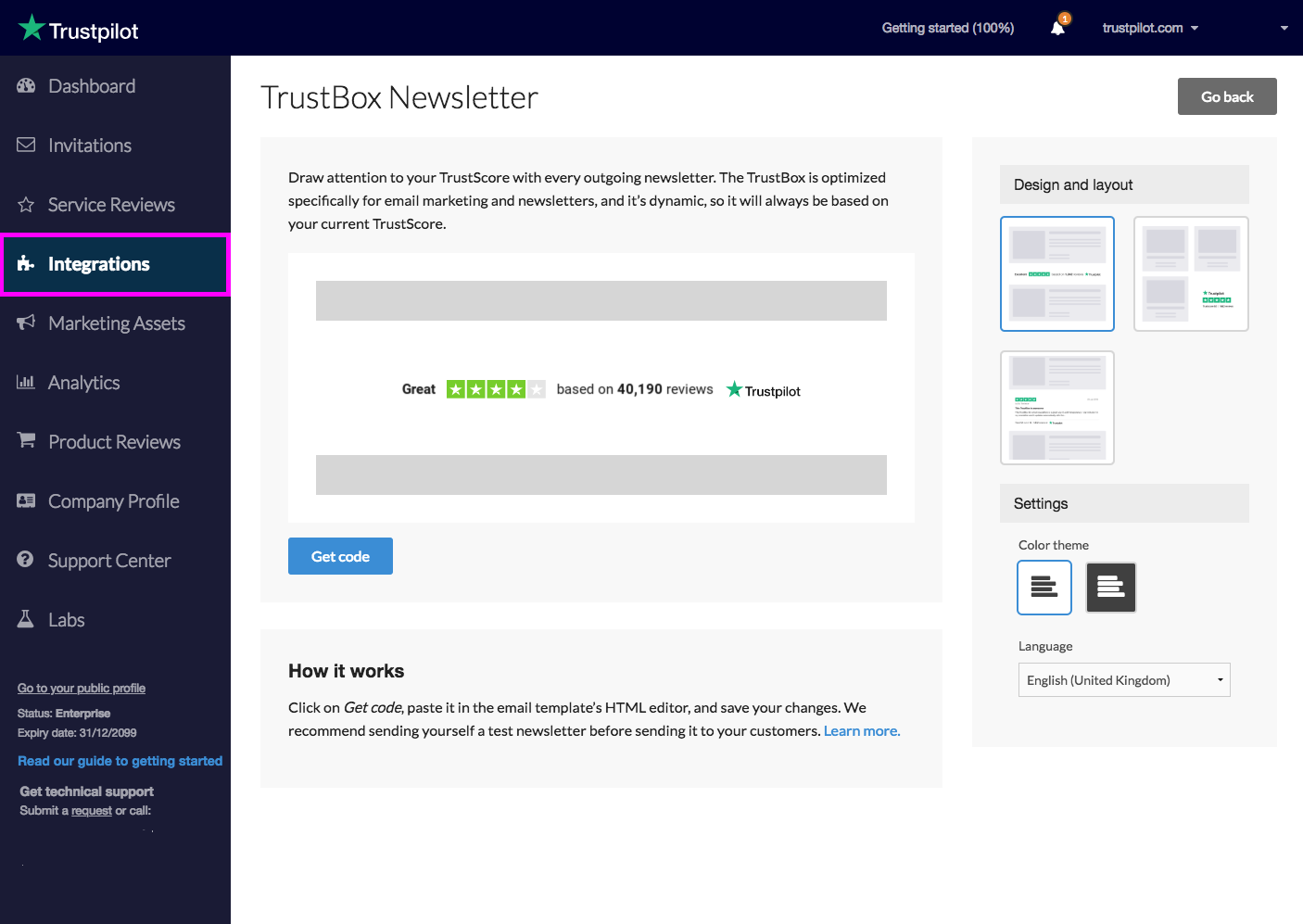 Choose reviews for your TrustBox
If you've selected the TrustBox that displays reviews, it's easy to pick which reviews appear in your TrustBox Newsletter widget.
Under Settings choose the reviews that you want your widget to display.
You can select Latest reviews to show your newest reviews, or select Selected reviews to show specific reviews. If you've chosen to display selected reviews, you can filter by star rating or by tag.

Filter by star rating – select reviews by star rating so the TrustBox displays the latest reviews that match your criteria.
Filter by tag – similar to Targeted TrustBoxes, you can use tagged reviews to customize the reviews that a given campaign displays and ensure that they fit the context of the email. For example, a company promoting its delivery services might choose to only display reviews that they tagged with relevant words like "always on time", "dependable", or "fast delivery."
Configure your TrustBox Newsletter
After you've chosen a TrustBox, it's time to configure it.
For the TrustBoxes that display your stars and your TrustScore, under Settings, choose:
A Color theme – choose between light and dark TrustBoxes.
The display Language – select a language from the drop-down menu.
For the TrustBox that displays reviews, you can also configure:
The TrustBox's Height and Width – the TrustBox Newsletter is available in a one-column layout (520px x 180px) and two-column layout (260px x 170px) by default. You can customize the TrustBox's height and width, but be aware that we don't support sizes below (210px x 170px) or above (1800px x 600px).
The Font size – choose from one of two font sizes.
Add the TrustBox Newsletter to your email template
Once you're done configuring, the final step is to add your TrustBox Newsletter to your email template.
Under the TrustBox preview, click the Get code button.
Copy the HTML code and paste it into your email template's HTML editor, then save your changes.
We recommend that you test your newsletter before you send it out to your customers.
Learn more about code content blocks in MailChimp.