We continuously optimize our TrustBoxes so customers get the most out of our widgets, without disrupting their website performance. Get all the details about web page weight, speed, and loading time impact on SEO.
How does a TrustBox affect web page weight?
The average web page weighs around 2 MB, while eCommerce sites weigh 5 to 7 MB or more (from 2016).
A TrustBox adds between 45 and 65 kB of extra weight, depending on the type and how much data it displays.
The extra weight mentioned above only applies the first time a user loads a page (an "uncached" request). When loading the page a second time, our requests account for only about 1.5 kB as the browser uses cached data instead of loading it from our servers.
The data comprise a very small proportion of the average website's overall size. This is illustrated in the table below.
| Page Size | Small TB (45 kB) | Large TB (65 kb) |
| --- | --- | --- |
| 1 MB | 4.4% | 6.3% |
| 2 MB | 2.2% | 3.2% |
| 5 MB | 0.9% | 1.3% |
| 7 MB | 0.6% | 0.9% |
In the case of a very small page, the largest TrustBoxes will comprise just over 6% of the page's size. In more typical cases, it will comprise approx. 1 - 2% of the size. However, the benefits of displaying reviews, your TrustScore, and star rating on your website, are worth this minimal weight gain.
All of the data required for a TrustBox are loaded asynchronously. Our TrustBoxes do not block or interfere with the normal loading of your site.
How does a TrustBox affect the PageSpeed Insights score?

Your PageSpeed Insights score may drop 1 or 2 points if you add an additional element.
Here's an example of what a page with a TrustBox looks like (left), compared to an empty page (right):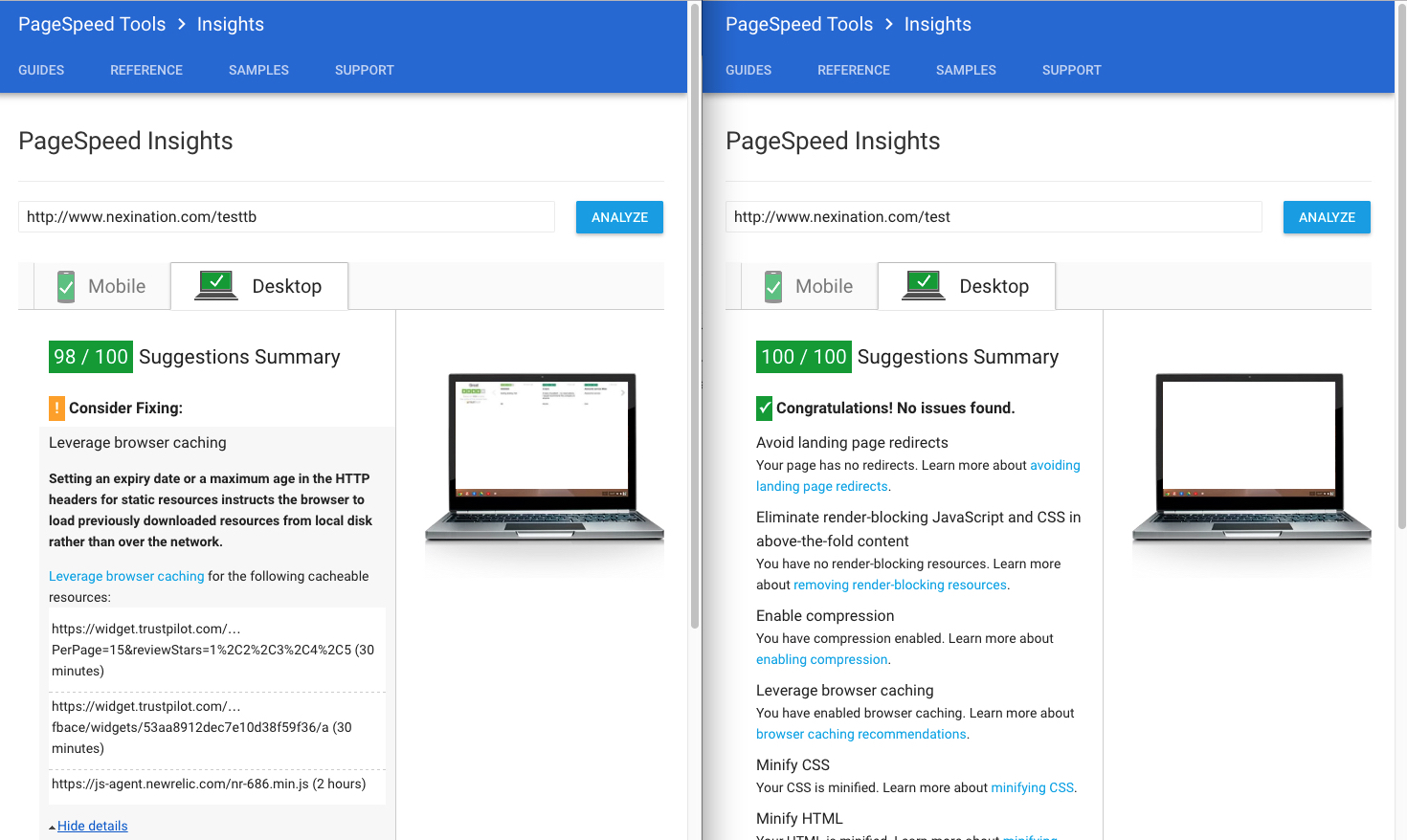 The difference is minimal and is outweighed by the benefits gained from using our TrustBox on your site.
What should I expect from the page speed analysis?

The Trustpilot API calls (reviews, TrustScore, and star ratings) are cached for 30 minutes to ensure that the content is up-to-date. This triggers the leverage browser caching rule because PageSpeed Insights detect that the resources are specified to be cached for only a short period.
Fetching these resources doesn't delay processing nor does it block the rendering of page content. You should expect an added weight of max 5 kB from these calls.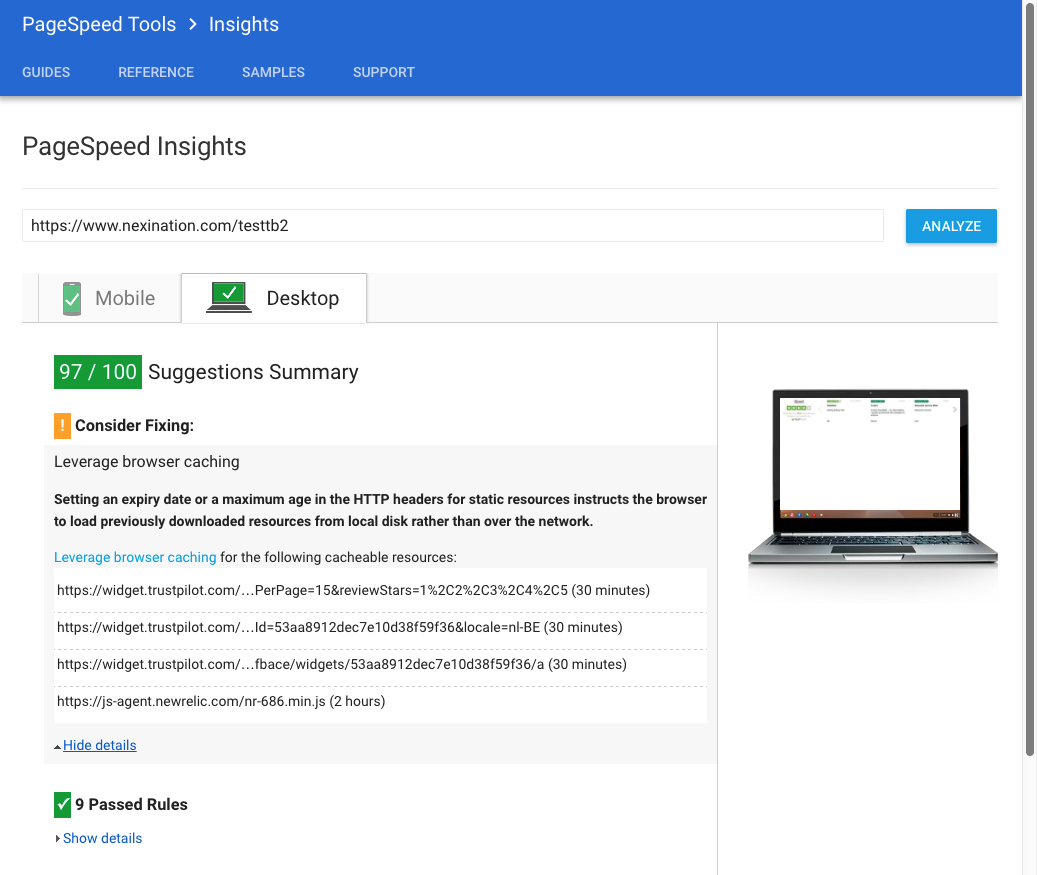 How does TrustBox loading time impact SEO?

Page speed is one of the many factors that can affect SEO. If your overall page load isn't too slow, the TrustBox shouldn't have any major negative impact on your SEO.
We recommend reading Google employee threads on Page loading speed:
"Yesterday, Gary Illyes from Google told a webmaster not to "worry about it too much," when it comes to page speed." From: Google: Don't Worry Too Much About Page Speed
"I don't know how much of that [PageSpeed ranking factor] is still used at the moment. So we do say we have a small factor in there for pages that are really slow to load where we take that into account. But I don't know how much that's actually still a problem in ranking." From: Is There Still A Google PageSpeed Ranking Factor?