Are you new to Trustpilot? Or just want to know more about how things work? Use this guide to familiarize yourself with posting reviews, managing your account and more!
What is Trustpilot?
Trustpilot is an online review community. You can use it to read genuine, unfiltered reviews about companies whose products or services you're considering buying or using. It's our aim to help people make more informed choices by learning from others and sharing their own experiences. Because our community is open to everyone, businesses can see and reply to reviews for free. See our story here.
How do I find and read reviews?
You can use Trustpilot to read reviews about a company you're considering buying from by following these steps.
Go to Trustpilot.com
Enter the company's name or website in the search bar, where it says Search for websites
Select from the suggested options in the drop-down menu or hit enter to go straight to the company's profile page. Reviews are listed in chronological order.
Remember to check the website's URL, domain name, and company name. Some companies have websites for different countries so be sure to check you're on the correct company profile page.
Tip! Effective ways to read reviews.
Gain a quick overview with the TrustScore: This is a company's overall rating. Note that the newest reviews are given the most weight in calculating the company's TrustScore.
Filter and read reviews by their star rating: This is a good way to zoom in on what customers love about a company, versus which areas they'd like to see improved.
Get to know the company by reading responses: If a company replies to their reviews, this can provide insight into how they treat their customers and handle any problems.
How can I write reviews?
To write a review about your own buying or service experience, you'll first need to create a user account on Trustpilot. You can do this using Google or Facebook, or with your standard email address. Click here to sign up and create an account.
Tip! If you simply want to read reviews on Trustpilot, you don't need an account. We only ask you to sign up to write reviews. This is because - in line with our values of trust and transparency - we need every review on Trustpilot to be connected to a profile with a real person behind it. Read more here.
How do I review a company on Trustpilot?
Once you've created your user account, you're ready to write reviews!
Search for the company you want to review by following the steps above, then:
Click the review company button on the company's profile page
Choose the rating or number of stars you want to give the company for their service
Write the body of your review, then add a title
Add a reference, booking or tracking number if you're asked to do so (this is the number that corresponds to your buying or service experience)
Post your review
If you're trying to review a company that doesn't appear to be listed on Trustpilot, try reading this article.
Tip! Check if you're eligible to review a particular company here, or for inspiration on content that's helpful to others and stays within our rules see our tips for writing great customer reviews.
Why have I received an email from a company inviting me to leave a review?
After a purchase or service experience with a company, they may invite you to leave a review about their services.
At Trustpilot, companies can collect reviews in 3 different ways. They can rely on customers simply writing reviews on their own initiative, or they can invite customers to review their services using their own system, or using Trustpilot's invitation system.
If you've received an email from a company inviting you to review them, simply click on the invitation link in the email and you'll be automatically redirected to the company's evaluation page.
Tip! Read about Trustpilot's business model and how reviews are collected to get a better idea of how Trustpilot works.
How can I update or delete my review?
Once you've written a review, you may decide that you need to update its content, or edit it to reply to a company response to your review. Or you may simply want to delete it.
You can manage your reviews when you're logged in to your account.
Read our full guide on editing or deleting your reviews here.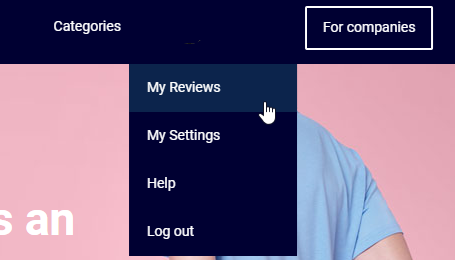 Tip! Please keep in mind that if you delete your review, this action cannot be undone.
Where can I adjust my account settings on Trustpilot?
Once you're logged in to Trustpilot, you can access your settings in the drop-down menu by clicking on the profile picture in the top right-hand corner of the Trustpilot website.
You can change your username, password, your social settings and more!
Tip! Learn how to manage your account in these articles.
Now that you have a better understanding of how Trustpilot works, you're ready to share your experiences and help others buy with confidence.
Write reviews here