What are Business Generated Links?
Business Generated Links are invitation links designed primarily for privacy conscious companies who want to invite their customers to write a service and optionally, a product review. This invitation method is commonly used by financial and healthcare institutions or businesses that are not allowed, either by law or by contract, to share customers' personally identifiable information (PII) with third parties.
Trustpilot guarantees that when you collect reviews using a Business Generated Link, the PII of your reviewers is not processed* or stored on Trustpilot servers until after the individual reviewer agrees to Trustpilot's Terms and Conditions.
*Data processing: the collection and manipulation of items of data to produce meaningful information, including validation, sorting, summarization, aggregation, analysis, reporting or classification. Trustpilot does not perform any of the aforementioned types of processing prior to customer acceptance of Trustpilot's Terms and Conditions and Privacy Policy.
How does a Business Generated Link work?
When you choose to collect reviews using Business Generated Links, you generate a unique link per order, on your own server, and then you dispatch the link to your customer, e.g. by email, independently of Trustpilot's server.
When a customer clicks on the link, they will be forwarded to the review form on www.trustpilot.com. Just prior to writing the review, PII is added to the form on the customer's personal web browser. The customer's email address is encoded/illegible, and PII is not processed or stored at this stage.
Finally, the moment your customer agrees to Trustpilot's Terms and Conditions and submits the review, the customer's PII is processed and stored on our server (see diagram below).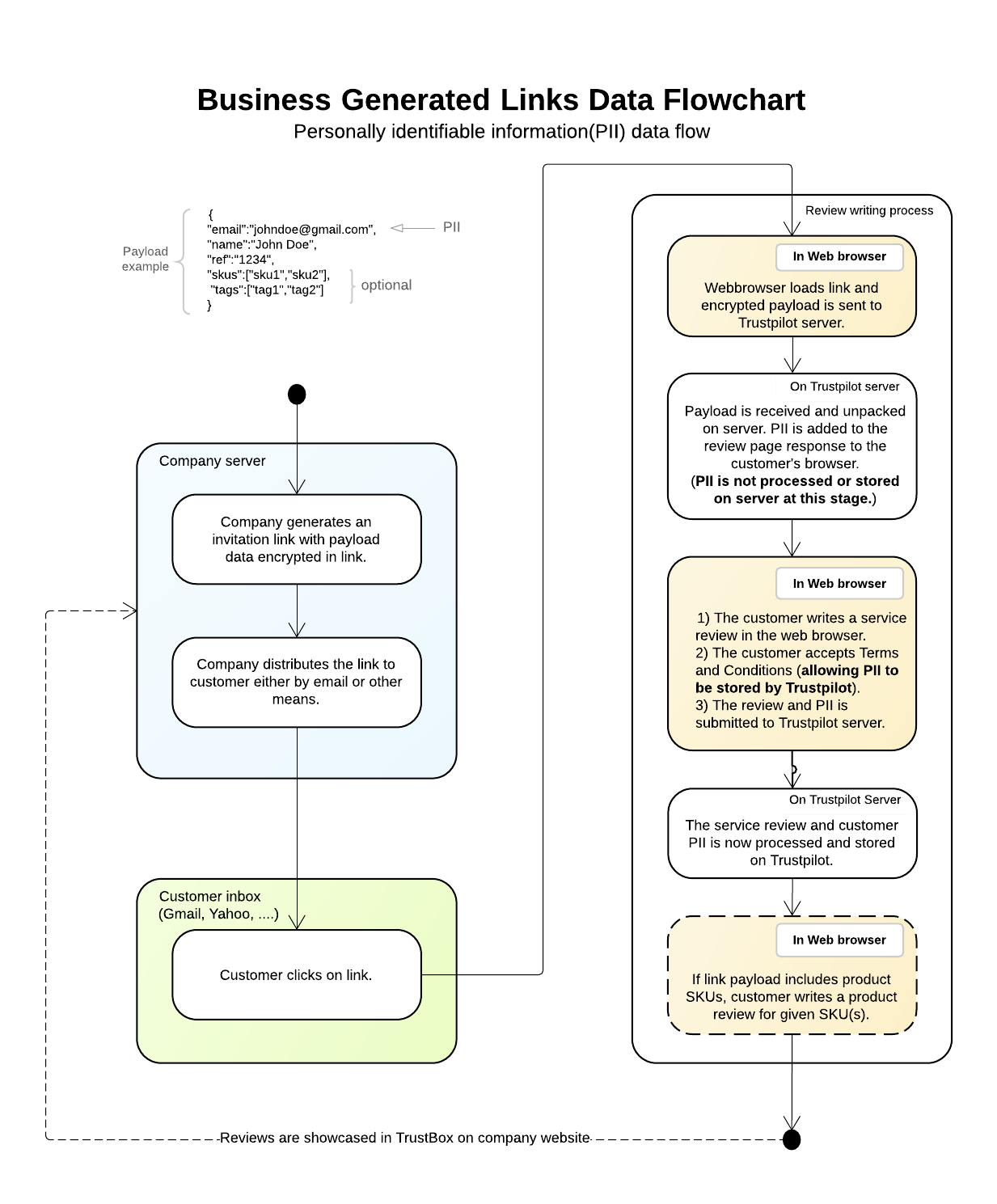 What does a Business Generated Link look like?
Example: https://www.trustpilot.com/evaluate-bgl/<domain>?p=<payload>
In the above example, the <domain> is replaced with your company's website address, and <payload> includes an encrypted version of your customer's name, email address, reference number, and optionally, service tags and product SKUs.
Here's a short description of how to format your data when collecting reviews on Trustpilot using Business Generated Links:
If you're only collecting service reviews, include the following required fields: customer name, email address, reference number. Optionally, if you want to pre-tag reviews and enable business insights, then include the tags you want to apply to individual reviews as well.
If you're collecting service and product reviews with a single invitation, include product SKUs for all the products your customer purchased, as well as the fields described above in point 1.
How secure is customer data in a Business Generated Link?
In Business Generated Links, the entire <payload> is encrypted using 256-bit AES encryption to ensure secure transfer of PII across the Internet. 256-bit encryption is NSA approved and used by the US federal government to transfer data across the Internet securely.
Ready to use Business Generated Links? We've created this guide for developers.